15 & 16 January weekend: 9am - 6.30pm with Resident Teacher Kelsang Rabka
About this event
Sometimes it seems impossible to be able to develop a genuine spiritual life with so many distractions and busyness both at work and at home. By setting some time aside to engage in meditation retreat, we give ourselves permission to stop all forms of extraneous activities in order to emphasize our spiritual development.
This weekend retreat will give us the opportunity to be guided along 8 meditations which help us to cultivate the profound mind of loving-kindness towards all living beings. Love is the real inner protection against suffering. When our mind has the nature of love we naturally feel happy and peaceful, and with such a state of mind it is impossible to become disturbed or depressed or to develop anger or jealousy.
Everybody is welcome to attend this retreat, whether beginner or experienced, Buddhist or non-Buddhist, however please be aware that this meditation retreat will cover in-depth Buddhist subjects as detailed in the topic breakdown below. If you are unfamiliar with these topics and would like to learn more in advance, we recommend that you download the free eBook Modern Buddhism where you will find detailed explanations. In this way you'll get the most out of your retreat :)
------------------------------------
Timetable:
9am Saturday only - Welcome and introduction
9.15 – 10.30am - Session #1/ #5
11.15 – 12.30pm - Session #2/ #6
2.00 – 3.15pm - Session #3/ #7
4.00 - 5.15pm - Session #4/ #8
5.30 - 6.30pm - Wishfulfilling Jewel chanted prayers (*unguided)
Between sessions you are welcome to relax in our meditation space if you wish.
Retreat session breakdown:
5mins - Introductory Prayers
20mins - Teaching
10mins - Prayers for Meditation
35mins - Meditation
5mins - Dedication Prayers
------------------------------------
Retreat topic breakdown:
Session 1 - Contemplating the benefits of affectionate love
Session 2 - Developing equanimity (#1)
Session 3 - Developing equanimity (#2)
Session 4 - Recognizing that all living beings are our mothers
Session 5 - Remembering the kindness of mother living beings & living beings in general
Session 6 - Developing the wish to repay the kindness of all mother beings
Session 7 - Developing affectionate love
Session 8 - Overcoming obstacles to affectionate love
------------------------------------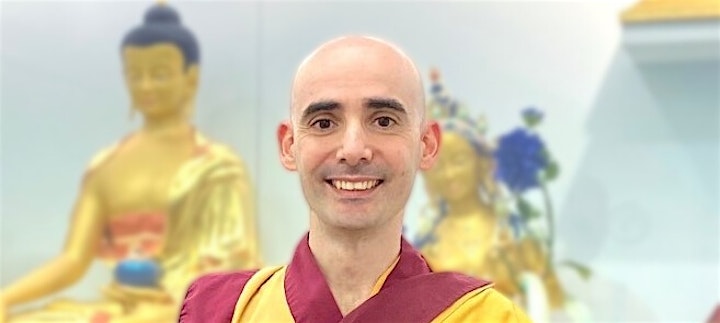 Kelsang Rabka was appointed as the Resident Teacher of KMC Singapore in mid 2020. He is an Australian Buddhist monk who has been studying and practicing Kadampa Buddhism with Venerable Geshe Kelsang Gyatso Rinpoche and his senior disciples for 13 years, and has taught both in Australia and the UK.
The clarity and warmth in his teachings has helped many students experience the practical benefits of modern Kadampa Buddhism in their daily lives.
Organiser of Lamrim Retreat- Loving Kindness
Kadampa Meditation Centre Singapore at 18B Keong Saik Road is a precious sanctuary of peace in the middle of this bustling city.
The Centre offers a full range of meditations, teachings and retreats, which offer practical advice from Buddha to help people make their daily life happier. Study Programmes are also available for those who wish to deepen their understanding or train as Buddhist teachers. With its magnificent statues, tranquil atmosphere and modern Buddhist bookshop it is a perfect destination for anyone seeking peace, relaxation and inspiration.
Modern Buddhism is a special presentation of Buddha's teachings for the modern world that shows how Buddha's advice on wisdom and compassion can benefit anyone in modern society regardless of age, race, gender or faith.