Description
When is the last time you attended a Leadership Development course ?
A highly recommended Effective Leadership course ( SkillsFuture claimable ) , don't miss it . Sign up now and acquire essential leadership skills.
---
Note: For Singaporean Citizens above age 25, if you wish to register via SkillsFuture Credits;
CLICK HERE TO CLAIM SKILLSFUTURE CREDITS
Should need further assistance, kindly email contact@vanpeak.com

COURSE OBJECTIVES
Leaders too need to learn how to be better leaders and more effective leaders. This course aims to teach the participants the finer details of leadership and how to grow their teams. This interactive and experiential course is designed for you to enquire and begin practicing the somatic requirements of leadership
WHO SHOULD ATTEND
This course is relevant to Supervisors, Managers, Leaders, Business Owners and Entrepreneurs in Management, Business, IT and Finance who want to get more out of themselves and out of their teams. It is also for individuals, who want to develop big picture thinking, intuition and creativity.
COURSE CONTENT
Your Expectations & Team Expectations
Modelling the correct Behaviours
Recognising Work and Effort
Challenges and Support
Communications Up & Down
Who & What is Your Team
Coaching for Exellence
Supporting the Team
Managing Shortfalls in Performance
Its Work not Personnal
Your Commitment
Closing the Loop
COURSE FEE
$450.00 - 100% Claimable via Skillsfuture

How to Register?
Interested party to email contact@vanpeak.com with full name, billing address and mobile number.
---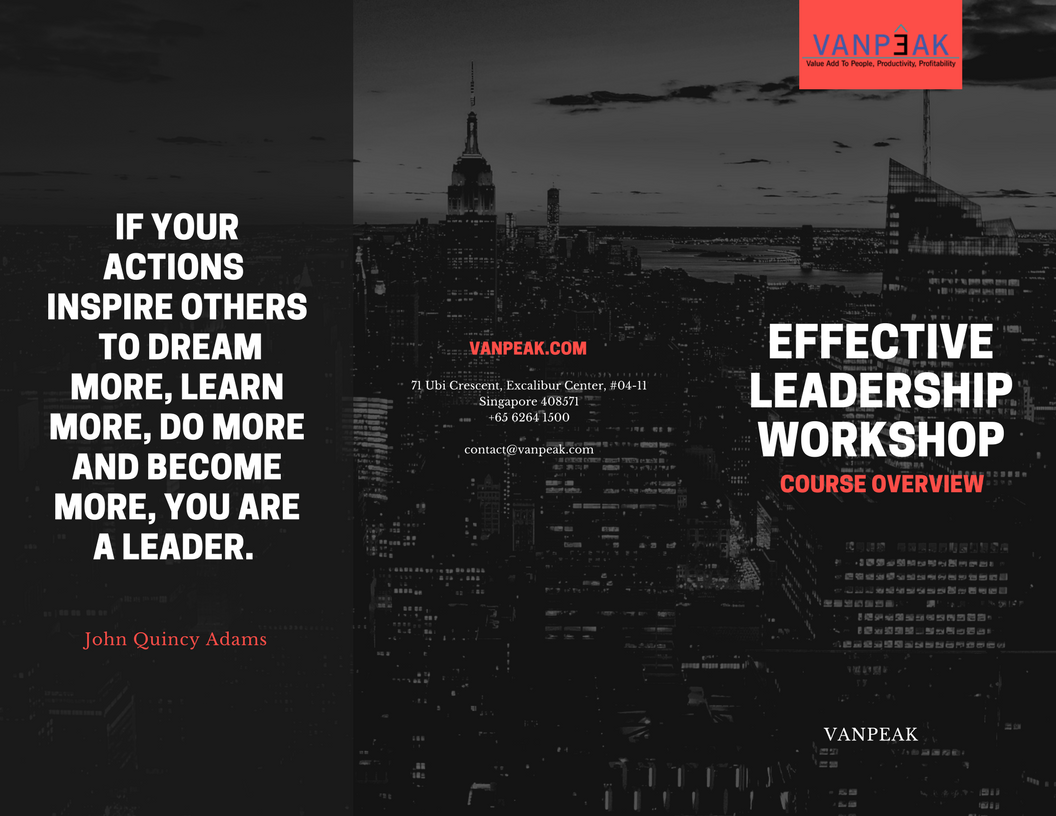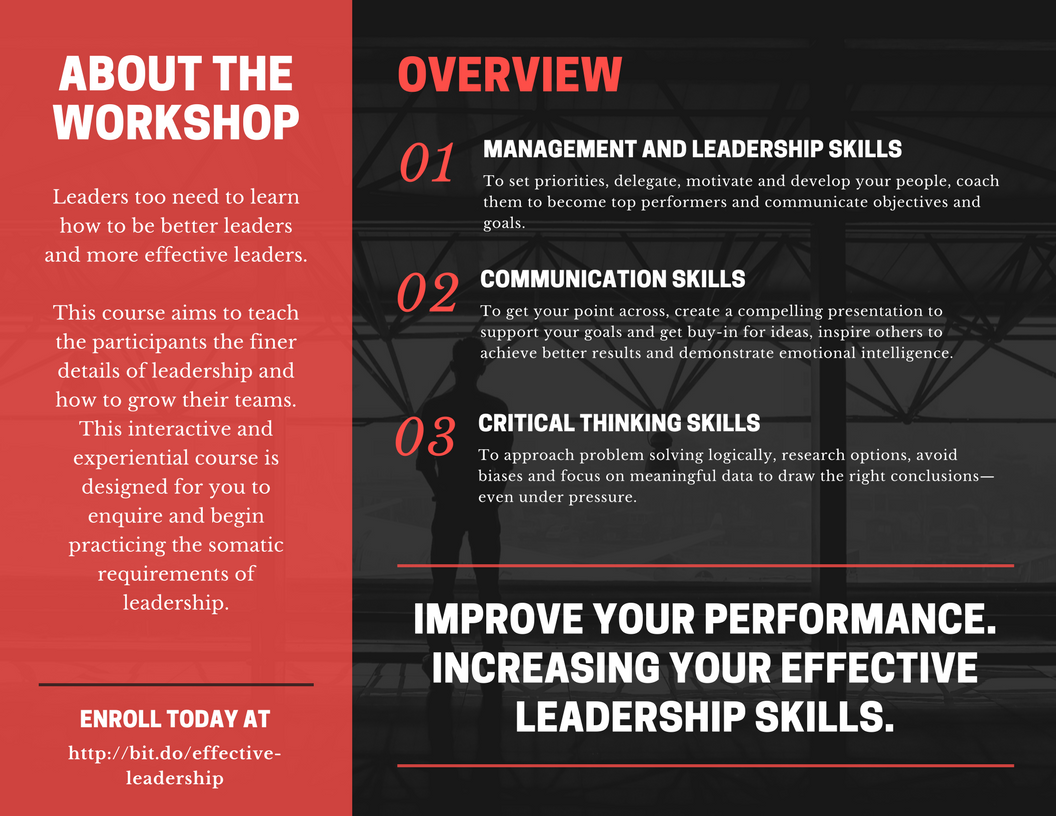 ---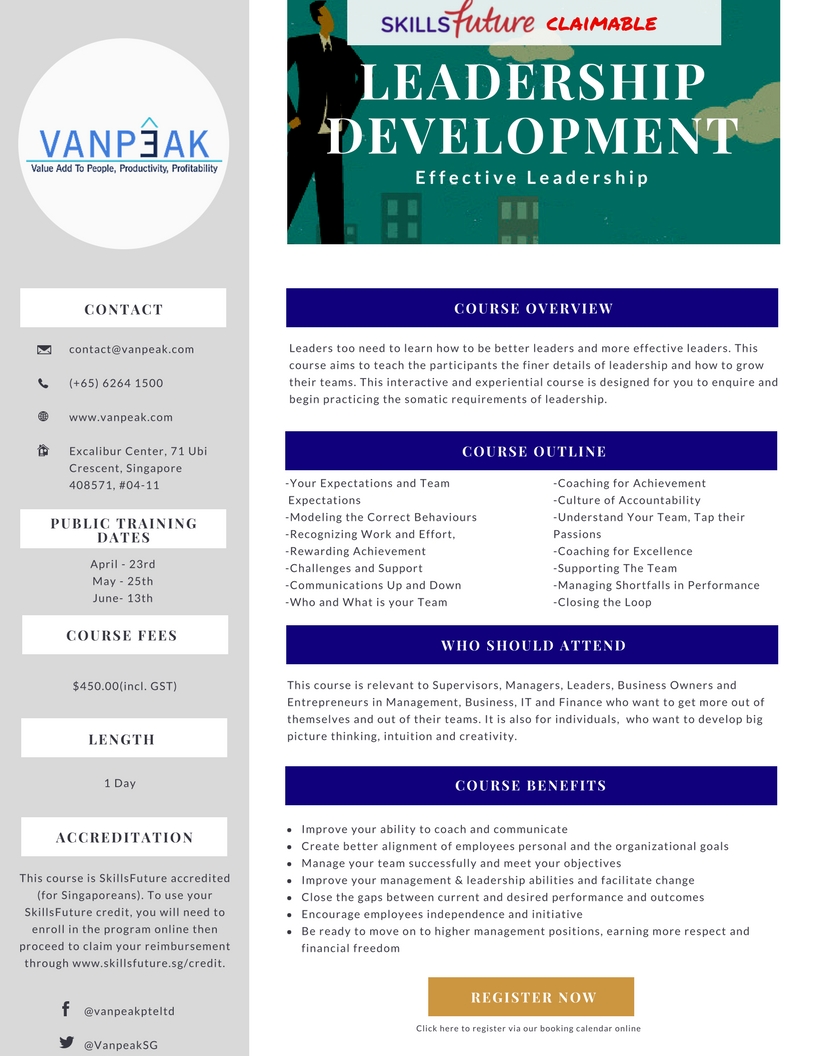 ---
FAQs
1. Where can I contact you for any questions?
Drop us an email, contact@vanpeak.com

2. How do I get to the venue & where can I park?
Our address is 71 Ubi Crescent, Singapore 408571. Parking is available at the venue. The nearest MRT is Ubi (Exit B)

3. Are tickets refundable or transferrable?
No, ticktes are non-refundable/ transferrable

4. Is there a minimum class size to proceed?
Yes, we require at least 5 participants to proceed. In the event there are insufficient participants, we reserve the right to reschedule the class. Under such circumstances, we will inform you no later than one week before the event.