Hear from our Corporate Leaders as they share their experience and advice on leading & building a highly effective team!
About this event
Great leaders build great teams.
The biggest responsibility of a leader is to bring the team together to advance towards a common goal. How do you lead and build a highly effective team, resulting in superior performance in your role or your business?
In this online fireside chat, our esteemed Corporate Leaders will discuss "Leading & Building A Highly Effective Team". We'll also talk about some of the high-level themes and trends in the industry to help you navigate the upcoming opportunities and challenges to be more successful in your roles or your business.
Register now. Participation is FREE.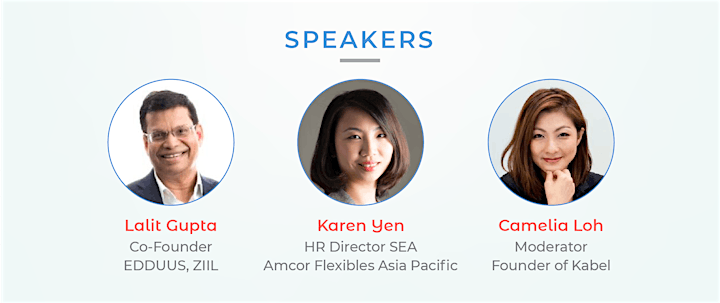 Introducing our guest speakers, who are leaders with diverse experience:
Speaker #1
Lalit Gupta is the Co-founder of EDDUUS, a micro education platform that aims to transform the global education system. He is also the Co-founder of ZIIL, an application that uses gamification to reduce stress and anxiety.
With 30 years of international business leadership experience, Lalit has led several large-scale technology-led business transformations and his areas of expertise span across Big Data Analytics, Social Cloud and Mobility.
In his last role, Lalit was the CMO at ICLIF Leadership and Governance Centre. He is also a Leadership Coach and has spoken at numerous global conferences on Leadership. He focuses on how leadership and management practices need to change in today's fast-changing world of digitization, connectivity, and disruption.
Speaker #2
Karen Yen is the HR Director SEA of Amcor Flexibles South East Asia. She believes firmly in developing high-performing teams to sustain long-term performance. Her passion lies in driving the organization to bring talent strategies to life to support business growth and talent development. She has vast experience in leading change, building an inclusive culture and is currently the pillar lead in championing Diversity & Inclusion, Work-Life Integration pillar at Amcor Flexibles Asia Pacific. 
Moderator
Camelia Loh is the founder of Kabel, a mobile career platform that connects Managers and Jobseekers directly to share expectations, goals and values. She has 15 years of experience managing her own executive search firm and recruiting skilled professionals.
This session is organized by Kabel, with the aim of creating awareness of the importance of leadership in building sustainable businesses through their best assets.
Note:
By clicking the 'Register' button, you agree that any personal data provided by you on the registration page may be used by ZOOM Video Communications, Inc ("ZOOM") and may be transferred to Talent In Motion Sdn Bhd ("Kabel").