Description



In today's business world the need for organizations, teams and people to work effectively across the boundaries between countries, cultures and business cultures is vital.
在当今的商业世界里,组织、团队和人员有效跨越国家、文化和商业文化之间的边界进行工作的需求变得至关重要。
This 1+1 day Masterclass presents an interactive workshop that develops understanding of the impact of cultural similarities and differences on international business, by learning e.g. practical cross-cultural communication, building trust and negotiation skills. The workshop includes real-life case studies and offers opportunities for hands-on learning.

在这1 + 1天的Masterclass课程里,我们将提供了一个互动式的培训,帮助学员发展对文化和文化差异对国际商务影响的认识,并建立实际的跨文化沟通、建立信任和谈判技巧。本工作坊包括现实生活案例分享,并提供实践的机会。


Highlights 课程亮点
Opportunity to have 1-on-1 solution-based coaching

Scientific online assessment to explore individual intercultural sensitivity

Tailor-made case studies to explore cross-cultural challenges and resolutions

Mindset transformation
对1基于解决方案的教练辅导

科学的个性化跨文化敏感度测评

客制化案例探索跨文化挑战和对策

激发思维模式的转变
Benefits 课程收益
Develop cultural self-awareness and cultural intelligence

Identify key cultural challenges and benefits of diversity

Explore key cultural practical knowledge (e.g. cross-cultural communication and management) that are critical to lead effectively

Improve confidence and competence in working with global business partners, or with colleagues, suppliers and customers from different cultural backgrounds
培养文化自我意识和文化智商

识别关键的跨文化挑战和多样性的好处

探索高效领导中关键的文化实践知识(例如:跨文化沟通与管理)

提高与全球商业伙伴或来自不同文化背景的同事、供应商和客户合作的信心和能力
Who Will You Meet 课程对象
The Masterclass has been created for senior leaders, directors, and VPs from any sector who want to lead, manage and communicate effectively across cultural boundaries in international business, including expatriate executives, global negotiators, and global HR.
本Masterclass课程专门为那些想在国际商务中有效地领导、管理和在跨文化中高效交流的CEO、总裁、总经理等企业管理者而开设,包括外派高管、全球谈判者和全球人力资源等。


A Tailored Learning Experience 客制化学习体验
Case studies: We encourage you to bring along your own cross-cultural challenges/cases for discussion & learning

Content of the course may vary and be adapted according to the participants' needs during the workshop
案例客制: 我们鼓励学员带着自己的跨文化挑战/案例来讨论和学习

课程内容将根据学员在工作坊中的需求进行调整。


Agenda 课程大纲
Day One 第一天:
Explore what is "Culture", the hidden values and cultural assumptions and how they can impact the way we lead and communicate

探索什么是"文化",其隐藏的价值观和假设如何影响我们的领导力和沟通方式

Understand the importance of intercultural awareness and sensitivity for the 21st century leadership

理解在二十一世纪全球化领导中跨文化意识的重要性

Identify you intercultural sensitivity (debrief on intercultural sensitivity assessment report*)

发掘你的跨文化敏感度(解读跨文化敏感度测评报告*)

Interactive workshop: Learn about your leadership style and communication, and their impact on team effectiveness and business performance at different cultural business settings

互动工作坊:透视你的领导风格和沟通导向,在不同文化商业环境下对团队效率和业务绩效的影响

Identify effective ways you can increase your intercultural development orientation

识别有效的方法帮助你提升跨文化的发展方向

Working with real-life intercultural business cases to achieve effective solutions

结合跨文化实际案例找到有效的解决方法
Day Two (Optional) 第二天(可选)
Interactive workshop: Exploring our 'Points of View' and 'Deep Values', how they impact the way we work or lead

互动工作坊:探索我们的"观点"和"深层次价值观",如何影响我们的工作和领导方式

Interactive workshop: Explore in-depth cultural competence and develop action plan (including knowledge on various cultural orientation, such as building trust, giving and receiving feedback, disagreement or confrontation etc.)

互动工作坊:深度探索跨文化能力与制定行动计划(包括跨文化的不同维度,例如:建立信任、给予和接受负面反馈、不同意见/争论等)

Learn how to be persuasive and influential in international meetings, negotiations and presentations

学习如何在国际会议、谈判和演讲中发挥说服力和影响力

Develop individual strategies to lead effectively at global business setting

在跨文化商业环境中培养有效的个人策略

Individual 1-on-1 coaching, 45 mins per person, help to enhance cross-cultural awareness, and improve leading global team

1对1跨文化教练辅导,增强跨文化意识,提升带领全球化团队的领导力

Set goals and accountability circle

设定个人跨文化发展目标和责任圈
* The intercultural sensitivity report (known as IDI) is in English, with key terms translated into Chinese. Participants are required to complete the online assessment before attending the workshop.
* 跨文化敏感度测评报告为英文,附中文重点词语翻译。学员必须在课程开始前完成IDI线上测评。


Your Facilitators 课程师资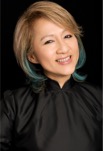 Dr. Tan Po Li 陈宝莉 博士
Fortune 500 Executive Coach & Keynote Speaker of Intercultural Development 中英双语500强高管教练及跨文化发展顾问
Dr. Tan Po Li is known in the training industry as an intercultural development expert and foremost expert in leadership coaching and development. She has more than 30 years of providing professional adult development, training, coaching and teaching groups and individual adults from various backgrounds, cultures & countries, including Mainland China, Hong Kong, UK, German, the Netherlands (Europeans), US, Russia, Canada, Taiwan, Malaysia, Singapore, Indonesia, Middle East, Nigeria and many other countries. Po Li has lived and worked in 5 countries across 3 continents.
陈宝莉博士在培训行业是著名的跨文化发展专家,也是领导力培训和发展的首要专家。她拥有超过30年的专业成人发展、培训、辅导和教学经验。她教学过的团队和个人均来自不同背景、文化和国家,其中包括中国大陆、香港、英国、德国、荷兰、美国、俄罗斯、加拿大、台湾、马来西亚、新加坡、印度尼西亚、中东、尼日利亚等许多其他国家。宝莉在3大洲的5个国家生活和工作过。
Po Li is currently the Senior Partner at Awakenings where she focuses on global leadership and intercultural development programs. She was previously an educational developer (Lecturer in Higher Education) for King's College London, UK and universities in Beijing, China. During her time in China, her work focuses on developing talents/leaders for multinationals in China. Her training/coaching philosophy is shaped by the Chinese Middle Way philosophy (中庸) as well as her diverse experience of living and working abroad.
宝莉目前是覺醒公司的高级合伙人,她专注于全球领导力和跨文化发展项目。她曾为英国伦敦大学国王学院和北京等大学开发教育课程(担任高等教育讲师) 。在中国,她的工作重点在于为跨国企业发展人才/领袖。她的培训/教练的哲学受中国哲学(中庸)影响,以及她在海外工作和生活的丰富经历。
Po Li received her PhD from Faculty of Education, Queensland University of Technology, Australia, specializing in Adult Learning, Educational Psychology & Cross-Cultural Psychology.
宝莉获得澳大利亚昆士兰科技大学教育学院颁发博士学位,专攻成人学习、教育心理学和跨文化心理学。
(www.linkedin.com/in/drpolitan/)

Ng Phek Yen 黄碧燕
Expatriate and Former Finance Leader in One of the Largest Chinese State-Owned Companies 中国大型国有企业财务管理者及外籍人员
Ng Phek Yen has strong business background with more than 17 years of working experience in Mainland China, Hong Kong and Malaysia. She is a Qualified Accountant, FCCA and FCPA. She was the Finance Director for China Mobile Group in China, where she was the first and only expatriate in China Mobile Group which consists of more than 300,000 employees during that period. Her extensive management experience in Chinese State-Owned companies has provided her intercultural experience in understanding, growing, and leading teams of diverse cultures.
黄碧燕女士具有丰富的商业背景,拥有超过17年在中国大陆、香港和马来西亚的工作经验。她是一名合资格会计师,特许公认会计师公会资深会员(FCCA)和香港会计师公会资深会员(FCPA)。她曾是中国移动集团财务部处长,是该集团首位和唯一的外籍员工(该集团当时拥有超过30万名员工)。她在中国国有企业的丰富管理经验为她理解、成长和领导多元文化的团队提供了丰富的跨文化经历。
With her strong business and financial background, Phek Yen is sharp to unpack the complexities of financial data and link the data to the human behaviors of financial performance. She also adopts innovative and interactive play approach in her management style.
凭借她丰富的商业和财务背景,碧燕能非常敏锐地将财务数据的复杂性进行分解,并将数据与财务绩效中人类行为联系起来。她在管理风格上也采用了创新和互动的游戏方式。
Phek Yen is the founder of Awakenings, a consultancy based in Beijing and Hong Kong that focuses on global leadership development and culture design & transformation.
碧燕也是覺醒咨询的创办人,专注于全球领导力和跨文化发展,以及组织文化设计和转型。
Phek received her EMBA from The Hong Kong Polytechnic University. She is also a Certified Cultural Transformation Tools® Consultant of Barrett Values Centre, and Certified LEGO® Serious Play™ Facilitator.
碧燕拥有香港理工大学EMBA。她也是巴雷特价值中心的认可文化转型顾问和LEGO乐高认真玩引导师。
(www.linkedin.com/in/phekyenng/)
What Our Clients Say About Us 客户评价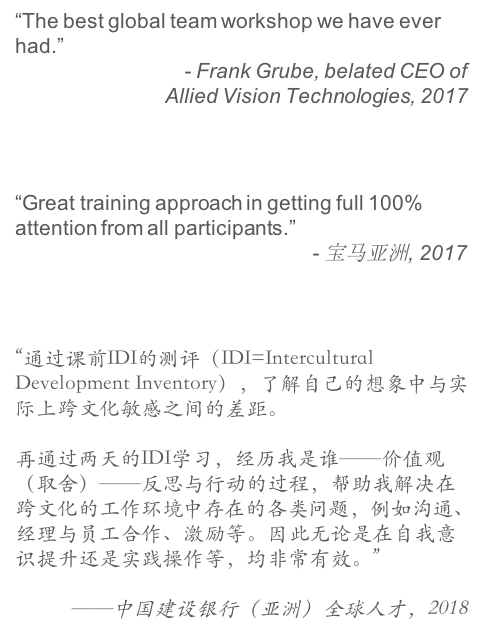 Workshop Language 工作坊语言
Bilingual - Chinese & English
双语-中英文授课
This specific bilingual workshop aims to capture the rich cross-cultural dialogues/stories for impactful outcome.
这一特定的双语工作坊旨在捕捉丰富的跨文化对话/故事以获得富有成效的结果。
Pricing 课程收费
20 October 2018 (For Day One only) SGD 600/pax (including Intercultural Development Inventory assessment)

2018年10月20日(仅参加第一天课程)新币 600/人(包括跨文化敏感度测评)

20 - 21 October 2018 (Full Course - 2 Days) SGD 980/pax (including Intercultural Development Inventory assessment, and 45 mins of 1-on-1 coaching, value worth SGD 400)

2018年10月20-21日(全课程参与)新币 980/人(包括跨文化敏感度测评和45分钟1对1教练辅导,价值新币400)
Group discount: Register for 3 or more participants to enjoy 5% group discount.
团队优惠价格:3人或以上来自同一公司的学员将享受5%的团体折扣。


Registeration 报名方式
You can register directly through clicking the 'Tickets' icon on this site. Should you have any question about the Masterclass, please feel free to email us at phek.yen.ng@theborneoconsulting.com or call directly at +65 8694 3892.
您可以通过此网页点击"Tickets"直接报名。如您对Masterclass课程有任何疑问,欢迎邮件至phek.yen.ng@theborneoconsulting.com或致电+65 8694 3892。