Description

Course Details
Course Name: Leading SAFe 5 Class
Duration: 4 half days
Intake Dates
Jul weekend intake (18th Jul + 19th Jul + 25th Jul + 26th Jul 2020) from 1:00 pm to 5.30 pm
Aug weekend intake ( 15th Aug + 16th Aug, 22nd Aug + 23rd Aug 2020) from 1:00 pm to 5.30 pm
Course fees: $133.75 to $2,675 (including Exam Fees)
Government subsidies: Yes -> IBF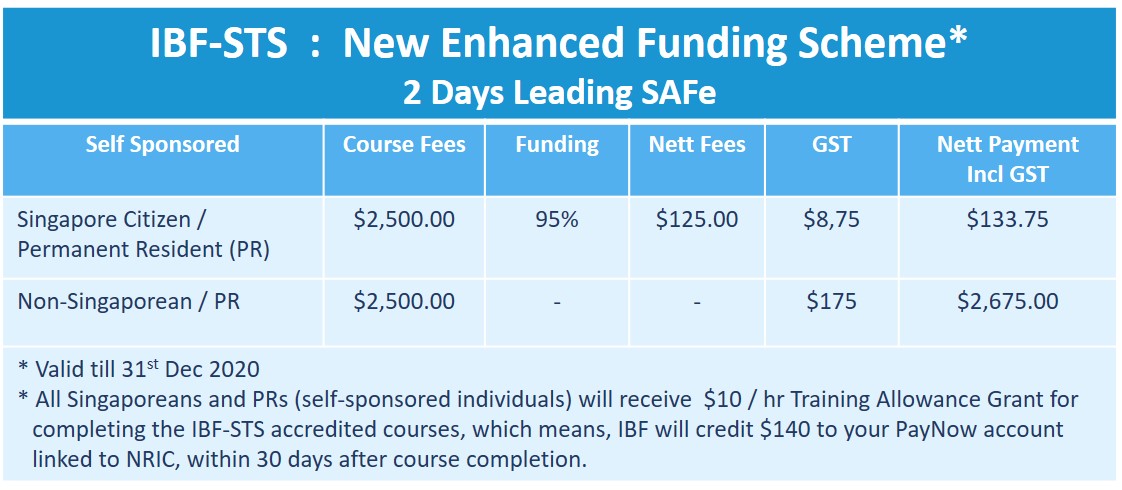 Course Description
Develop a skillset that's in demand worldwide—and empower your enterprise to succeed in a disruptive marketplace—when you become a SAFe 5 Agilist (SA). During this two-day course, you'll learn the principles and practices of the Scaled Agile Framework® (SAFe), how to execute and release value through Agile Release Trains, and what it means to lead a Lean-Agile transformation at enterprise scale.
Participants in the class gain insights into mastering Business Agility in order to thrive in the competitive market. They discuss how to establish team and technical agility and organize and re-organize around the flow of value. They also learn and practice the skills for supporting and executing PI Planning events and coordinating multiple Agile Release Trains (ARTs). Participants in the class explore the importance of adopting a customer-centric mindset and design thinking approach to agile product delivery. Learners also develop an understanding for implementing a Lean Portfolio Management function in their enterprise

Topics Covered
Introducing the Scaled Agile Framework (SAFe)
Becoming a Lean-Agile Leader
Establishing Team and Technical Agility
Experiencing Program Increment (PI) Planning
Releasing on Demand with DevOps
Building Business Solutions and Lean Systems
Implementing Lean Portfolio Management
Leading the transformation


Learning Goals
To perform the role of a SAFe® Agilist, attendees should be able to:
Understand the Seven Core Competencies of the Lean Enterprise
Become a Lean-thinking manager-teacher
Apply the values and principles of a Lean-Agile Mindset
Apply SAFe's Lean and Agile principles to the roles and practices of SAFe
Create high-performing teams by establishing mission and purpose
Lead the transformation with the SAFe Implementation Roadmap
Support PI Planning and the events associated with successful Program execution
Drive Release on Demand with the Continuous Delivery Pipeline
Establish alignment and execution with Strategic Themes and Lean Portfolio Management
Coordinate multiple Agile Release Trains and suppliers with a Solution Train
Course Trainer for Leading SAFe 5 Course
Ola is a Passionate Lean-Agile leader and part of the SPCT program at Scaled Agile. Ola is an active contributor to the development of the framework and the global community. Ola has 14 years of experience in set-up and run Scaled Agile implementations in challenging international environments. In the last four years, Ola has focused to help people and their organizations to succeed in their Lean-Agile Transformations by coaching, mentorship, and training around SAFe. Ola has globally trained almost 1000 people in different SAFe trainings and has experience of almost the entire stack of training from Scaled Agile.

Date and Time
Location
Refund Policy