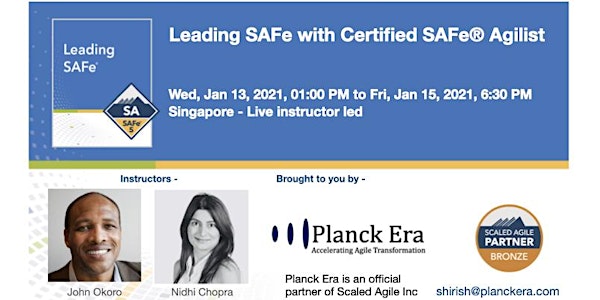 Leading SAFe 5.0 - Singapore - 13th January 2020
Gain the knowledge necessary to lead a Lean-Agile enterprise by leveraging the Scaled Agile Framework® (SAFe®) and its underlying principles
Refund Policy
Refunds up to 7 days before event
Eventbrite's fee is nonrefundable.
About this event
Leading SAFe With SAFe® 5 Agilist certification
During this three-day (5.5 hour days) on-line course, attendees gain the knowledge necessary to lead a Lean-Agile enterprise by using the Scaled Agile Framework® (SAFe) and its underlying principles derived from Lean, systems thinking, Agile development, product development flow, and DevOps.
Participants in the class gain insights into mastering business agility to thrive in competitive markets. They discuss how to establish team and technical agility and organize and re-organize around the flow of value. Attendees also learn and practice the skills to support and execute PI Planning events and coordinate multiple Agile Release Trains (ARTs). Class participants will explore the importance of adopting a customer-centric mindset and Design-Thinking approach to Agile Product Delivery. Learners will also understand how to implement a Lean Portfolio Management function within their enterprise.
https://www.scaledagile.com/certification/courses/leading-safe/
Instructors:
G John Okoro (SPC5) , SAFE5 Trainer, Founder / Creator of Auspicious Agile & Enterprise Agile Coach
John is the founder / creator of Auspicious Agile (www.auspiciousagile.com), based in Singapore. John has founded multiple Agile services practices including for Rally Software in Asia and for Point B, a mid-sized US management consultancy. John has also been a contributor to InfoQ on Agile & DevOps, and an author of the ebook " A Guide to Distributed Agile Framework". John has two decades of leadership and process improvement knowledge in technology related projects, and over thirteen years of experience with Agile methods and Agile coaching. John has led corporate Agile training, executive education, and Agile certification sessions publicly and in corporations across multiple industries in the US & Asia.
John is a frequent speaker at Agile and industry conferences. He has also taught several university courses in the business and technology space (including Enterprise Agile Scaling at National University of Singapore, and for the Singapore Skills Future government initiative). John has proven success in numerous roles as an Agile leader. He has worked in the telecommunications, entertainment, real estate, information services, financial services and professional services industries with numerous Fortune 500 companies including Disney, JP Morgan, Toyota, and Accenture. John has experience with start-up and entrepreneurial ventures and working with government clients.
John specialises in applying Agile and DevOps at scale in the enterprise. John is also experienced in guiding C-Suite executives on Agile Leadership and Agile organization principles. His largest Agile scaling implementation with Disney had a $1 billion USD budget, with 500+ team members that spanned three continents. John also focuses on using enterprise Agile and DevOps together to deliver the highest value, as quickly as possible.
John has a passion for using Agile, Lean principles, and DevOps to create business value and competitive advantage for companies. However, his greatest excitement is through the coaching and development of team members on their Agile journey, enabling them to initiate and sustain their own improvements and culture change. A key success factor for John is using a servant leadership approach and "respect for every individual" to empower teams.
John has a Bachelor of Science degree (University of California Irvine), a Master of Business Administration (MBA) degree (UCLA), and a Juris Doctorate (JD) degree (Southwestern Law School). John is a Certified ScrumMaster (CSM), Certified Scrum Product Owner (CSPO), Certified Scrum Professional (CSP), SAFe Agilist (SA), Scaled Agile Framework Program Consultant (SPC5), and Certified Trainer for the IC Agile Management Track (ICA-APM), and the IC Agile DevOps track (IC Agile DevOps Foundations).
Nidhi Chopra (SPC5)
Nidhi is a seasoned Agile Consultant with extensive experience in helping senior executives and leadership teams with their transformation journey across the organisation. With more than 12 years of experience in Agile ways of working, including agile implementation, transformational change, leadership strategy and its execution, she has advised organisations in gaining enterprise agility using various frameworks such as Scaling SCRUM, Lean and SAFe.
Nidhi has worked with multi-national organisations across Europe and Asia and possesses cross-functional/cross-cultural experience in Agile coaching, facilitating Agile trainings, user journey workshops and design Sprints. Nidhi takes pride in supporting Leaders and core teams embrace a truly Agile mindset and enjoys seeing Leaders drive organisational change and operational excellence by empowering individuals and teams to reach their highest potential.
--------------
Who Will Benefit?
Executives and Leaders, Managers, Directors, CIOs, and VPs
Development, QA, and Infrastructure Management
Program and Project Managers
Product and Product Line Management
Portfolio Managers, PMO, and Process Leads
Enterprise, System, and Solution Architects
Topics Covered
Thrive in the digital age with business agility
Become a Lean-Agile leader
Establish Team and Technical Agility
Build solutions with Agile Product Delivery
Explore Lean Portfolio Management
Lead the change
Become a Certified SAFe® Agilist
What you'll learn
After attending the class, attendees should be able to:
Lead the transformation to business agility with SAFe
Become a Lean-Agile leader
Understand customer needs with
Design Thinking
Enable Agile Product delivery
Implement Lean Portfolio Management
Prerequisites
All are welcome to attend the course, regardless of experience. However, the following prerequisites are highly recommended for those who intend to take the SAFe® 5 Agilist (SA) certification exam:
• More than 5 years' experience in software development, testing, business analysis, product, project management
• Experience in Scrum
What You Get
Class registration includes:
Attendee workbook
Preparation and eligibility to take the SAFe® 5 Agilist exam
One-year membership to the SAFe Community Platform
Course certificate of completion
Attendees must attend both days of the course to be eligible to take the exam.
Annual Renewal
Certifications expire one year from the date of certification is earned. Renewal fee: $100/year
Professional Development Units (PDUs) and Scrum Education Units (SEUs)
• You may be eligible to apply for 15 PDUs toward your continuing education requirements with the Project Management Institute (PMI) for PMP, PgMP, and PMI-ACP certifications
• You may be eligible to apply for SEUs under Category C, toward earning or renewing your CSP through the Scrum Alliance
Additional FAQs
1. Terms and Conditions for cancellations
7 days prior to course date - Course fee minus Eventbrite charges
Within 7 days - Participant is adjusted to next batch
Eventbrite charges are not refunded unless the course is cancelled by the organizer.
For questions and inquiries please see contact us - jokoro@auspiciousagile.com; shirish_sr@yahoo.com.