Description
LEAP 2017 is a series of full day workshop, specially designed for Learning & Development professionals to further develop core competencies with ready-to-apply strategies and tools that drive business performance.
Join for an opportunity to explore, network and learn with other HR & L&D professionals.
Who should attend ?
All levels of HR & L& D Professionals who want to take the LEAP in their career
Why should you attend?
You have spent the whole year working to build additional capacity for your organization to help them drive business results. At this time of the year, we feel it's important that you seize the opportunity to invest in yourself. The stronger you are, the better you are equipped to really drive the organization's performance.
Reserve your seat now!
LEAP 2017
7&8 December 2017 Singapore
Program Fees

$480 / pax for each workshop .
Fee for this workshop includes learning materials, lunch & refreshments.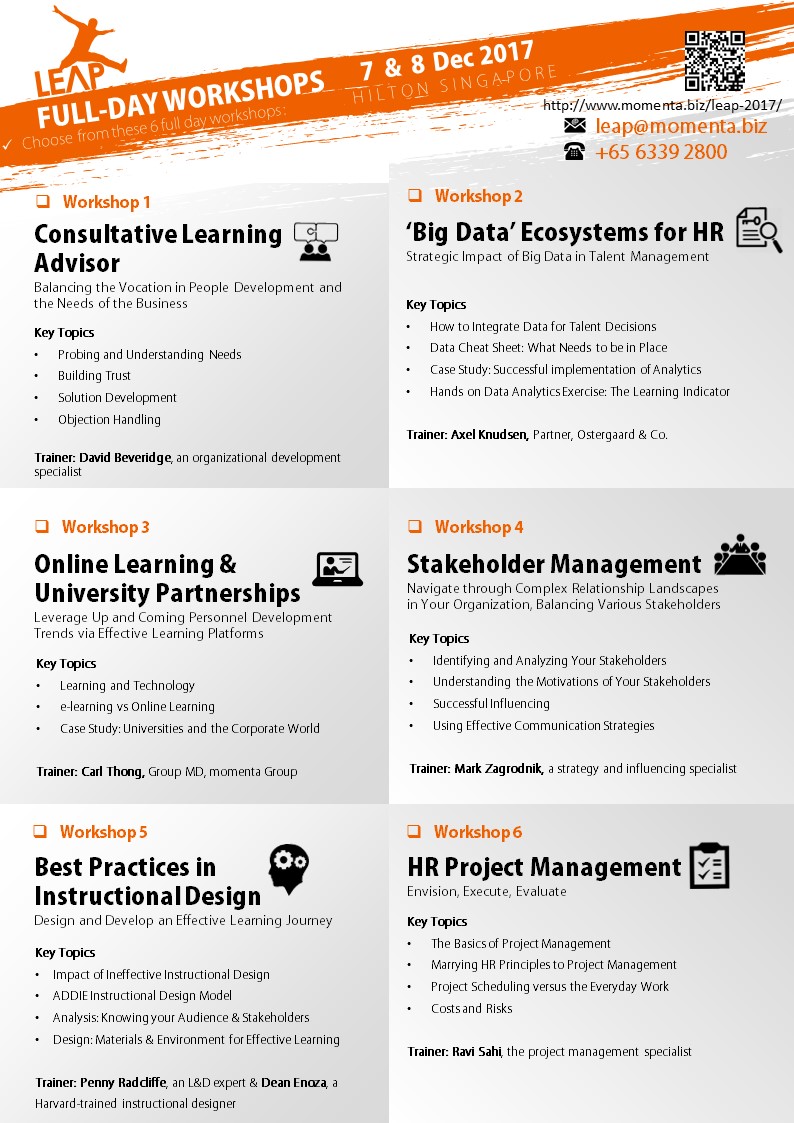 FAQs
What's the refund policy?
Once the booking is received, the place(s) is confirmed. No refunds will be made for any cancellations. However, program credits of equivalent value only applicable for momenta workshop will be provided. Credits can only be redeemed for one program and is valid for only one (1) year from date of issue. Substitution with a qualified candidate is allowed by providing at least 5 working days of advanced notice to momenta. One time substitution is allowed with no charges. Subsequent substitutions will be charged 10% admin fee. momenta reserves the right to change the timing of the workshop, the facilitator, date and venue due to reasons beyond their control. In the unlikely event that the workshop is cancelled, momenta will refund the full amount and disclaim any further liability.
An invoice and registration confirmation will be sent within 7 days. ALL PAYMENTS MUST BE RECEIVED 7 DAYS IN ADVANCE OF THE WORKSHOP.

Please Email Participant Details to leap@momenta.biz with payment confirmation.
-Mr / Mrs / Ms Name
Job Title
Organization
Telephone
Email
Address
Postal Code

- Workshop Name : Date : 7 Dec'17 / 8 Dec'17