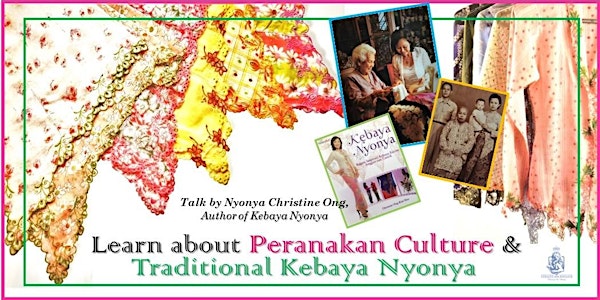 Learn about SG's Peranakan Chinese Culture & Traditional Kebaya Nyonya
Learn about Singapore's Peranakan Chinese Culture & the Traditional Kebaya Nyonya (Nominating for Unesco)
Date and time
Sun, 19 Feb 2023 14:00 - 16:00 +08
Location
Straits Enclave 318A Joo Chiat Road Singapore, 427569 Singapore
Refund Policy
Contact the organiser to request a refund.
About this event
Back by Popular demand!.... Learn about SG's Peranakan Chinese Culture & Traditional Kebaya Nyonya
Singapore, together with Brunei, Malaysia and Thailand, will nominate the kebaya for inscription on the UNESCO Representative List of the Intangible Cultural Heritage of Humanity. The multinational nomination of the traditional women's dress, which represents a significant part of Singapore's heritage also reflects the unique blend of cultures in Southeast Asia. It seeks to raise awareness of the importance of such practices and expressions, encourage dialogue that respects cultural diversity, as well as give due recognition to the practices and expressions of communities worldwide.
Be immersed by Singapore's Peranakan Chinese culture at the Straits Enclave @ Joo Chiat heritage district. The cultural talk, led by Nyonya Christine Ong, the author of Kebaya Nyonya will be bursting with stories of her Peranakan heritage and lineage, and all you need to know about the traditional Kebaya Nyonya.
Guest will gain understanding of the (1) Peranakan heritage and culture, (2) evolution and history of traditional Kebaya Nyonya, (3) different designs and how Kebaya is made, (4) different ways to match and wear the Kebaya/Sarong/Accessories, and (5) be soaked in the ambience of the beautifully decorated Peranakan museum.
Time - 2-hour workshop: 2pm to 4 pm
Venue - Straits Enclave, 318A Joo Chiat Road, Singapore 427569
Check out Straits Enclave at: https://www.facebook.com/StraitsEnclave/
Workshop Spoken in English
There is so much to experience, learn and see at the Straits Enclave!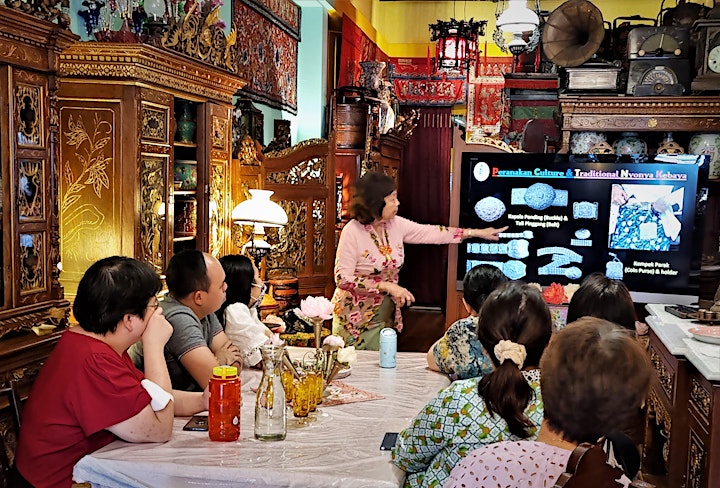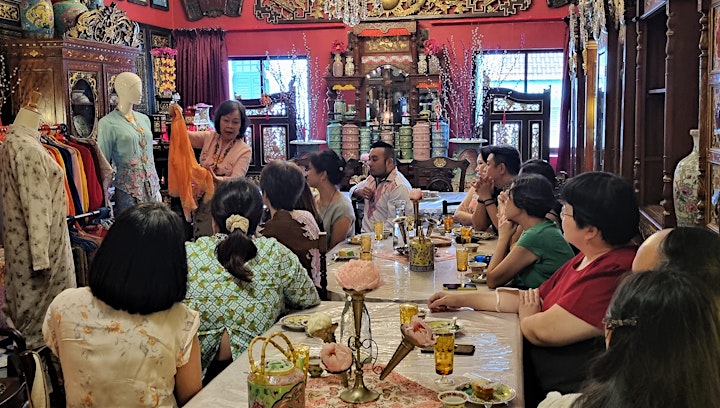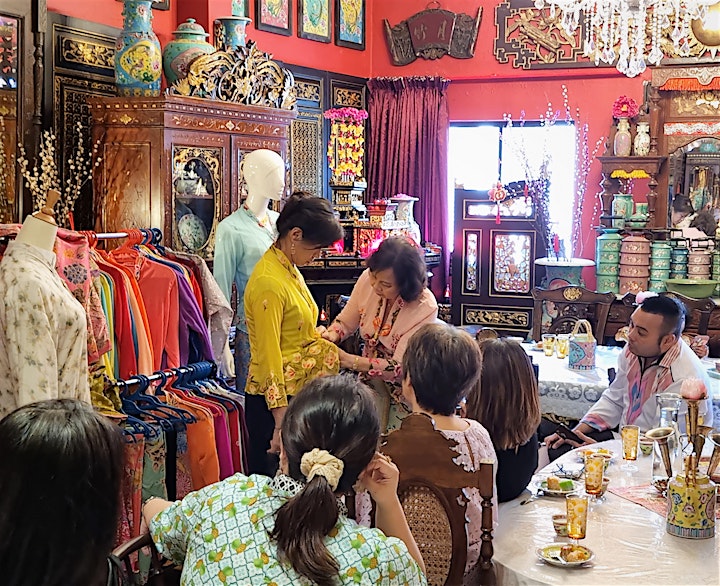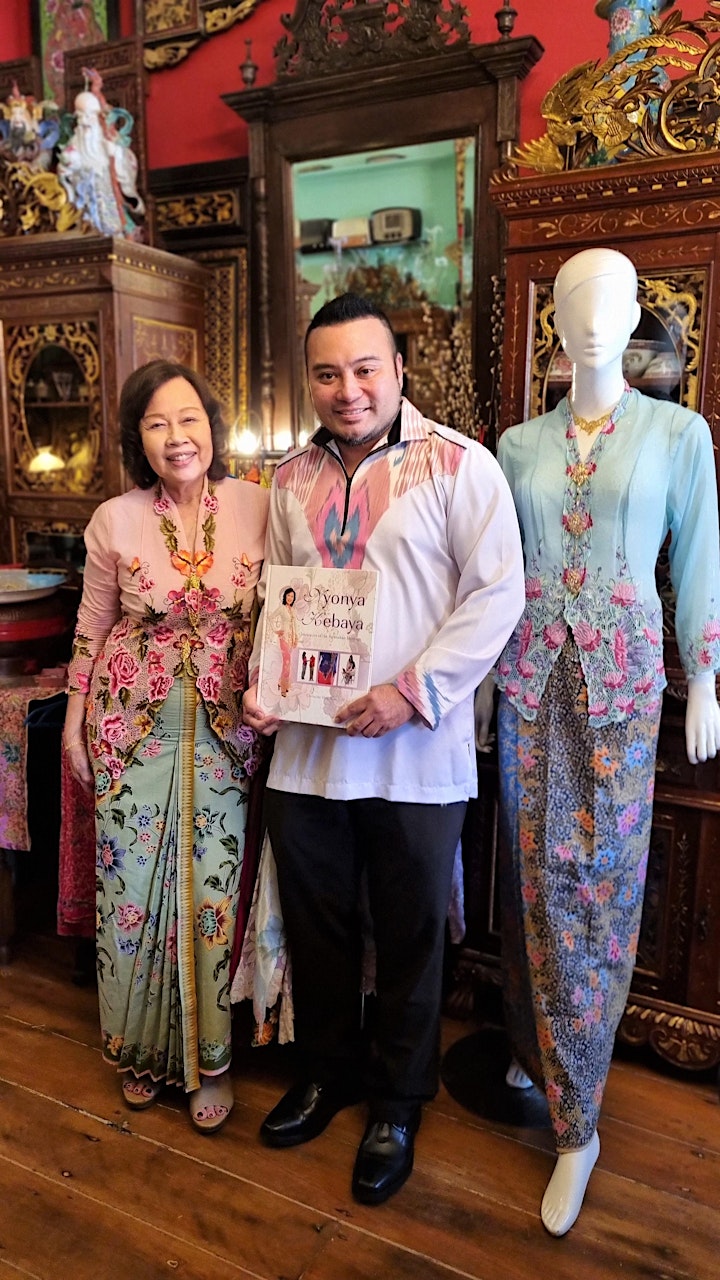 About the organiser
Cosy Enclave Meetings & Event Space. The Straits Enclave is the perfect location for hosting private functions and having an unforgettable evening with family, friends and corporate guests. Projector and screen provided for presentation. The Straits Enclave can have up to 20 visitors at a time for each event.
Promoting Local Culture. Take a private storytelling tour of Straits Enclave, and feel and touch Peranakan & Vintage Artefacts up-close for a greater appreciate of Singapore's unique past and Peranakan Culture. Attend talks, classes and workshops to learn or research more about the Peranakan art and culture.
Cultural Photography and Location Shoot Straits. Enclave is available for photography, movie and location shoots. Delve into the cultural roots with Chinese or Peranakan pre-wedding photoshoot wearing traditional wedding Kua or Baju Kebaya with the grand location to capture the moment for keeps of a lifetime.
Experiential Private Dining
. Visitors craving more for a complete experience can pre-book a private dining session at Straits Enclave. Preserving the authenticity of each dish is key to how Straits Enclave's Chef teleports guests to the time when he/Chef fondly remembers these dishes growing up. Our in-house chef will take you on a gastronomical journey with authentic Peranakan or Western cuisines, special desserts and beverages from past generations' secret recipes. Arrive early to indulge in pre-diner cocktail Nyonya style, and for a photo tour around the fascinating and charming/captivating Straits Enclave. Guests are given the chance to create their plate of Kueh Pie Tee and bowl of Laksa. Straits Enclave presents/promises an engaging, enriching and hearty experience. The Straits Enclave can host up to 16 comfortably seated guests.
Exquisite Breakfast/Lunch/Afternoon Tea
. Straits Enclave delivers breakfast/lunch/an afternoon tea experience with poise and sophistication like no other. Reserve a table in advance at the Straits Enclave to enjoy a truly unique experience. The charmingly traditional and elegantly riveting space is perfect for catching up with old friends and to reminisce the past over tasty traditional cuisines, specialty desserts and tea brews. The photo-worthy place alone is worth the visit and an afternoon of calories.
Prior arrangements and booking required. E-mail: straits_enclave@yahoo.com