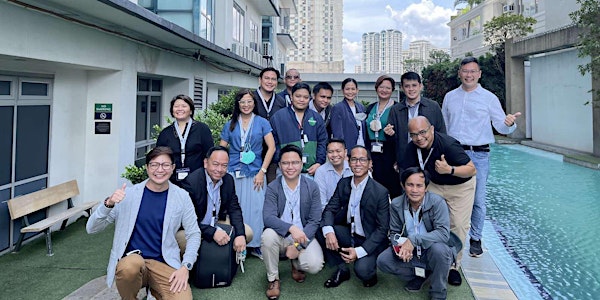 LEARN Onsite @ Bangkok - Sustainable Artificial Intelligence Strategy
Acquiring essential knowledge on the importance of artificial intelligence in the modern organization and develop sustainable strategies
When and where
Location
BHIRAJ TOWER at BITEC 4345 Sukhumvit Road Khet Bang Na, Krung Thep Maha Nakhon 10260 Thailand
About this event
For more information: www.casugol.com/sais
International Acclaimed Certification. 5-Star Reviews
Suitable for everyone. Learn in an Interactive, Supportive and Encouraging Environment.
Course Fee: SGD $85 Nett
Register via www.casugol.com/sais
Duration: 4 Hours
Certification: Participants will receive a Certificate of Completion upon successfully completing the course
Who Should Attend: CIO, CTO, CISO, Information Specialist, Data Analysis, Data Scientist, Information Analysis, Marketing, HR, and Anyone interested in acquiring the essential knowledge on how build a sustainable AI-Powered Organization
Course Objective
Acquiring essential knowledge on the importance of artificial intelligence in the modern organization and develop sustainable strategies to building an AI-Powered Organization
Learn how to Python Programming can be used to deploy a sustainable Artificial Intelligence strategy in a business.
Pre-Requisite
No pre-requisite. Leading Digital Transformation is suitable for everyone
Examination
No Examination Required
Module 1 Introduction to Artificial Intelligence
Topics Covered
What is Artificial Intelligence (AI)
Concepts of machine learning
Data and machine learning
Real world applications of machine learning
How machine learning works
Module 2 Update on Artificial Landscape and Trends
Topics Covered
Understanding the Artificial Intelligence landscape
Shifting to an Interdisciplinary Collaborative Culture
Key Elements to Successful Artificial Intelligence Transformation
Strategies to Scaling the Artificial Intelligence Capabilities
Continuous Training and Education
Module 3 Managing Artificial Intelligence Data Using Python
Topics Covered
Data and Data Types
Deep Dive into Python
Data Types
Variable Operators in Python
Data Vectors and Data Frames
Reading and Writing Data Files to Python
Communicating with Database via Python
Executing SQL Using Python
Joining Structured & Semi Structured Data with Python
Big Data Concepts & Application of Python
Module 4 Understanding Regression Methods and Forecasting in Artificial Intelligence
Topics Covered
Concept of Regression Modelling
Modelling Stages
Simple linear Regression
Multiple Linear Regression
Refining the Model
Model Validation and Prediction
Logistic Regression
Module 5 A Brief Introduction to Deep Learning
Topics Covered
Understanding Learning Representation of Data
Fundamentals of Deep Learning
How Deep Learning Works
Deep Learning and Its Application
Future of Deep Learning
Sustainable Artificial Intelligence Strategy involves rigorous usage of real-time case studies, hands-on exercises and group discussion