Multiple Dates
Learn Skill Future Approved Advanced Excel Course at Inspizone Trainings
Take your Excel skills to the next level with Inspizone's Advanced Excel Training.Learn VLookups, VLookup, Hlook up, Consolidation & more.
About this event
This Advanced Excel Training Course Singapore is designed specifically for spreadsheet users who are already proficient and looking to take their skills to an advanced level. This Advanced Excel Training will be focusing on Pivot Table, VLookup, Hlook up, Filtering Data using Functions, Exporting and importing data, Basic Macros and many more tricks in Microsoft Excel.
🎯 1 Day To Master Excel & Improve Productivity & Career Prospects. Build Your Expertise Now!
✔️ SkillsFuture Credit Eligible Training Center
✔️ Updated Course Modules
✔️ Interactive Class
✔️ One Time Free Refresh Class within 6 Month
This is a hands-on Excel training where you will be working on live exercises of each topic.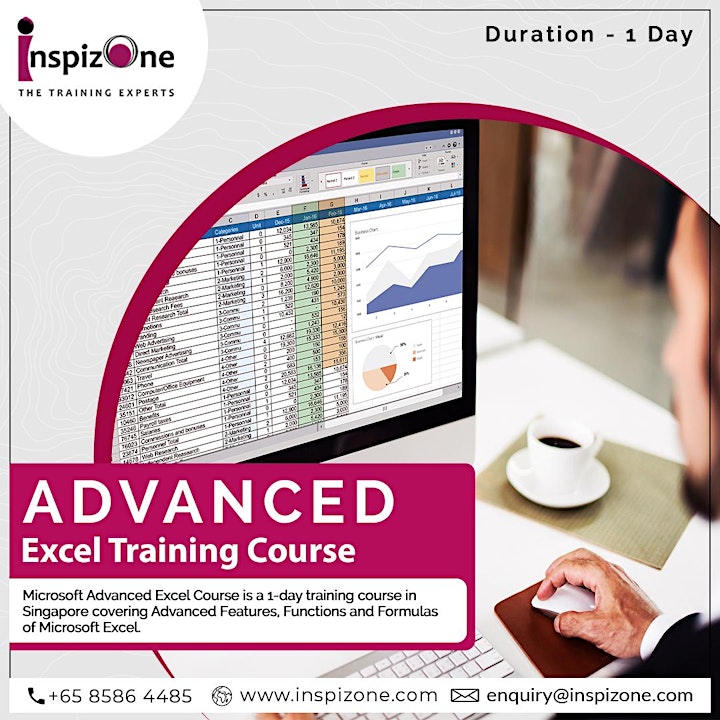 Organiser of Learn Skill Future Approved Advanced Excel Course at Inspizone Trainings
Inspizone is an exclusive professional Training Provider specialing in Training and Human Capital Development, for both management and technical skills. Specifically, Inspizone offers training and learning lab for Office Productivity, IT Course, Project Management, Creative Suite and Finance Courses.
We train with hands-on exercises where participants gain confidence over complicated tasks in order to solve problem and automate daily tasks on their work lives. Training is specifically aiming at increasing the productivity, performance and profitability of the manufacturing, transport, banking, trading, hospitality, oil & gas, insurance, banking, property and services related businesses and organizations.