Event Information
Location
Singapore Expo Max Atria
1 Expo Drive
Singapore, 486150
Singapore
Description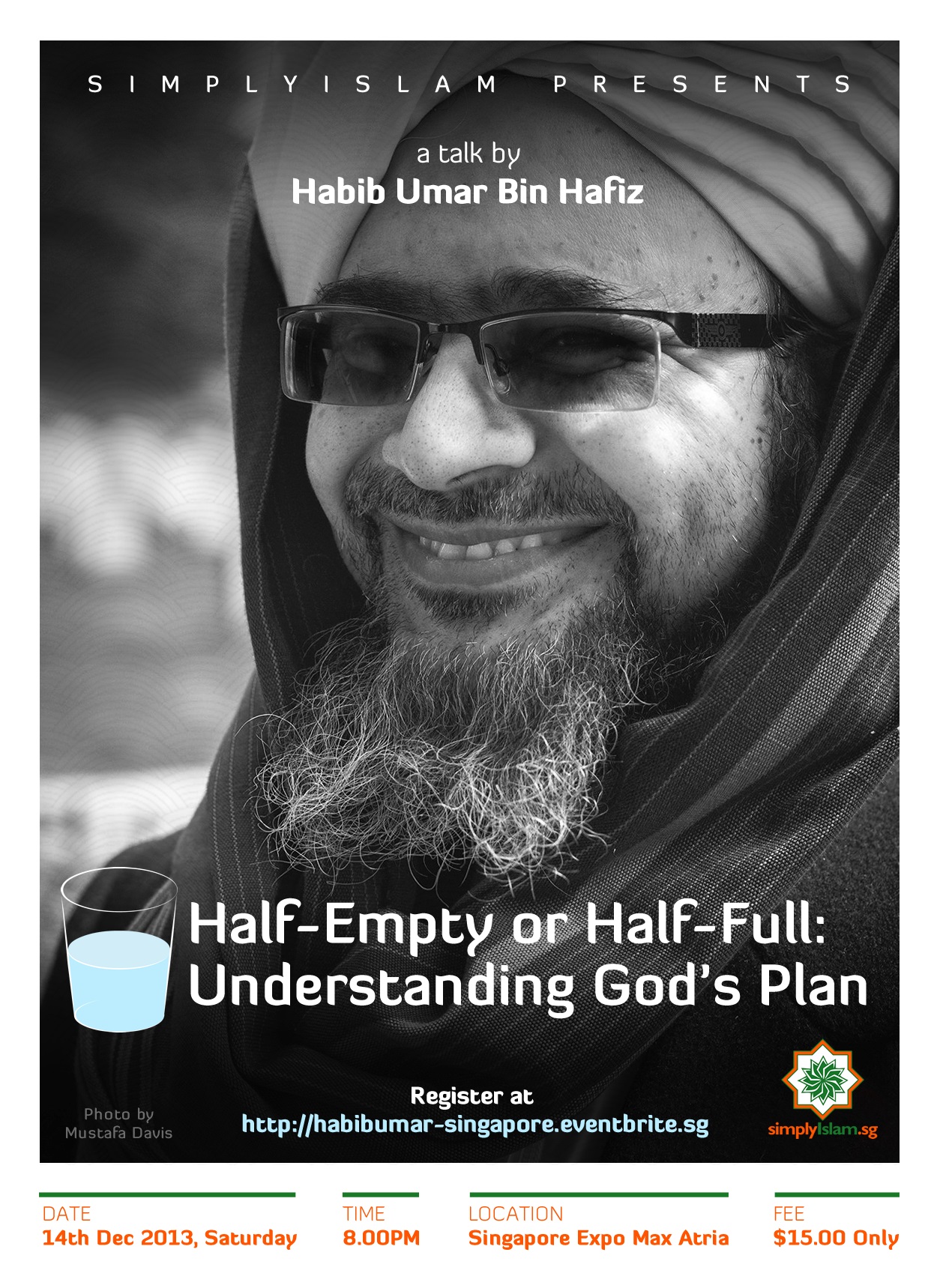 SimplyIslam.sg is organising a public lecture by the internationally renowned Islamic scholar, Habib Umar Bin Hafiz. He is the Founder/Director of Darul Mustafa Institute of Higher Islamic Learning in Hadramawt, the Republic of Yemen and ranked as 28th in the 500 Most Influential Muslims. [biodata].
Events Details
Public Lecture "Half-Full or Half-Empty: Understanding God's Plan"
Date:

Saturday 14 December 2013

Time:

7.30

pm

Fee: $15 only
Venue: Singapore Expo Max Atria (1 Expo Drive) [map].
The lecture by Habib Umar Bin Hafiz will be delivered in the Arabic language, with translation to English by Ustadh Usama Canon.
---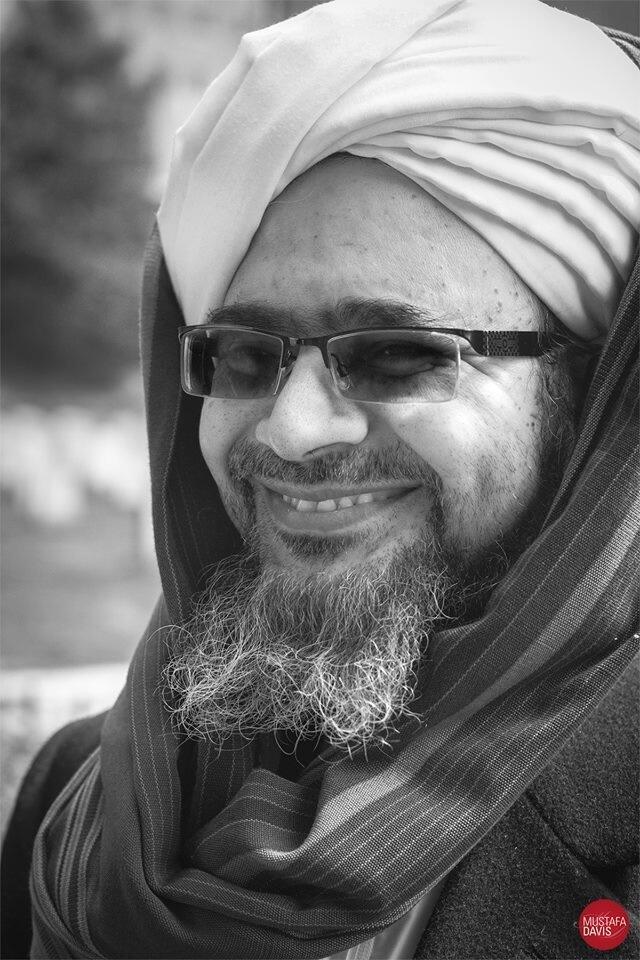 About Habib Umar Bin Hafiz
He was born in Tarim, Hadramaut in the Republic of Yemen on the 4th of Muharram 1383 AH (27 May 1963). He grew up in Tarim and memorized the Magnificent Quran and was reared in a pious fashion, in the care of his father, in an environment of knowledge, faith and virtuous character.
From an early age he studied the sciences of the pure Sacred Law including: the Qur'an, Prophetic Tradition (Hadith), Jurisprudence (Fiqh), Creed (Tawhid), foundations of Sacred Law (Usul al-Fiqh), the various disciplines of the Arabic language, and the knowledge of Spiritual travel from the scholars of Hadramaut. Among the greatest of them was his father, al-Habib Muhammad bin Salim, the Mufti of Tarim, as well as al-Habib Muhammad bin Alawi bin Shihab al-Din, al-Habib Ahmad bin Ali Ibn al-Shaykh Abu Bakr, al-Habib Abdullah bin Shaykh al-Aidarus, the historian and eminent scholar, al-Habib Abdullah bin Hasan Bil-Faqih, the historian and linguist, al-Habib Umar bin Alawi al-Kaf, al-Habib Ahmad bin Hasan al-Haddad, Habib Umar's older brother, Habib Ali al-Mashhur, al-Habib Salim bin Abdullah al-Shatiri, the Shaykh and Mufti Fadl bin Abdul-Rahman Ba Fadl, and Shaykh Tawfiq Aman. He began to teach and invite to Allah when he was 15 years old, while continuing to study and receive lessons.
He travelled across Yemen, Makkah and Madinah to further his studies in the Islamic religious sciences, and he took knowledge from al-Habib Muhammad bin Abdullah al-Haddar and al-Habib Zain bin Ibrahim Bin Sumayt, al-Habib Ibrahim bin Umar bin Aqil, al-Habib Abdul-Qadir bin Ahmad Al-Saqqaf, al-Habib Ahmad Mashhur bin Tahir al-Haddad, al-Habib Abu Bakr al-Attas bin Abdullah al-Habshi. He took license to narrate from the chains of transmission in Hadith and in other sciences from Shaykh Muhammad Yasin al-Faddani and Shaykh Muhammad bin Alawi al-Maliki.
He taught in the Sultanate of Oman, and in Ribat of al-Shihr (Yemen), inviting people to Allah reminding them on the way of al-Mustafa (peace and blessings be upon him). He then moved to Tarim and founded Dar al-Mustafa Institute of Higher Islamic Learning in 1414 AH (1994). The institute has developed outstanding Islamic scholars from all over the world.
Habib Umar is ranked as the 28th in the publication The World's 500 Most Influential Muslims and has travelled widely to spread the beauty of Islam, including the Gulf States, Syria, Lebanon, Jordan, Egypt, Morocco, Algeria, Sudan, Mali, Kenya, Tanzania, South Africa, the Comoros Islands, India, Pakistan, Sri Lanka, Indonesia, Malaysia, Singapore, Brunei, Australia, Britain, France, Germany, Holland, Belgium, Denmark, Sweden and Spain.
He has also written a number of publications like "Selections from Shifa al-Saqim" (al-Mukhtar min Shifa al-Saqim), "The Light of Faith From the Speech of the Beloved of al-Rahman" (Nur al-Iman min Kalam Habib al-Rahman), "Aid to Those Seeking the Pleasure of the Creator Through the Clarification of Noble Character" (Is'af Talibi Rida al-Khallaq bi Bayan MaKaram al-Akhlaq), "The Shimmering Light Mentioning the Birth of the Interceding Prophet" (al-Diya al-Lami' fi Dhikr Mawlid al-Nabi al-Shafi'), and many others.
Location
Singapore Expo Max Atria
1 Expo Drive
Singapore, 486150
Singapore