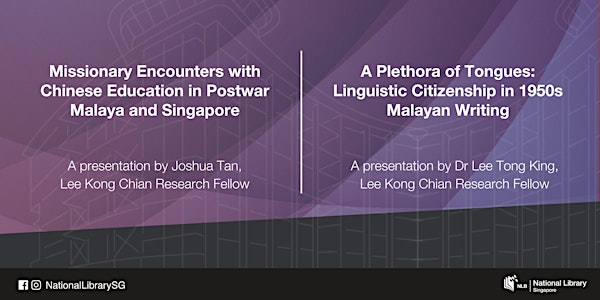 Lee Kong Chian Research Fellowship Sharing
Join Lee Kong Chian Research Fellow Joshua Tan and Dr Lee Tong King as they share findings from their research.
By GoLibrary | National Library Board, Singapore
Date and time
Monday, March 20 · 4 - 5:30am PDT
About this event
1. Missionary Encounters with Chinese Education in Postwar Malaya and Singapore: The Case of the "Malaya Christian College" (1950s–60s)
This talk introduces a short-lived proposal for a Christian college in Malaya and Singapore during the 1950s and 60s, as a lens into the border confluence of missionary and Chinese migrant mobilities in the middle of the 20th century. This proposed college was a brainchild of local Christian educationalists and American liberal protestant missionaries, and a product of the Cold War in Asia .In the wake of the Chinese communist revolution of 1949, it stood at the intersection of two major forces, namely: (1) the exile of Western missionaries from the Peoples' Republic of China, and (2) the problem of Chinese-language (higher) education in Malaya and Singapore, which was a major source of conflict and contestation in local politics in the postwar years. A mere footnote in church and educational histories of the region, revisiting this episode reveals insights into the shifting nature of Christian missions at the mid-century moment of political crisis, questions of (Chinese) religious and cultural preservation on China's "Cold War frontiers," and ongoing conversations about decolonising higher-education today.
About the Speaker
Joshua Tan is a doctoral candidate in history at the University of California, Santa Cruz. His ongoing dissertation, tentatively titled" Cold War Missions: Christianity, Culture, and Higher-Education in the Chinese Diaspora (1950s–60s)," focuses on state and private sponsorship of Chinese higher-education in Singapore, Hong Kong, and Taiwan during the Cold War.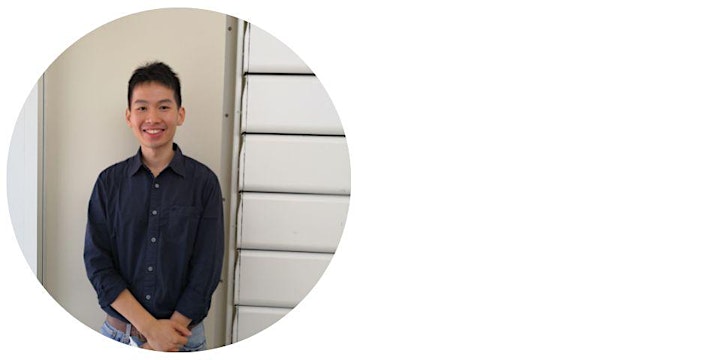 2. A Plethora of Tongues: Linguistic Citizenship in 1950s Malayan Writing
This presentation discusses creative writing from Malaya in the 1950s, focusing on how Chinese-language and English-language authors advocated for a hybrid mode of writing that infused several languages or language varieties into a single piece of composition. It examines the practice of using Chinese dialects and, to a lesser extent, colloquial Malay, in Chinese-language fiction and the short-lived literary campaign EngMalChin, which sought to craft a new brand of English-language poetry by incorporating fragments of Malay and Chinese. The presentation discusses these practices in the context of the sociopolitical dynamic of the 1950s and understands them as expressions of "linguistic citizenship" in post-war and pre-independence Malaya.
About the Speaker
Dr Lee Tong King is Associate Professor in the School of Chinese at the University of Hong Kong and Honorary Professor of University College London. He is the author of Choreographies of Multilingualism: Writing and Language Ideology in Singapore (Oxford University Press, 2022).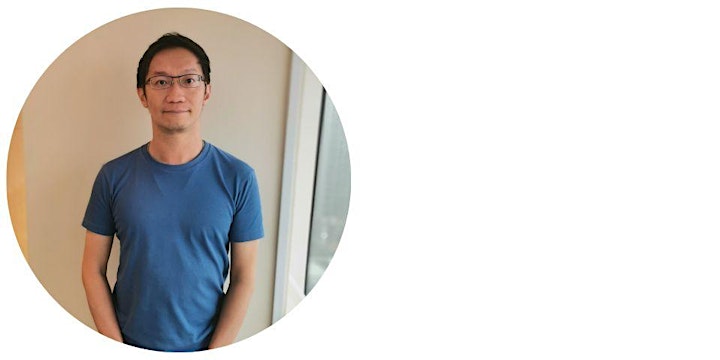 About the organizer
The National Library Board (NLB) manages a network of 28 libraries, the National Library and the National Archives of Singapore. NLB promotes reading, learning and information literacy by providing a trusted, accessible and globally-connected library and information service through the National Library and a comprehensive network of libraries.