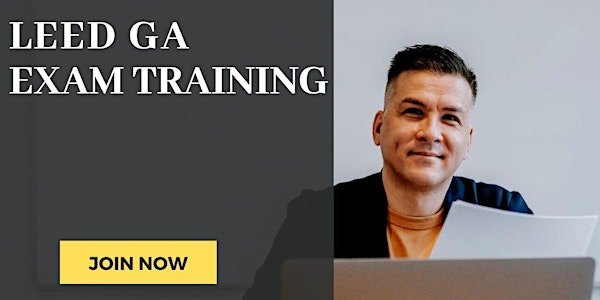 LEED Green Associate Exam Preparation Training in Qatar
Green International, Qatar is a Leader in UPDA Exam Preparation and Project Management Training provider in Qatar.
When and where
Location
Green Intl-MMUP UPDA Qatar Civil Mechanical Electrical Chemical Archit Engg Exam Syllabus Questions Training Center Ibn Seena Street Doha, Doha Qatar
About this event
31 days 3 hours

Mobile eTicket
The LEED Green Associate credential demonstrates a solid and current foundation in green building principles and practices. From marketers to lawyers, landscape architects to education professionals, and product manufacturers to policymakers, LEED Green Associates enjoy a broad understanding of sustainability that bolsters their careers and enhances their lives.
Course Objectives
Introduce the tasks necessary to effectively and safely administer LEED
Define the current LEED rating systems, and market adaptations
Work with other professionals on LEED projects
Review existing projects and learn how to use the new LEED v4 requirements
Understand LEED core concepts and credit categories for all building types
Capture the knowledge of LEED BD+C Knowledge and Task Domains when preparing for the LEED Green Associate exam
LEED Green Associate Training detailed course information: https://greenintl.net/leed-green-associatev4usgbc-usa/
Excellent knowledge transfer delivery training through Interactive Live sessions 25+ years of Industry experience Expert as Trainers Pioneer and Very First Provider for UPDA Exam in Qatar Assured the Best Quality Training Excellent knowledge transfer delivery by Experts Unique case studies and templates Module-wise Mockup Examination for all courses Knowledge delivery-focused to match client's requirements Post-training support until achieving certifications Flexible Timings, Regular and Weekend classes Assistance with the Application process of international certifications bodies From time to time support for passing the exam successfully High Success Rate of 98% comparatively in the market with our expert training
We are happy to update the Training Schedule for Nov-Dec' 2022
PMP - PROJECT MANAGEMENT PROFESSIONAL
14/12/2022, Sat-Mon-Wed, 7-10 pm for 45 Hrs
CFM - Certified Facility Manager
25/12/2022, Sun & Tue 7:00 pm– 10:00 pm 36 Hrs
CCP- CERTIFIED COST PROFESSIONAL
20/12/2022, Sun-Tue-Thu, 7-10 pm for 35 Hrs
UPDA Civil
11/12/2022, Sun-Tue-Thu, 7-10 pm for 30 Hrs
UPDA Mechanical
11/12/2022, Sun-Tue-Thu,7-10 pm for 30 Hrs
UPDA Electrical, Electronics, Instrumentation, Communication Engg.
11/12/2022, Sun-Tue-Thu,7-10 pm for 30 Hrs
UPDA Architecture
28/12/2022, Sat-Mon-Wed, 7-10 pm for 21 Hrs
UPDA – Chemical, Petro-Chemical
10/12/2022, Sat-Mon-Wed, 7-10 pm for 24 Hrs
Qatar Civil Defence (QCDD) Exam Preparation- Mechanical
28/12/2022, Sat-Mon-Wed, 7-10 pm for 15 Hrs
Qatar Civil Defence (QCDD) Exam Preparation- Electrical
29/12/2022, Sun-Tue-Thu, 7-10 pm for 15 Hrs
Qatar Civil Defence (QCDD) Exam Preparation- Architecture
31/12/2022, Sat-Mon-Wed, 7-10 pm for 15 Hrs
LEED Green Associate (LEED GA)
26/12/2022, Sat-Mon-Wed, 7-10 pm for 15 Hrs
Primavera (P6)
19/12/2022, Sat-Mon-Wed, 7-10 pm for 24 Hrs
Revit Architecture
13/12/2022, Sun-Tue-Thu, 7-10 pm for 30 Hrs
Revit MEP
14/12/2022, Sat-Mon-Wed, 7-10 pm for 30 Hrs
NEBOSH IGC LEVEL 3
19/12/2022, Monday to Wednesday, 7.00 pm- 9:00 pm
NEBOSH PSM LEVEL 4
16/12/2022, Fridays Only, 2:00 pm – 5:00 pm
IOSH MS
28/11/2022, Friday Only, 2.00 pm – 5.00 pm
18th Dec – 25th Dec. 2022 Sunday Only, 7.00 pm – 9.00 pm
15th Jan – 22nd Jan. 2023 Sunday Only, 7.00 pm – 9.00 pm
19th Feb – 26th Feb. 2023 Sunday Only, 7.00 pm – 9.00 pm
IELTS
27/12/2022, Sun & Tuesday, 7:00 pm – 9:00 pm
CMA
02/12/2022, Tue & Friday, 7.00 pm – 10.00 pm
NVQ
16/12/2022, Friday Only, 2:00 pm – 4:00 pm
OTHM
09/12/2022, Friday Only, 2.00 pm – 4:00 pm
aPHRI – Associate Professional in Human Resources
16/12/2022 Fridays, 4:00 pm – 6:00 pm
ISO 45001:2018
25th Nov-23rd Dec 2022 (05 Friday weekend batch) 10:00 am – 4:00 pm
ISO 13485:2016
19th-25th December 2022 (5Days Morning batch) 10:00 am – 4:00 pm
Contact our Expert Consultants:
UPDA & Management Training Programs Team
Mob/WhatsApp: +974 6646 4941 / 3340 3359 / 5501 6247
Health & Safety, CFM, ISO Training Programs Team
Mob/WhatsApp: +974 3084 4322 / 7764 7600 / 3098 8433 / 7764 7699 / 3111 4862
Tel: +974 4476 0135 / +974 4476 0546
https://www.facebook.com/groups/updammupexampm