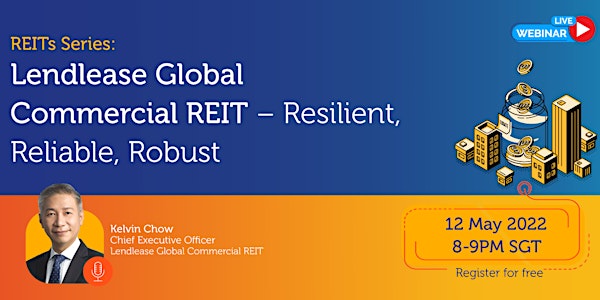 Lendlease Global Commercial REIT – Resilient, Reliable, Robust
Lendlease Global Commercial REIT – Resilient, Reliable, Robust
About this event
In this webinar, the Manager of Lendlease Global Commercial REIT will share with participants the following:
Latest acquisition of Jem
Operational and performance highlights
PLEASE CAREFULLY READ THE PROVISIONS BELOW BEFORE PROVIDING YOUR PERSONAL DATA. BY PROVIDING YOUR PERSONAL DATA BELOW, YOU ACKNOWLEDGE THAT YOU HAVE READ AND FULLY UNDERSTAND THE CONTENTS OF THE PROVISIONS AND YOU HEREBY GIVE YOUR CONSENT AS SET OUT BELOW. 
REGISTRATION NAME DOES NOT NEED TO BE AS PER NRIC 
By providing your personal data, you consent to CGS-CIMB Securities (Singapore) Pte. Ltd. ('CGS-CIMB Securities') collecting, using, disclosing and/or processing your personal data for the purpose(s) of: 
(a) Processing your registration/sign-in to visit and/or access CGS-CIMB Securities' premises; 
(b) Record keeping, visitor log monitoring, audit, data storage or backup (including for disaster recovery); 
(c) Security and public safety; 
(d) Contacting you in the event of emergency and/or investigation (including contact tracing for medical reason or otherwise); and
(e) To contact you for future events/seminars and product promotions. 
If you have any questions relating to CGS-CIMB Securities' collection, use and disclosure of your personal data, you may contact dpo_securities@cgs-cimb.com.
MR KELVIN CHOW
Chief Executive Officer
Mr Kelvin Chow is the Chief Executive Officer of the Manager. He works closely with the Board to determine the strategy for LREIT and is also responsible for planning the future strategic development of the REIT. He oversees the overall day-to-day management and operations, as well as works closely with the investment, asset management, financial and compliance personnel to meet the strategic, investment and operational objectives of LREIT.
Mr Chow has over 27 years of experience in finance and accounting matters, tax and treasury and capital management, of which more than 16 years are in direct real estate investments and fund management. Prior to joining LREIT, he was Managing Director of Investment Management in Asia in Lendlease Investment Management Pte. Ltd.. Before that he was the Chief Financial Officer of various REITs where he played a vital role to oversee the company's financial activities.