Description
COURT MARTIAL BAR PRESENTS A STAR OF BOMBAY GIN MASTERCLASS FOR THE SINGLES!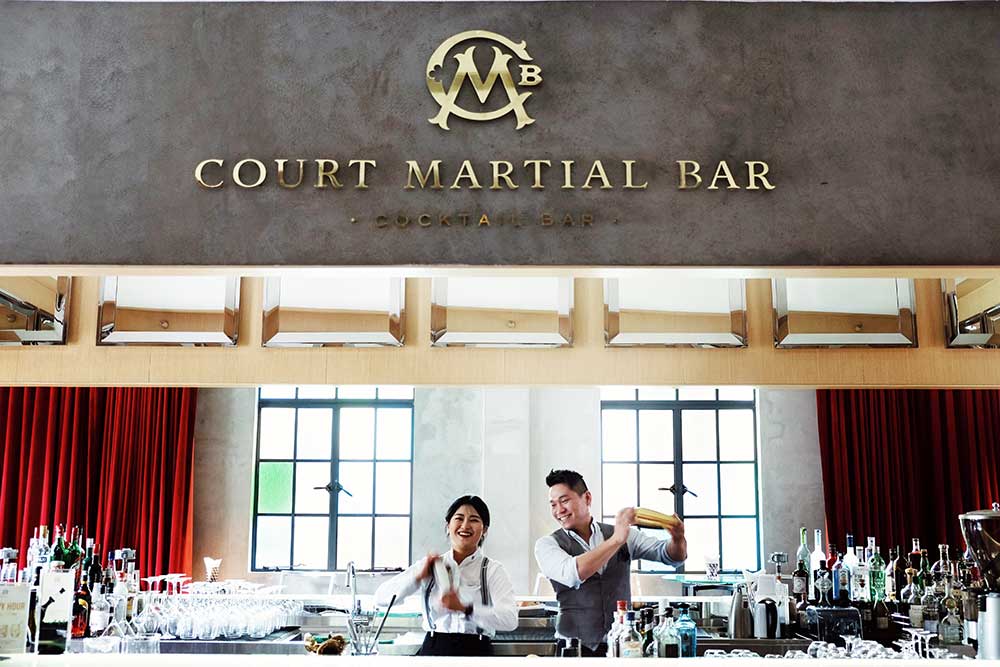 Tired of the same old Valentine's Day events?
Join us at Court Martial Bar on Thursday, 14 February for a masterclass led by Bacardi Ambassador Mike Cheong and our very own June Baek, as they expertly guide you in making two delicious cocktails featuring Star of Bombay, a bold and exotic gin created by Bombay Sapphire.
Whether you're a cocktail novice or a raging alcoholic, we promise a fun-filled evening at Court Martial Bar with our weekly Round The Troops Party featuring live funk and house beats by resident DJ Stephen Day from 8pm till late.
Who says Valentine's Day should only be fun for couples.
--Event Info--
Masterclass ticket | $28++ per person (inclusive of 2 cocktails)
LIMITED SEATS AVAILABLE. Early bookings are strongly advised.
Venue: Court Martial Bar, JW Marriott Singapore South Beach, 30 Beach Road, Assembly, Level 1, Singapore 189763
Time: 7pm to 8pm
Registration time begins at 6:40pm
--The Cocktails--
[Constellation, created by Mike Cheong]
A refreshing aperitif-style concoction made with St-Germain and Martini Prosseco, the rich and intense botanicals from Star of Bombay gin are balanced perfectly with a mix of elderflower and bubbly. This classy cocktail is simple to make and a great pre-dinner crowd pleaser.
[Heritage Sling, presented by June Baek]
This heritage-inspired signature by Court Martial Bar is a play on the infamous Singapore Sling, dedicated to the first batch of Army Soldiers that were recruited in Block 14 - the same building in which the eclectic bar resides in. Find out what the surprise ingredient is that adds a twist of zest and fruitiness!
--After the Masterclass--
Stay on as Court Martial Bar's weekly Round the Troops party begins at 8pm featuring live funk and house beats by resident DJ Stephen Day and a late-night happy hour affair. Mike Cheong turns the night up a notch as he continues with his guest shift featuring two more gin creations including the Galaxy Rubino, a coffee negroni-esque drink that's sure to keep the energy levels high. Mike's guest-shift cocktails are at $14++.
TERMS AND CONDITIONS
Printed or electronic ticket to be presented at the door for admission.
Minimum age applies. For enquiries, please contact jw.sinjw.dining@marriott.com
Where reasonably necessary, the organiser of the event reserves the right to make alterations to the published event programme.
The organiser/venue reserves the right without refund or compensation to refuse admission/evict any person(s) whose conduct is disorderly or inappropriate or who poses a threat to security, or to the enjoyment of the services by others.
REFUNDS / EXCHANGES
Upon confirmation of your order for tickets, no refunds or exchange of tickets will be made under any circumstances and tickets are not transferable. The resale of tickets at any price is prohibited. The organiser reserves the right to cancel any tickets that have been transferred or resold and to deny any such ticketholder entry.
In the case the event is postponed or cancelled, a postponement publicity notice or a cancellation publicity notice respectively shall be placed in the media by the organiser. The organiser shall at its own discretion place notices advising procedures for requesting a refund and the period and time within which the ticketholder may request a refund.
It is the responsibility of the ticketholder to ascertain whether the event has been cancelled or re-scheduled and the date and time of the re-scheduled event. Where an event is cancelled or re-scheduled, the organiser will use reasonable endeavours to notify the ticketholders using the details provided at the time of ordering. It is not guaranteed that ticketholders will be informed before the date of the event.
PARKING
Parking is available at South Beach, entrance via Nicoll Highway.
Monday to Friday
$2.40/hr from 7am to 5pm
$3.50/hr from 5pm to 11:59am
$3.50/hr from 12midnight to 7am the following day
Valet services are available at the pick-up / drop-off point at the Hotel Lobby.