Description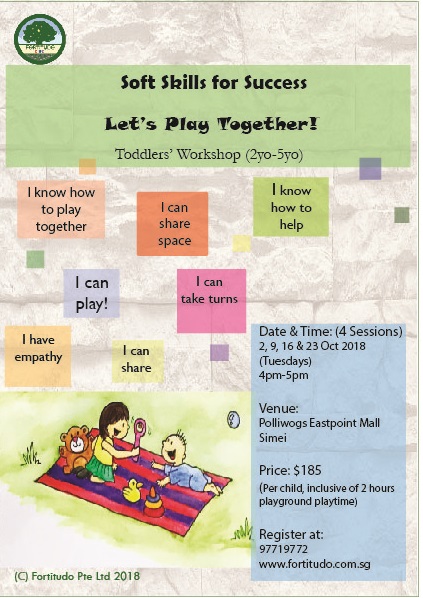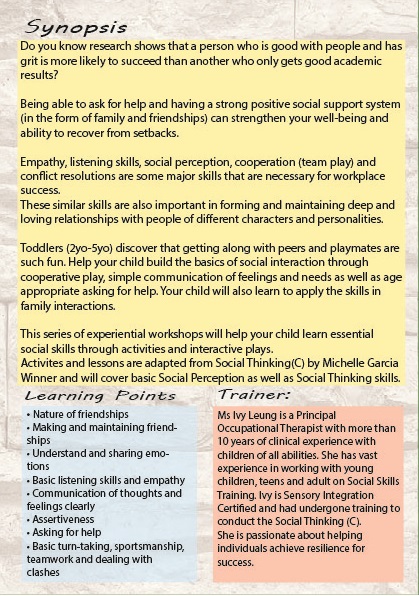 Do you know research shows that a person who is good with people and has grit is more likely to succeed than another who only gets good academic
results?
Being able to ask for help and having a strong positive social support system (in the form of family and friendships) can strengthen your well-being and ability to recover from setbacks.
Empathy, listening skills, social perception, cooperation (team play) and conflict resolutions are some major skills that are necessary for workplace success.
These similar skills are also important in forming and maintaining deep and loving relationships with people of different characters and personalities.
Toddlers (2yo-5yo) discover that getting along with peers and playmates are such fun. Help your child build the basics of social interaction through cooperative play, simple communication of feelings and needs as well as age appropriate asking for help. Your child will also learn to apply the skills in family interactions.
This series of experiential workshops will help your child learn essential social skills through activities and interactive plays.
Activites and lessons are adapted from Social Thinking(C) by Michelle Garcia Winner and will cover basic Social Perception as well as Social Thinking skills.
This is a parent- accompanied workshop and includes 2 hours complimentary playtime at the playground.
Playground terms and conditions for entry applies.
Learning Points:
• Nature of friendships
• Making and maintaining friendships
• Understand and sharing emotions
• Basic listening skills and empathy
• Communication of thoughts and feelings clearly
• Assertiveness
• Asking for help
• Basic turn-taking, sportsmanship, teamwork and dealing with clashes
• Beginning of social perception and social thinking skills
• Personal Space and body language
Register at:
97719772
www.fortitudo.com.sg