About this Event
This workshop is open to audio engineers, recording enthusiasts, and anyone doing home recording or wishing to learn something about recording techniques. Raf Soundwalker, an experienced audio engineer and music producer in Singapore, will bring you through:
How the make, wood and design of acoustic guitars affect sound production;
Basic recording techniques and pro-tips;
Recording with different microphones and Direct Input (DI);
First-hand experience with professional recording - where you'll get to record, mix, and take home your recorded track.
What you'll need:
- Come with a guitar (feel free to invite a guitarist friend along if you don't play), and a track you wish to record.
(If you wish to only observe, you're welcome to come anyway!)
This event is free-of-charge and proudly supported by ANADIGI SOUND LAB. Contributions at the door are welcome, and will go towards supporting future workshops for the Have You Hertz community.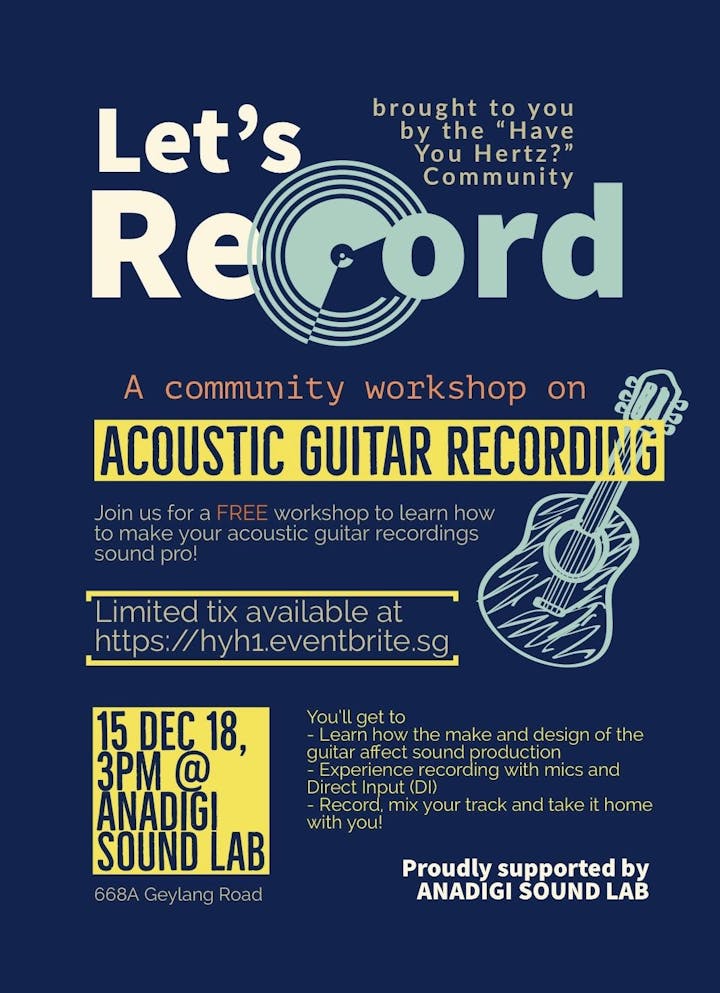 About the Instructor - Raf Soundwalker
An audio engineer with a proven track record in music production, recording, and post-production across Singapore, the UK, and Australia, Raf Soundwalker has engineered recording sessions and live shows for Snarky Puppy Tribute Band (Singapore), Druv Kent Live Show, Karen De Silva String Quartet, The Great Life Project, SingJazz Festival, to name a few. In recent years, he has produced for The Kevin Michael Project, local world fusion music ensemble Flame of the Forest, and more recently for the single and upcoming EP release for local singer songwriter Shak'thiya. He is also currently Lecturer of Audio Engineering in Orita Sinclair School of Design and Music.