Description
We've heard of the common line - Go Digital or Go Extinct.
We are referring to the importance of having a presence online and learning to build communities around that brand on the right social media platforms.

Why social media?
In the last decade, social media have truly changed the way business works in acquiring customer and earning revenue. Believe it or not, they are online e-commerce businesse making millions without even having a physical retail space. It gets even more crazier, with suppliers providing dropshipping direct to clients, an online retailer only needs to market on social media in order to earn.

Companies as big as Lazada, Zalora, Flipkart have long used affliate program where they engage individuals to promote their e-store on social media platform - the more the merrier. Tapping into online network is extra beneficial than tapping on just your own. The reach is limitless, easily selection by country or age - targetting the right target audience is getting way easier!
But social media is not successful or effective for everyone!
We've underlined the benefits and you can easily read on the best practices, but yet people fail in building a great corporate brand, build communities, establish genuine relationships online and still NOT making money despite that investment of time each day being online!
It's not just about posting - it's what you post, when you post, who you are posting it for!
In this upcoming #letstalk even, we are seeking expert help from Social Media Marketing consultants and trainers, who've helped many of their clients excel in corporate branding and social selling. If you have a business for the last year, have a Facebook page but no sales - then this is the course for you.
Do & Don'ts of Social Media Marketing
How do we plan, schedule and monitor effectiveness?
How to curate good content? How important is copyrighting?
Understanding algorithms of common platforms such as Linkedin, Facebook, Instagram.
So which social media is best for which kind of business?
Negativity and Positivity of Social Selling - bad reviews, exposure, brand management.
What is affliate program, influencer management, marketing partners about?
Case Studies - experience sharing from each of the speakers.
What is #letstalk?
Unlike a typical event where you listen to a talk and ask quesions, #letstalk aim to do more than that. Each question asked to the speaker is also open to the audience to share and give opinions about. Our experts lead the conversation, but this event is about you learning, sharing and networking. You are free to speak to share your case study and experiences, so everyone of us, speakers included could benefit in learning.
Who should attend this discussion?
Entrepreneurs
Business Owners
Freelancers
Students
Speakers's Profile:

Nasa Jaafar - Connect with him on LinkedIn here.
An Ipoh born, Malaysian Serial Entrepreneur and motivational speaker who turned his personal struggles into a motivational message for others. Considered to be the modern voice of inspiration, he is one of the most sought-after motivational speakers and human performance trainer in the corporate arena, sharing proven strategies of turning obstacles into opportunities.He has garnered a breadth of experiences through hospitality, advertising, communications and sales over the past 15 years combined with several years worths of entrepreneurship exposure, Nasa now consults for several corporations, startups and social enterprises with the focus on impact driven initiatives.
Roberto Cumaraswamy - Connect with him on LinkedIn here.
Website: www.robertocumaraaswamy.com
A passionate marketer with over 20 years of experience at a senior management level across range of industries like Education, Telco, FMCG, Cosmetics & Beauty, Consulting and Start-ups. He builds and leads marketing teams to grow a business through the effective use of modern marketing strategies. On the side he also acts as a speaker and trainer on marketing, digital & content marketing & personal branding. He has extensive experience in the full marketing process – strategy, research, product development, pricing, sales distribution and merchandising, advertising, media, events, PR and digital/social marketing. Roberto was named as one of "Top 43 inspirational LinkedIn icons in Malaysia to follow" by Marketing In Asia online magazine (2018).
Khusboo Nangalia - Connect with her on LinkedIn here.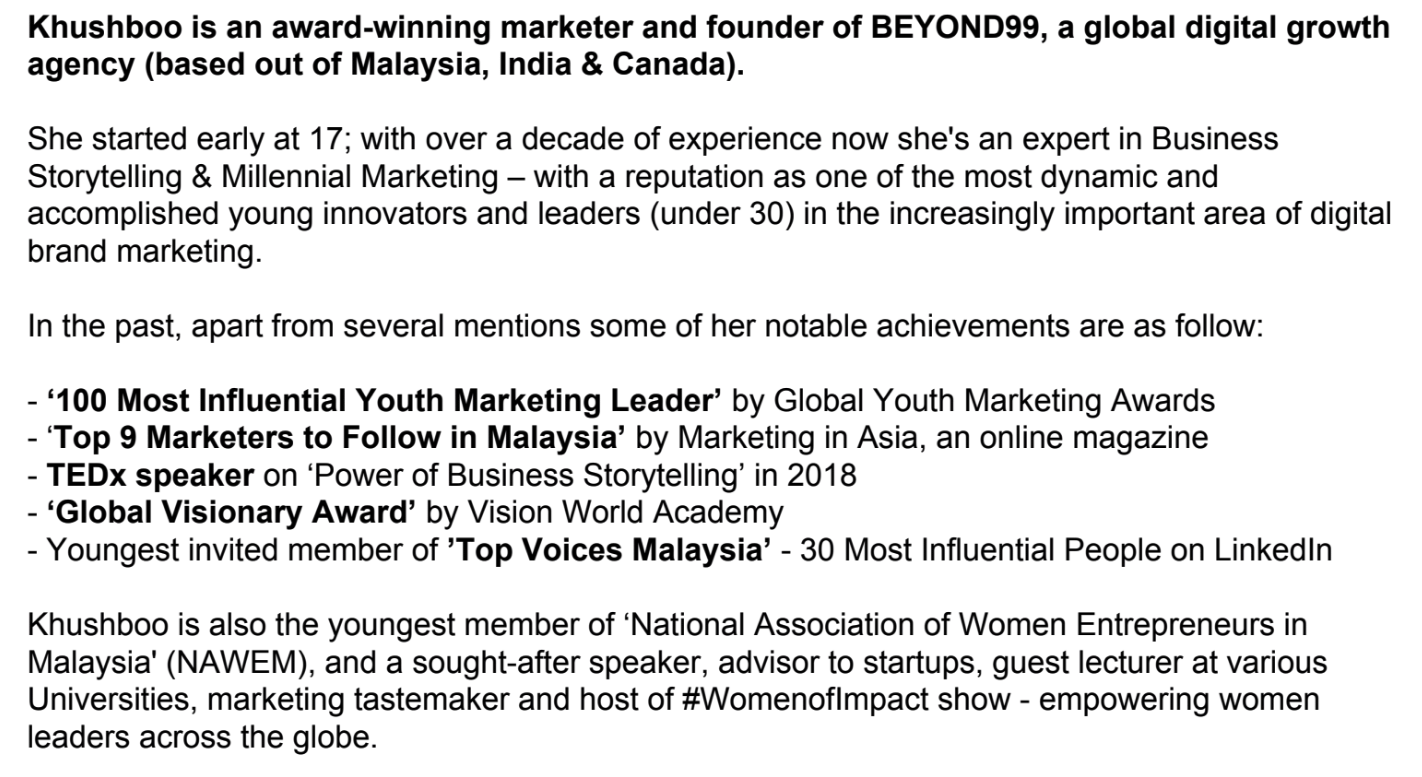 Moderator: Alexander Klenk
Connect with him on Linkedin here.
Alexander is currently the Chief Financial Officer of Spendless Group and Bebebargains.
Why the fee?
We are not making profits, the cost of the ticket covers our venue and light refreshments provided that day.
---
WE ARE SO LOOKING FORWARD TO MEET YOU.
Regretfully, we can only house a maximum of 40 people for this event. Please secure a seat early to avoid disapppointment, please encourage some friends to attend who might also benefit from this discussion.
Organizer Information : Leza Klenk
Leza is currently the CEO of Spendless Group and Bebebargains.
To read more of Leza Klenk's achievements, please follow her on LinkedIn.

Some of Leza Klenk's media feature include:
Listen to some of podcast recorded of Leza Parker:
You Tube Videos of Leza's Past Talks Recording:
This event is also supported by:

Spendless Academy
Spendless Academy is an educational platform that connects experts and mentors to entrepreneurs, through live webinars to share their knowledge and experience in real time. Sign up for your account and access unlimied webinars covering major business trending topics today: www.spendlessacademy.com