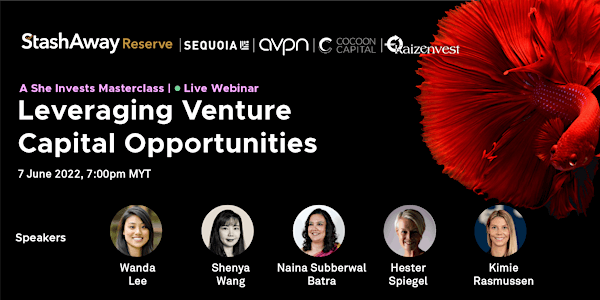 Leveraging Venture Capital Opportunities
Join us for a deep dive into venture capital opportunities and where they lie on the private equity spectrum.
About this event
Get insights about venture capital opportunities from industry experts; we've invited speakers from Sequoia Capital, Kaizenvest, Cocoon Capital, and the Asian Venture Philanthropy Network.
Over the past two decades, technological innovation has not only changed the way we live but also how most industries operate. The emergence of tech companies valued at hundreds of billions of dollars has sparked tremendous growth in Venture Capital (VC) as an asset class.
What we'll cover:
Introduction to Venture Capital and Private Equity
How public market valuations affect opportunities for VC's, fundraising, valuations, and more
How VC firms bring value to the startups they invest in How VC's differentiate themselves
What start-up founders look for when approaching a VC firm for funding
How VC investing fits in your financial portfolio
Evaluating Venture Capital funds and fund managers as an investment option
Trends in Venture Capital investing in SEA
Panelists:
Shenya Wang, Associate, Sequoia India
Shenya is an associate at Sequoia India covering tech investments across Southeast Asia, with a sector focus on e-commerce, logistics, edtech, SaaS and Web 3.0. Prior to Sequoia, she spent time at BCG as a management consultant working with companies spanning consumer, retail and TMT sectors.
Naina Subberwal Batra, CEO of Asian Venture Philanthropy Network
Naina joined AVPN as CEO from September 2013 and was appointed Chairperson from 2018 to 2021. Naina's leadership over the past 8.5 years has nurtured the AVPN community, growing the membership base by more than 4x and elevating the organization into a truly regional force for good. Under her direction, the organization has grown from focusing only on venture philanthropy to supporting the entire ecosystem of social investors, from catalytic philanthropists to impact investors and corporate CSR professionals. She has also been instrumental in developing AVPN's innovative services, like the collaborative pooled funds, that connect, empower and educate the now 600+ members of AVPN.
In 2021, she was featured in the list of Asia's Most Influential by Tatler Asia and in 2019, awarded one of Asia's Top Sustainability Superwomen by CSRWorks. She is also serving as a Board Member of the Global Resilient Cities Network, Vice-Chair at the International Venture Philanthropy Center and Trustee at Bridge Institute. She has been the keynote speaker at several global gatherings and authored a chapter in the book 'Generation Impact: International Perspectives on Impact Accounting'.
Prior to joining AVPN, Naina was a member of the senior leadership team of a purpose-driven unit at The Monitor Group, a leading global strategy consulting firm, aimed at catalyzing markets for social change. Naina was also a partner and Co-Founder of Group Fifty Private Ltd, curating contemporary Indian art with a view to provide a medium for upcoming and established Indian artists to showcase their work directly to a large and diverse audience.
Naina has a master's degree in Industrial and Labor Relations from Cornell University where she graduated at the top of her class. She also holds a bachelor's degree in Economics and International Relations from Mount Holyoke College, Massachusetts, USA and a General Course Diploma in economics from The London School of Economics.
Hester Spiegel-van den Steenhoven, Venture Partner at Kaizenvest
Hester is an investor and education entrepreneur. Previous to becoming an entrepreneur, she had a 15+ year international career with PriceWaterhouseCoopers and as a Director at Deutsche Bank in Amsterdam, London, and Frankfurt. She pivoted her career and became Germany's country head for a global EdTech company, bringing the modern education system and coding school "42" to Germany. Since living in Singapore, she is a venture partner at Kaizenvest, an SG-based VC firm focusing on learning innovations, co-founder of Epic Angels, a women-owned angel investment network that aims to give women the confidence to invest, and board advisor and mentor to start-up founders, with a focus on EdTech.
Wanda Lee, Investment Director at Cocoon Capital
Wanda Lee is an Investment Director at Cocoon Capital, where she brings 10 years of scaling tech startups as a VC investor & operations executive. Wanda's investment experience spans early-stage and growth equity rounds of enterprise technology companies at Safeguard, a $450m VC fund in the US. Prior to Safeguard, Wanda advised on and executed M&A and capital raise transactions for software & services companies at a boutique investment bank. Most recently, Wanda was a Strategy & Operations executive at QuanticMind, a venture-backed AI-powered data platform company in Silicon Valley, where she scaled the company 5x in 2+ years.
Having lived across San Francisco, Philadelphia, and Tokyo, Wanda currently resides in Singapore, where she can be found outdoors, specifically hiking, picking up a new water sport (a freshly minted freediver!), slacklining, or dog sitting.
Moderator:
Kimie Rasmussen, Head of Reserve, StashAway
Kimie is StashAway's Head of Reserve. Having been based in Singapore for the past 5 years, she has dedicated her career to WealthTech start- and scale-ups in the region, managing wealth advisory and business development teams across 6 countries (Singapore, Hong Kong, India, The Middle East, Thailand, and Malaysia), as well as advising HNW clients.
Kimie is originally from Denmark and prior to her move to Singapore, she spent 7 years in the UK.
Kimie is a Licensed Representative with the Monetary Authority of Singapore for Asia Wealth Platform, the legal entity of StashAway.
About StashAway
StashAway is a digital wealth manager that offers investment portfolios and wealth management solutions for both retail and accredited investors and operates in Singapore, Malaysia, the Middle East and North Africa, Hong Kong, and Thailand.
As of January 2021, the company surpassed $1 billion USD in assets under management. It achieved this milestone faster than it took the world's largest digital wealth managers, Betterment and Wealthfront, to reach the same milestone. In 2020, StashAway was recognised as a Technology Pioneer by The World Economic Forum and a Top 10 LinkedIn Startup. In 2021, StashAway was awarded a spot in the Fintech Global's 2021 Wealthtech 100 list and won "Bronze" for the SG Techblazer Award in the Most Promising Innovation Category. StashAway won "1st Place" as Singapore Financial Institution SFF Global FinTech Awards 2021 presented by the Monetary Authority of Singapore (MAS) and the Singapore FinTech Association (SFA).
By registering for this event, you are deemed to have understood and consented to StashAway collecting your personal data that you directly input into the registration forms and contacting you thereafter in relation to our products, services, and events. We promise to send only the good stuff. However, if you ever wish to opt-out, you can easily unsubscribe using the Unsubscribe feature included in the emails. If you wish to know more about our Privacy Policy, you can visit our Privacy Policy page where the policy will apply mutatis mutandis to the event that you have registered for.