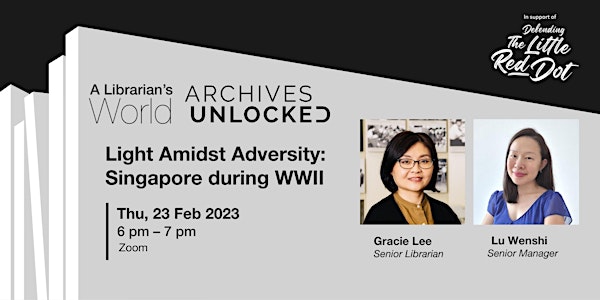 Light Amidst Adversity: Singapore during World War II | A Librarian's World
Join us to discover the rich stories of resistance, resilience and post-war remembrance.
By GoLibrary | National Library Board, Singapore
When and where
Date and time
Thursday, February 23 · 2 - 3am PST
About this event
This talk is held in conjunction with "Light Amidst Adversity", a display of historical and archival materials relating to World War II curated from the collections of the National Library and National Archives of Singapore. Join us to discover the rich stories of resistance, resilience and post-war remembrance behind some of the items on show.
The display features a selection of rare books, photographs, artworks, personal documents, and ephemera that record local war preparations and the stories of resilience, sacrifice and adversity.
The talk and display are part of a suite of events to commemorate Total Defence.


About the Speakers
Gracie Lee is a Senior Librarian who works with the Rare Materials Collection at the National Library. She enjoys uncovering and sharing the stories behind Singapore's printed heritage.
 Lu Wenshi is a Senior Manager with the Archives Services. She is enthralled by the diverse collections in the National Archives of Singapore, and looks forward to sharing some of these archival treasures with participants at this talk.
About "Defending the Little Red Dot"
The responsibility of defending a nation rests on its people. Every year, Singapore commemorates Total Defence Day on 15 February, which marks the fall of Singapore in 1942. For this year's Total Defence Day, the National Library Board presents Defending the Little Red Dot, a campaign packed with talks, book displays and film screenings, highlighting stories of resistance and resilience during the Japanese Occupation, and the importance of preparedness in the digital age.
Check out other programmes here.
Explore content on Japanese Occupation here.

About the organizer
The National Library Board (NLB) manages a network of 28 libraries, the National Library and the National Archives of Singapore. NLB promotes reading, learning and information literacy by providing a trusted, accessible and globally-connected library and information service through the National Library and a comprehensive network of libraries.