Description
Gear Up for the time of the year with joy, fun, and party! With CHRISTMAS around the corner, prepare your little Elves & Fairies for a party good time with FamilyStaySg - your ultimate family guide in Singapore!
Slide in for some kids friendly party activities, family-oriented programmes, and high tea party! Oh, did we say GOODIE BAGS worth more than $400! Come dress in your best Elves, Fairies, or even X'MAS theme outfit (anything you feel like!), as we will be crowning the best-dressed family!
---


Registration for early birds tickets has been extended to 12 December 2017!


[ HIGHLIGHTS ]
1. X'MAS BABY SENSORY TIME:
Families with babies can look forward to sensory activities specially brought in by two of our passionate mummies from TinyDinos who's curating a pot full of handmade food materials for the little hands to explore their five senses! Time to get Messy! (Without worrying about cleaning up!)
2. FAIRIES CARNIVAL FUN:

Flap those wings together when our Face Painters and Balloon Sculptors from Partisimo are doing their tricks and treats!
3. ELVES CRAFTS WORKSHOP:

Are your children helpful little ones? Then watch out for the specific timing to help Santa's Elves with their Sand and Glitter workshop time with Partisimo again!
Handy time by learning how to make abacuses with Fun with Abacus! Your little Elves will get to bring home the abacuses they make on their own and also pick up the basics of how to use an abacus.
Touch and Feel time with Young Nautilus! Learn all about the various marine animals that can be found on the intertidal shores of Singapore and how these animals have adapted to survive in the harsh environments of the intertidal habitat.
4. FAMILY YOGA TIME:
Kids learn better when parents are doing it with them! Grab your chance to learn some simple yet beneficial poses that you and your kids (babies too!) can do together by Mummy Lynn from MommaBaby Yoga & Fierce-hearted!
5. X'MAS RETAIL BOOTHS:
Bring your shopping bags for we have some awesome x'mas deals from our retail booths!
6. LUCKY DRAW:
Your eyes aren't playing tricks with you, THREE lucky families are walking away with AWESOME prizes kindly sponsored by Qiren Organisation!!!
7. FRESH ICE CREAMS:
Miky Kreme will be preparing milky and creamy ice cream fresh on the spot, customizing the flavors to your liking. Top it off with their wide selection of toppings! Bring your monies! $2 per cup only!
8. PHOTOBOOTH:
Bring home your Christmas joy from our party with the printouts from Kidiparty photobooths!
[ PROGRAMME ]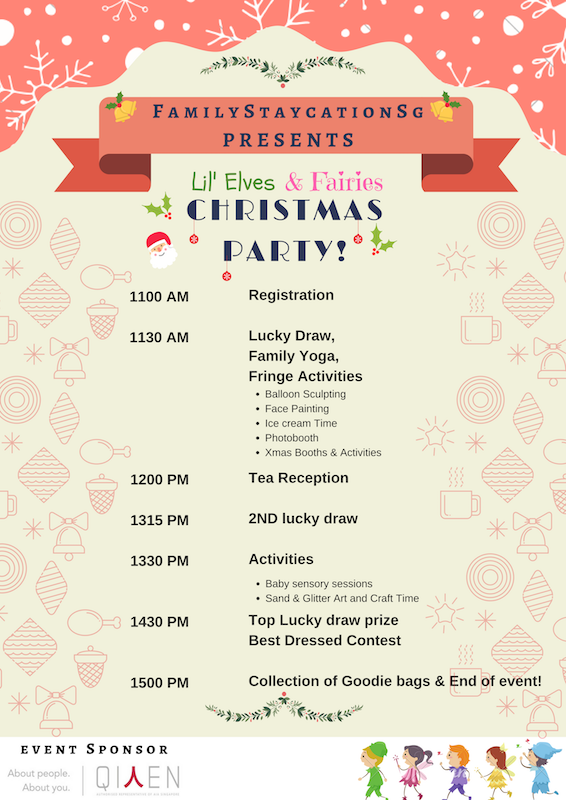 ---
GOOD TO KNOW:
Our party welcomes all ages! Very much suitable for kids aged 6 years and below!
Babies 12 months and below joins for free but still do need to get a "free" ticket.
Each family will be given a goodie bag worth $400 only at the end of the event.
Please be on time for registration, as we have a list of fun and wonderful activities starting from 1130am onwards!
For more details, Head over to our Facebook Page or event page!
---
Once you have signed up for the event you are deemed to have read all Terms and conditions below:
1. PDPA
By signing up, you agree to release your contact information and be contacted via Facebook/ meet up/ emails / mails / Sms / whatsapp/ phone calls from FamilyStaySg, QIREN Organization and their authorized partners and sponsors. You may also check with us if you were being contacted by authorized parties by emailing us at enquiry@familystaycationsg.com.
2. Media consent

Organizers, Venue Partner, sponsors and vendors reserves the right to use any photograph/video taken, without the expressed written permission of those included within the photograph/video.
Organizer, Venue Partner, sponsors and vendors may use the photograph/video in marketing material produced, used or contracted by Organizers.
3. Indemnity

Ticket holder agree to release Organizer & Venue Partner, vendors and all related personnel from all liabilities not restricted to loss, damage, injury or death.
4. Sick Child Policy
To ensure well-being of all children, Parent understands that Organizer/ Venue Partner will not allow entry if child has fever, and/or runs a contagious disease. Venue Partner Management will make the final decision, without dispute.
5. Additional remarks

Parent's responsibility to supervise the children at all times. | Organizers holds the final decision for all Prize winners.
No cancellation & no refund. Ticket is non transferable.
Terms & conditions are subjected to changes by event organizers and venue partner.
Event Proudly Sponsored: Qiren Organisation