About this event
CNY Special !
福 Lion Dance Agar Agar Drawing福
Suitable for beginners
Non-Skillfuture redeemable Class
Instructor Alice has specially created this traditional Lion Dance characterin agar agar medium.
Lion dance is a form of traditional dance in Chinese Culture and other Asian countries which performers mimic a lion's movements in a lion costume to bring good luck and fortune.
The lion dance is usually performed during the Chinese New Year and important occasions such as business opening events, special celebrations or wedding ceremonies, or may be used to honour special guests by the Chinese communities.
This new drawing techniques skill will certainly help to produce this special dessert in other characters in 2022 as well.
Course Content:
Introduce basic ingredients
Acquire basic knowledge on cooking agar agar mixtures
Learn to create a canvas with fruits
Learn drawing techniques
Assemble techniques
Troubleshoot and fix creation
Details
Fee: $168 per pax
Bring Home:
Own creation 7" agar agar in a box
Recipe
Instructor: Alice Teo
For registration, kindly call or WhatsApp Karen Yee at 94881212 or visit our website https://vanillabeansg.com for more courses.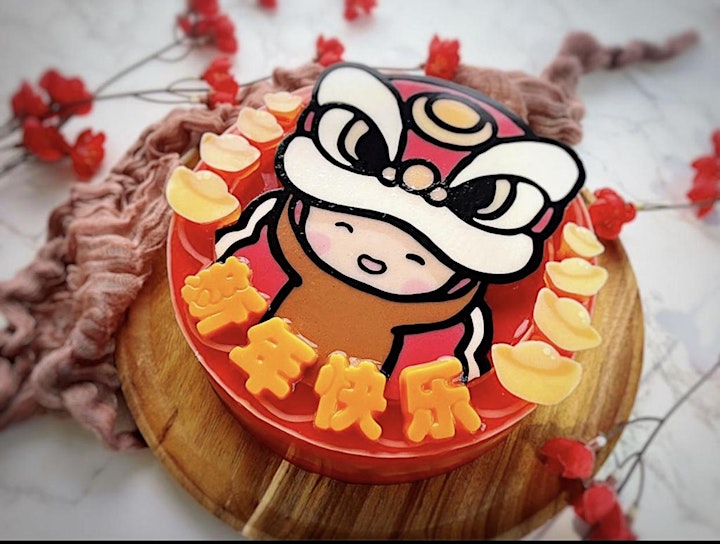 Organiser of 福 Lion Dance Agar Agar Drawing福
Since their inauguration in 2016, The Vanilla Bean SG has pioneered the art of jelly cakes in Singapore, using meticulous and precise techniques to inject beauty into jelly cakes and bringing them to life.
The team at The Vanilla Bean SG also enjoys exploring and incorporating the latest trends in their work, and have been consistently bringing the latest innovative desserts and cake decorating workshops to both hobbyists and professionals alike.