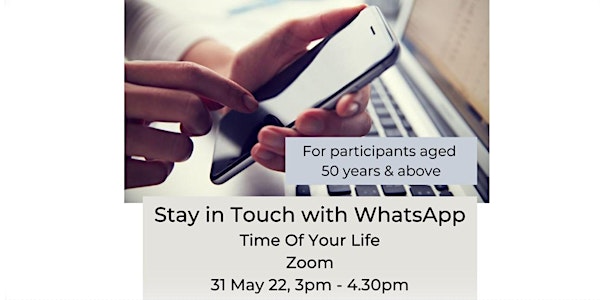 [L.I.T.S] Stay in Touch with WhatsApp | Time Of Your Life
Learn how to stay connected with family or co-workers via WhatsApp.
About this event
About the Programme
Want to learn how to send messages? How about  keeping in touch with your family or co-workers through video calls? Through your handphone's Internet connection, you can make use of WhatsApp Messenger, or WhatsApp for short, to send text and voice messages; make voice and video calls; and share images, documents, user locations and other content. Follow librarian, Hwee Fang, as she shows you how you can do the following:
- Add a contact;
- Send a message;
- Add emojis to your message;
- Send stickers and gifs;
- Make a phone call and video call;
- Send a recording;
- Send a document, image, audio file, location or contact;
- Create a group chat; and- Use WhatsApp Web on desktop computer/laptop.
This programme is suitable for those aged 50 and above. 
About the Series
The Time Of Your Life (TOYL) programme series features informative talks, creative workshops, book clubs, and learning communities for those aged 50 and above. Seniors can expect to stay relevant with these programmes that cover a wide range of topics such as health, personal finance, technology, and the arts.
Online Programme/Event Administrative Information
This programme is conducted entirely online. You may access Zoom via the app or using a web browser
Please ensure that you enter a valid email address as you will receive an email with the link to the online programme/event near the day of the programme/event
The link of the programme should not be shared with others
Do ensure you have a strong internet connection. Using your mobile data is not recommended
The National Library Board, Singapore (NLB) reserves the right in its absolute discretion to disqualify or refuse admission to any registrant without any reason and notice