Event Information
Refund Policy
Refunds up to 7 days before event
About this Event
The digital space is bustling with activities.
Every minute, 3.8 million search enquiries are made on Google, 1 million logins made on Facebook, 4.5 million videos are viewed on YouTube, and 347,222 people are scrolling through Instagram.
How are you positioning you and yourself on Instagram today?
Social media has become a part of everyone's lives. Facebook, Instagram, YouTube, LinkedIn, and more have become our source of content go-to for leisure, work and business opportunities.
Social media has also become the go-to for consumers to decide on whether they will purchase with the brand or not.
Would you like to grow your business with Instagram Marketing?
1. Introduction to Instagram Marketing via:
• Why Instagram might be more relevant than Facebook Marketing and Advertising for Businesses?
• How should businesses connect and communicate with their customers on their Business Instagram Account?
• Case Study of various types of contents on Instagram
• Answering the question: What's your business goal on Instagram?
• Answering the question: Should you Facebook Page contents be the same as your Instagram Account?
2. Mapping out your Customer / Buyer's Journey with your brand or Company:
• Explore and map out what matters most to your buyers?
• Learn about a Buyer's Journey on the internet / Social Media / Instagram
• Use the buyer's journey on the internet to your advantage!
• Brainstorm about your Buyer's Journey, and how you should be communicating on your Instagram account
• Type of content you should curate for Instagram based on your buyer's journey
• Plan & Map your Instagram Content Strategy (Learn the SECRET to knowing the VIRAL content online!)
• Consultation with the Trainer (5~10 min per pax)
3. Instagram Marketing BEST PRACTICES
• Converting an Instagram Account to a Business Account (if you have done this, that's awesome!)
• 5 Ways to Grow your Instagram Followers
• Instagram Insights, Analytics, Learn how to replicate what works!
• How to encourage Engagements, Copy-writing Tips, and more!
• Common mistakes made on Instagram Marketing and Advertising
4. Growth Hack on Instagram with Posts & HashTags
• Max. 2,000 characters & 30 hashtags
• Spot Trending Hashtags, and posts that are discoverable with hashtags
• Design Amazing Graphics, Quotes for your Instagram Feed
• Hands-on activity: Create and Post on Instagram (See Sky Digital Agency's Instagram Feed)
• Ways to Grow your Instagram Following, Engagements and Ad Conversion
5. Instagram Insights, Algorithm and Ad Targeting Basics
• How to design Instagram stories
• Instagram Mechanics & Algorithm
• Instagram Ad and Location Targeting (Trainer Demo)
• Recommended Instagram Ad Budgeting for Small Business
6. Final Consultation and Q&A
(a) Consultation with Trainer (5 min per participant)
(b) Final Q&A with Trainer
What you'll need to bring to class:
• Laptop & Charger
• Mouse & Mouse Pad
• Smartphone with Instagram App Installed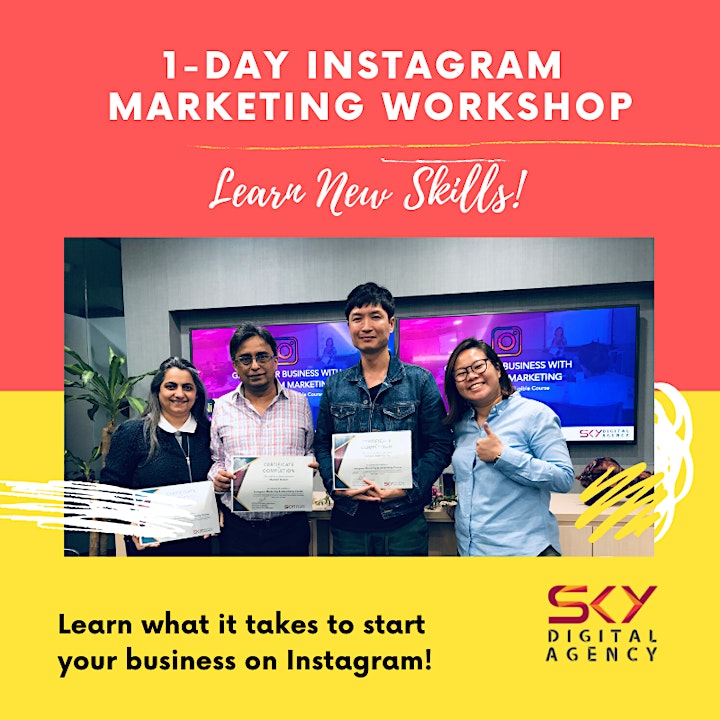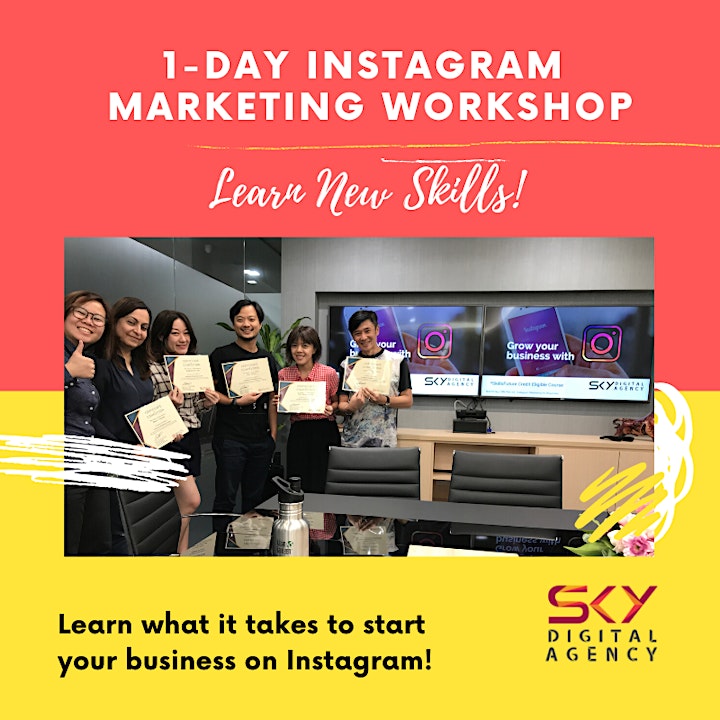 NOTE: This is a Instagram Marketing, Advertising & Strategy Course for Business Owners.
All participants must be familiar with Instagram for Personal Use to benefit the most from this course.
You should be able to post a photo or video on your personal Instagram as a per-requisite to this course.
Receive a Certificate of Completion upon completion of the workshop from Sky Digital Agency.
** You will get ACCESS to our Private Facebook Support Group for every individual who has joined us in our full day Instagram Marketing Course to ask questions, and get the latest updates (via videos or LIVE videos) even after the course! **
This course is SkillsFuture Credit Eligible till 22 Feb 2020 only.
Course code on SkillsFuture Directory: CRS-N-0044836
Email us to enquire if the grant was extended at skillsfuture@skycrm.asia, we will only be updated in Feb 2020 of the results.
For SkillsFuture Credit participants, please DO NOT buy your tickets on EventBrite if you would like to use your SkillsFuture Credits for this course.
1. Name as in NRIC:
2. NRIC:
3. Mobile:
4. Email:
5. Home Address:
For self-sponsored or company sponsored individuals, we will need to be in touch with your finance on invoice processing, or you can purchase the tickets directly via EventBrite.
1. Who can i contact should i have questions?
You may e-mail us at workshops@skycrm.asia
2. Where is the venue of the workshop?
All classes from 7 April 2020 onwards will be conducted as LIVE Webinars via Zoom till 31 May 2020, and will likely be conducted as LIVE Webinars till the Covid-19 situation improves.
Reach out to us via email if you have questions, at workshops@skycrm.asia
Live Webinar, Zoom Meeting IDs and Password will be shared with your emails upon successful registration.
3. Where is Sky Digital Agency's office?
6 Raffles Quay, #15-00, Singapore 048580
Note: Our office will be closed from 7 April 2020 onwards till further notice.
Raffles Place MRT, take exit "i".
The building name is called "6 Raffles Quay" and is just after Ascott at Raffles Place.
Or Downtown Line MRT, exit A, 4 min walk.
Refund Policy
Refunds up to 7 days before event