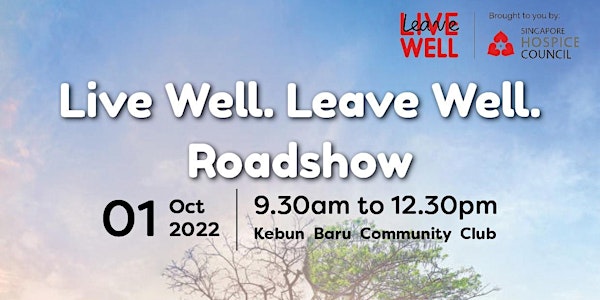 Live Well. Leave Well. Roadshow 2022 by Singapore Hospice Council
Celebrate World Hospice and Palliative Care Day with Singapore Hospice Council at the Live Well. Leave Well. Roadshow.
When and where
Location
Kebun Baru Community Club 216 Ang Mo Kio Avenue 4 Singapore, 569897 Singapore
About this event
On 1 October 2022, Saturday, Singapore Hospice Council will be celebrating World Hospice and Palliative Care Day (WHPCD) in Singapore.
Join us as we celebrate World Hospice and Palliative Care Day and the launch of the Singapore Hospice Council Ambassador Programme with activities to help you understand more about end-of-life matters.
Event Highlights
🎪 Main Hall Activities
Unsure of where to start for understanding palliative care? Discover more about the topic with our reflective and hands-on activities supported by audio and video resources. Bring home practical tips to initiate conversations on palliative care, or simply learn more about yourself through our interactive activities!
✨ Workshops
Eating and communication are part of our day-to-day life. A person with life-limiting illness experiences symptoms like poor appetite, difficulty swallowing and coughing when eating and drinking. Find out more from Angela Sho, a certified professional, on how speech therapy can help one improve these symptoms, have pleasant meal time and interaction with their loved ones.
Art therapy is part of the multidisciplinary and holistic approach of palliative care, which takes into account emotional, spiritual, psychological, spiritual, and social needs for patients and/or family members.
Join us at this hands-on workshop conducted by Lee Sze-Chin, Senior Art Therapist from St Luke's Hospital, to understand the importance of self-care, and experience how art therapy can improve one's quality of life and psychophysiological wellbeing. Sze-Chin will lead participants on an imaginative and creative journey to express themselves artistically using familiar objects and art materials. After this workshop, participants can continue to engage in this activity as part of their self-care regime.
"I don't feel like eating" is a common remark made by our loved ones with life-limiting illness as they face symptoms such as poor appetite and difficulty swallowing, hence meal preparations can be quite challenging for caregivers.
Assisted by youths with special needs from Metta Cafe, Culinary Chef Hoo will be introducing two comforting dishes - "Pao Fan" (Poached Rice) with Tomato and Celery & Thai Basil Silky Tofu. Learn healthy cooking tips, food nutrition and more in this fun, informative, and engaging session with us.
Founded by late Jon Underwood in UK, Death Cafe is where people, often strangers, have a group-directed discussion of death with no agenda, objectives or themes. It is a discussion group rather than a grief support or counselling session, aims to increase awareness of death with a view to helping people make the most of their (finite) lives. Coffee and tea is on us!
Important Notice
1. Walk-ins are welcomed.
2. Registration is required for the workshops, on a first come first serve basis.
--------------------------------------------------------------------
About Singapore Hospice Council
Singapore Hospice Council (SHC) is a registered charity and an umbrella body representing organisations that actively provide hospice and palliative care in Singapore.
SHC is committed to improving the lives of patients with serious illnesses and giving support to the loved ones of these patients. It aims to coordinate and promote hospice and palliative care in Singapore; to support the training of doctors, nurses, allied-health workers, caregivers, and volunteers; to improve on the quality of palliative care; and to raise public awareness. It acts as the voice of hospice and palliative care within Singapore and internationally.
For enquiries, email us at info@singaporehospice.org.sg