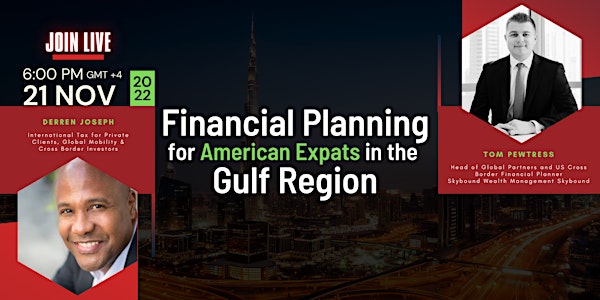 (LIVESTREAM) Financial Planning for American Expats in the Gulf Region.
Things to Know About Finance in the Gulf Region
About this event
Besides adapting to a few cultural differences, residing and operating withinside the UAE has been surprisingly easy. However, since the introduction of the Foreign Account Tax Compliance Act (FATCA) in 2010, Americans are going through some fundamental difficulties whilst acquiring regular financial services from neighborhood banks and funding service providers.
Financial Planning can be intimidating and confusing. Fortunately, there are experts to help demystify the constantly evolving financial landscape.
Join this discussion of the U.S for the UAE and the Gulf financial planning rules and learn how you can legally plan your finance.
Our Speaker:
Tom Pewtress - Head of Global Partner and US Cross Border Financial Planner Skybound Wealth Management Skybound.
Experienced Wealth Manager helping clients globally.
Skilled in Wealth Management, Financial Protection and Planning, Succession Planning, Negotiation, Budgeting and Portfolio Management.
Derren Joseph- International Tax for Private Clients, Global Mobility, & Cross-Border Investors (US, UK, & SE Asia)
Derren is an EA (Enrolled Agent - license # 00100858-EA) who has been admitted to practice before the IRS and is an associate member of the American Institute of CPAs (#7920958).
He is the author of "Taxes for International Entrepreneurs and Ex-pats: Proven Principles for Legally Reducing Taxes" (https://www.amazon.com/author/derrenjoseph).
A Partner in Hayden T Joseph & Co. (DBA "Advanced American Tax") also a member of the International Tax Team at Moores Rowland Asia Pacific, with over 30 offices in 11 Asian countries.
He has 2 Masters degrees in Economics. A Certified Diploma from ACCA (Association of Chartered Certified Accountants in the UK), done Executive Education with Columbia Business School. He has completed Advanced Tax coursework at both New York University and the University of London.
Derren enjoys writing and giving seminars.
He had his views published in the Singapore Business Review, Forbes Asia, the American Chamber of Commerce in Indonesia, the International Business Structuring Association (in the UK), Offshore Alert.
He also has given seminars on tax issues in the U.S., Singapore, Indonesia, Malaysia, Vietnam, The Philippines, Hong Kong, and the Caribbean.
NOTES:
1. Link for this event: https://www.facebook.com/htj.tax/live/
2. Submit questions in advance - Hanna@AdvancedAmericanTax.com
3. Those WITHOUT Facebook?
Zoom link will be provided 24 hours in advance via an Eventbrite message so ensure that you sign up via Eventbrite to get the message.  
If you don't get the Zoom link 24 hours before the event via Eventbrite?  
Email:  Hanna@AdvancedAmericanTax.com
4. It is also helpful if you use the Eventbrite calendar function to ensure that the event is automatically saved to the calendar on your device in your local time.  Many times people miss the event because they misunderstood the time zones.  Allow Eventbrite to make it easy for you. Leverage technology. Please don't contact us to confirm the time."
5.  For those joining us on Zoom?
"Pictures or videos will be taken during the event to be posted on social media. If you do not wish to have your image used.  Keep your camera off."