LIVESTREAM - The Estonia Advantage - Tax, Residency, Corporate Structures
What you need to know.....
About this event
The Estonia Advantage - Tax, Residency, Corporate Structures
Our Speaker;
Georgi Džaniašvili - Senior Lawyer at Larssen CS
Experienced Lawyer with a demonstrated history of working in the legal services industry. Skilled in Corporate Law, Labor law, Civil law and Tax Law. Strong legal professional with a Master of Arts in Law (MA) focused in Law from University of Tartu.
Dagne Aaremäe - Marketing Specialist at Silva Hunt OÜ
She is a sales & marketing professional with extensive experience in connecting with people all over the world.
She is very excited and happy to work for Silva Hunt, the top quality service provider for e-residents! Through Silva Hunt, She help entrepreneurs find better solutions for doing business internationally, in a more personal and meaningful way. Get in touch to find out more about new business opportunities with Silva Hunt, or change ideas on the international business topic!
Derren Joseph- International Tax for Private Clients, Global Mobility, & Cross-Border Investors (US, Europe, & SE Asia)
Derren is an EA (Enrolled Agent - license # 00100858-EA) who has been admitted to practice before the IRS and is an associate member of the American Institute of CPAs (#7920958). He is the author of "Taxes for International Entrepreneurs and Expats: Proven Principles for Legally Reducing Taxes" (https://www.amazon.com/author/derrenjoseph).
A Partner in Hayden T Joseph & Co. (DBA "Advanced American Tax") also a member of the International Tax Team at Moores Rowland Asia Pacific, with over 30 offices in 12 Asian countries.
NOTES:
1. Link for this event: https://www.facebook.com/htj.tax/live/
2. Submit questions in advance - Hanna@AdvancedAmericanTax.com
3. Those WITHOUT Facebook?
Zoom links will be provided 24 hours in advance via an Eventbrite message, so ensure that you sign up via Eventbrite to get the message.
If you don't get the Zoom link 24 hours before the event via eventbrite?
Email: Hanna@AdvancedAmericanTax.com
4. It is also helpful if you use the Eventbrite calendar function to ensure that the event is automatically saved to the calendar on your device in your local time. Many times people miss the event because they misunderstood the time zones. Allow eventbrite to make it easy for you. Leverage technology. Please don't contact us to confirm the time."
5. For those joining us on Zoom?
"Pictures or videos will be taken during the event to be posted on social media. If you do not wish to have your image used, Keep your camera off."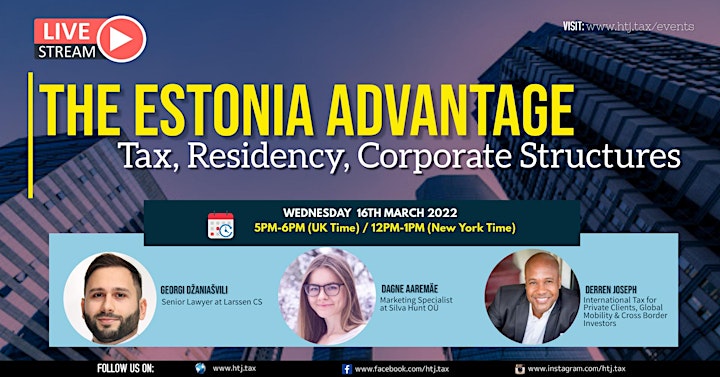 Organizer of LIVESTREAM - The Estonia Advantage - Tax, Residency, Corporate Structures