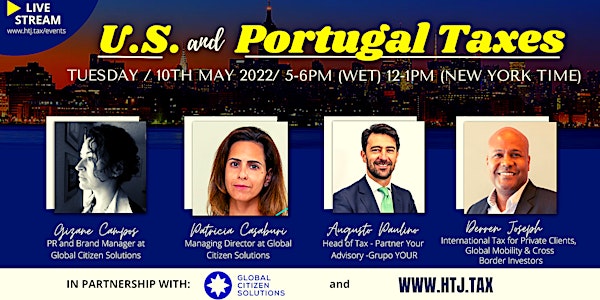 (LIVESTREAM) U.S. & Portugal Taxes.
Everything You Need to Know About U.S. & Portugal Taxes.
About this event
Taxes can be intimidating and confusing. Fortunately, there are experts to help demystify the constantly evolving tax landscape.
Join this discussion of the U.S. and Portugal's critical tax rules and learn how you can legally minimize your tax burden internationally.
Speakers;
- Gizane Campos (PR and Brand Manager at Global Citizen Solutions)
- Patricia Casaburi (Managing Director at Global Citizen Solutions)
- Augusto Paulino (Head of Tax - Partner Your Advisory)
- Derren Joseph (Partner, Hayden T. Joseph & Co. )
NOTES:
1. Link for this event: https://www.facebook.com/htj.tax/live/
2. Submit questions in advance - Hanna@AdvancedAmericanTax.com
3. Those WITHOUT Facebook?
Zoom link will be provided 24 hours in advance via an eventbrite message so ensure that you sign up via Eventbrite to get the message.  
If you don't get the Zoom link 24 hours before the event via eventbrite?  
Email:  Hanna@AdvancedAmericanTax.com
4. It is also helpful if you use the Eventbrite calendar function to ensure that the event is automatically saved to the calendar on your device in your local time.  Many times people miss the event because they misunderstood the time zones.  Allow eventbrite to make it easy for you. Leverage technology. Please don't contact us to confirm the time."
5.  For those joining us on Zoom?
"Pictures or videos will be taken during the event to be posted on social media. If you do not wish to have your image used.  Keep your camera off."