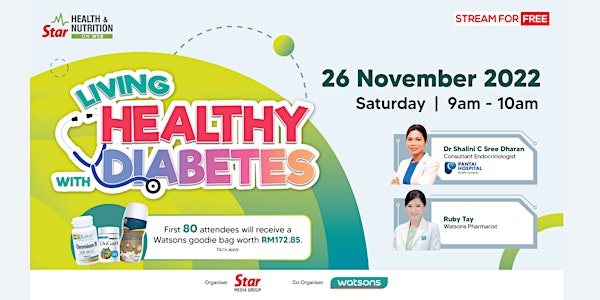 Living Healthy with Diabetes
Keep diabetes under control to avoid complications. Join us for a live webinar to learn how to live a fun and healthy life with diabetes
About this event
Learn how to live a normal, fun and healthy life with diabetes.
It is critical to keep diabetes under control in order to avoid the complications that come with it. If discovered early, diabetes can be effectively treated and controlled.
Join us for a live webinar with our topic experts.
Register for FREE at http://bit.ly/Healthydiabetes14
How to attend the live webinar?
Register on Zoom via http://bit.ly/Healthydiabetes14
Once you have registered via Zoom application, an email with the joining link will be sent to your inbox.
A reminder email will also be sent to you shortly before the live webinar begins.
First 80 attendees will receive a Watsons goodie bag worth RM172.58!
If you need any assistance, please get in touch with The Star Events Team at events@thestar.com.my