Description


Do you know that living in pain is NOT normal? The human body is designed for self-healing… provided that you have been taking care of its master control system - the nervous system!
WHERE PAIN RELIEF COMES NATURALLY
Your body is amazing. It can survive weeks without food, days without water, and minutes without oxygen. However, without proper nerve supply, it cannot last a second! The central nervous system controls all functions of your body, including health and healing. It is the critical master controller, linking all other systems and allowing them to communicate and work with each other properly.
There's an all-natural, non-invasive solution to your pain.
HEALTHY SPINE, HEALTHY LIFE!
Maintaining a healthy spine does NOT require any bone-cracking NOR invasive surgery.
And professional sports athletes
have been swearing by it since the 1890s...
Including our very own Joseph Schooling!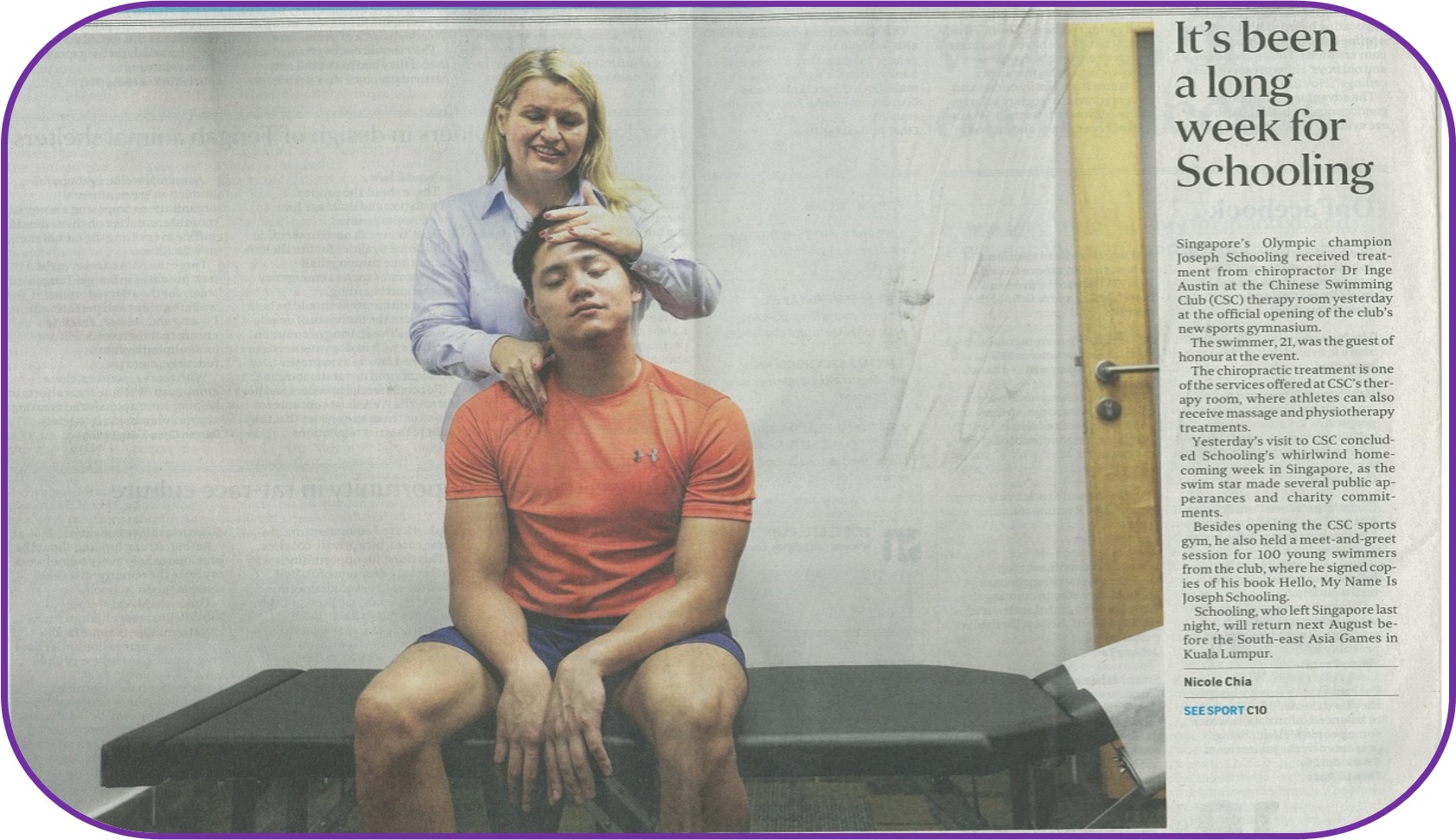 OBTAINING OPTIMAL HEALTH NATURALLY
How can you take advantage of this all-natural method?
Chiropractors provide highly targeted, specific, and gentle spinal adjustments that restore healthy nerve supply and enable optimal healing.
With this PAINLESS alignment and movement of the bones, 90% of the tension and stress will be relieved from the nervous system.
ACHIEVING BETTER HEALTH NATURALLY.
The doctor you choose does make a difference...
You're in great hands with Dr. Liu & Dr. Kamal! They are dedicated to supporting you in your quest for health, strength, and vitality. They believe in addressing the cause, rather than chasing the symptoms --empowering people to achieve optimal health.

---
What Some People Are Saying About This Chiropractic Care Treatments…

" I was suffering from weekly migraines, which were triggered by work stress, poor sleeping habits and heat. Gradually through chiropractic care, the frequency of migraines was greatly reduced.
After each treatment (usually about 10 minutes), I was able to stand with better posture. Now I don't need to take MC 2 - 3 times a month due to my migraine anymore! "
-- Ms Samantha Chong

"I was having frequent lower back, shoulder and wrist pain. They had been constantly affecting my work and personal life. After the Kirolounge Chiropractic treatment, the frequency of my pain is reduced. Now I feel young again."
-- Mr Samuel Chua
---
BECAUSE THE QUALITY OF YOUR LIFE MEANS EVERYTHING. YOUR HEALTH IS YOUR WEALTH!
Are you suffering from:
• Abnormal Posture & Gait?
• Arm & Shoulder Pain?
• Back Pain?
• Carpal Tunnel Syndrome?
• Fibromyalgia?
• Headaches & Migraines?
• Low Energy & Fatigue?
• Neck Pain?
• Numbness & Tingling?
• Palm & Hand Pain?
• Scoliosis?
• Sciatica?
• Slip Disc?
• Stroke?
• Ankle Pain?
• Calf Pain?
• Foot Pain?
• Heel Pain?
• Hip Pain?
• Knee Pain?
• Leg Pain?
• Car Accident Injuries?
• Accident Injuries?
• Sports Injuries?
If you are suffering from any of the above symptoms or problems, the good news is... you don't have to suffer in silence anymore!
… You should attend this free workshop to discover the natural way of healing.


Where pain relief comes naturally. Achieving better health naturally.
---
Here Are 7 Reasons Why You Should Attend This Free Chiropractic Care Workshop...
Understand the underlying reasons why your spine degenerates & how you can effectively prevent or slow down this process

Understand why your body is experiencing all different aches & pains and their root causes.


Receive actionable steps to relieve these painful symptoms. Live the pain-free life that you deserve!

Become aware of some of the most common myths and untruths in healthcare that is actually detrimental to your health.

Discover how to Get Paid and at the same time, maintain your healthy spine.

Learn how to maintain your healthy spine FOR LIFE.


Get your FREE foot-scan & report for you to take home valued at $68 (market rate). Note: Register to attend this talk and claim the FREE foot-scan.
Exactly Why Do You Need The Foot Scan?
Imbalances in your feet such as fallen arches can lead to back pain, hip pain, knee pain, leg pain, plantar fasciitis, posture problems, and many other conditions.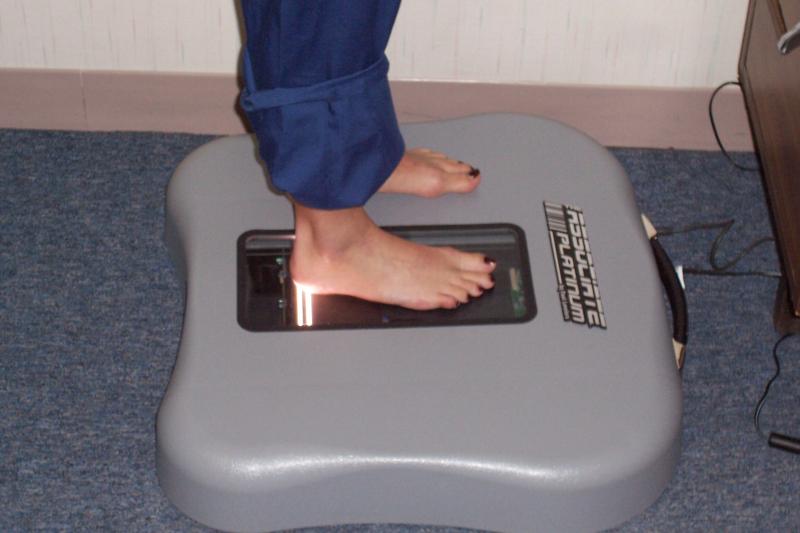 The whole process starts with a quick scan of your feet on our state-of-the-art digital scanner (100% radiation-free). This scan can identify problems with your arches and misalignments of the small bones in your feet.
Once we have pinpointed the exact causes, we can then accurately fix the stresses and tensions in your body... For good!
---

" I used to have prolonged muscle aches around the neck and shoulders. After the introductory talk and taking the foot scan, I've finally discovered what how my body can learn to re-adjust itself.
After just a handful of treatments, there is a significant absence of aches I used to have. They have also helped me immensely to prevent injuries from my active lifestyle. My body posture now is much better and I feel more confident of myself! "
-- Ms Jun Toh

" I have pain in my wrist for a long period of time. Even after several attempts at TCM, there was no sign of recovery. After taking foot scan which revealed the root cause, I went through targeted chiropractic adjustments. My wrist pain is now eased and my body posture is corrected ever since. "
-- Ms Herlina Joe
---
My friends, you don't deserve to live a life in constant pain. There's an

all-natural, non-invasive solution

to the problem. Let our certified chiropractic doctors share with you professional advice.
Click the "Register" button to take your first step to relieving all your bodily stress, tension, and pain now!
---



---
Don't suffer in silence anymore with your body aches and tensions...It is not the years in your life, it is the life in your years! Don't put up with pain. Isn't it time you felt good again? Get the care you need, when you need it, at the price you can afford. Put yourself in good hands. Stop waiting. Start healing. Sparking your inner health.

Click the "Register" button to secure your seat to the workshop, claim your free foot scan and re-discover a pain-free life!

Pain relief today, total health tomorrow And...

Living well starts here. Above and beyond.

Only limited tickets left...
Register Now and to be eligible for:
- FREE foot-scan
- Best Spinal Health Services


...by our qualified doctors.