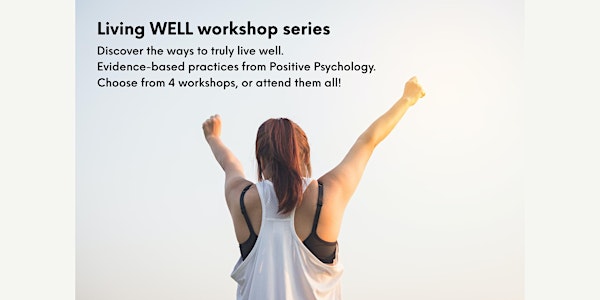 Living WELL workshop series - discover the ways to live a fulfilling life!
Boost your wellness with these specially designed workshops based on key elements of Positive Psychology. Healthy mind = healthy life!
About this event
Which topic speaks to you in this season of your life?
Choose from the four workshops below, or attend them ALL to get a complete boost to your wellness!
For each workshop, you will get 90 min of information sharing and experiential practice so you can start incorporating these habits into your daily life, improving your well-being over time.
Please note:
For purchase of tickets here on Eventbrite, you will incur ticketing fees. To avoid paying ticketing fees, simply register on Google Forms for the organiser to contact you regarding PayNow option - https://forms.gle/aLBFEr2tHBUPcoFG8
If you are paying on Eventbrite for more than 1 workshop, just select any one of the dates and purchase the number of tickets from that page. The organiser will contact you to confirm which workshops you are attending.
1. What gives us purpose, meaning and motivation? 19 November, 4.00 - 5.30pm
At some point in your life, you may have wondered about the purpose of life, what gives your life meaning, or how to motivate yourself more effectively. Join this workshop to experience a guided exploration of your personal values, learn how to bring more meaning into your life and motivate yourself for more purposeful living.
2. Emotions... love 'em, hate 'em, they make us human. 26 November, 10.00 - 11.30am
We know that life is not always smooth sailing, so emotions such as sadness, anger and anxiety are going to show up whether we like them or not. How can we care for ourselves in those moments? How can we manage emotions in healthy, constructive ways? Join this workshop to gain valuable life skills in emotional awareness, emotional regulation and look at various options for healthy emotional expression.
3. Looking at strengths, positivity and resilience. 11 December, 4.00 - 5.30pm
Are you someone who tends to see the glass as being half empty rather than half full? Due to our human survival instincts, there is an in-built "radar" within our brains to look out for danger – in order to avoid situations that threaten our safety or comfort, we pick up negative aspects of situations more easily than positive aspects. Add other life experiences that put more emphasis on mistakes rather than celebrating successes, and you get an over-active radar that constantly seeks out negativity around you and within you.
It does not have to continue that way, we can still be positive while acknowledging the reality of difficulties in life. You can learn to expand your perspective, actively identify strengths and positivity in situations, in others and in yourself. Develop these skills to bounce back more easily from difficulty and experience more joy in life.
4. Living mindfully. 18 December, 10.00 - 11.30am
Ever felt like your mind has a mind of its own, wandering off when you are supposed to be focused, and full of busy traffic when you would like some peace? Regain a sense of control by practising mindfulness, which is the ability to direct your attention to the present moment, in a curious, non-judging way. When practised regularly and integrated into daily living, you can improve your focus, calm your mind and emotions, better manage stress, improve your general well-being and develop mutually satisfying relationships.