About this Event
We invite you to a musical entertainment evening in the style of a vintage cabaret "Love is in the Air". A bright event on the musical sky of Singapore, add it to your calendar.
Wonderful musical entertaining evening with jokes and games for couples and good quality wine - what could be better time to spend with your loved one ! And of course Music!
You will find here a lot of light music and love songs in the most magnificent performance. Jokes and games for everyone, quizzes, surprises will wait for you all evening. Talented artists will make this Saturday night totally special. Come with your soul mate or grab your friends, tune in for fun!
MC of the program and performer with deep soulful voice beautiful Sangeeta Durai - nominated for best supporting actress of the year.
One of the performers- Benjamin Chew - nominated for best actor award will share his soaring voice.
Russian vocalist Alexandra Novicova brings you in romantic and fun mood of the evening.
And veterans of jazz Max Yanchenko and Robert Nalin!
Soulful, musical theater, jazz - all in one evening!
The evening program includes a cover version of the best love themes of all time: "Sole Mio", "Besame Mucho", "I Will Wait For You" and other eternal hits. Live voices, piano, cello and drums will sound for you all evening.
A wine bar will be open for your pleasure (cash payable).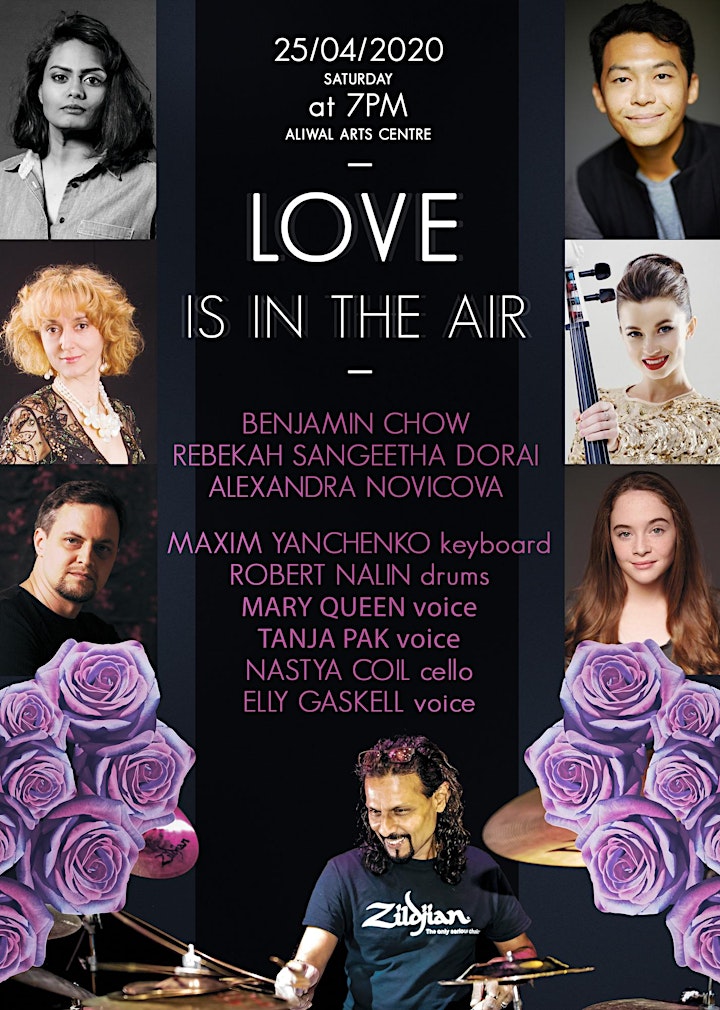 EVENT DETAILS
Venue: Aliwal Arts Center (28 Aliwal St.)
No Dress Code: just be the best version of yourself (romantic version)
Date: 25th April 2020 (Saturday)
Time: 7 PM to 9 PM
Admission: $60
SPECIAL CONDITIONS
The lyrics, humor and instrumental music are good at any age, but considering that wine will be presented at the event. Please note that young spectators will be allowed if they are already 12 years old and come accompanied by their parents.
Mobile phones and other audio devices must be in silent mode.
Flash photography and unauthorized audio / video recordings are prohibited.
Please note that photos and videos of patrons can be taken at these events for use in our archival and promotional materials.
Please note that there will not be any door tickets made available once tickets are sold out online.
If the Government prohibits public events to take quarantine measures to combat the virus, the concert will be rescheduled for another time, which you will be informed about.