Sales Have Ended
Registrations are closed
Thank you for your interest to the event. Please stay tuned for our upcoming Sunrider events. For more information, please visit our website at www.sunrider.com.sg or Facebook Page (https://www.facebook.com/sunrider.singapore/) or Instagram (https://www.instagram.com/sunridersingapore). Regards, Sunrider Singapore
Sales Have Ended
Registrations are closed
Thank you for your interest to the event. Please stay tuned for our upcoming Sunrider events. For more information, please visit our website at www.sunrider.com.sg or Facebook Page (https://www.facebook.com/sunrider.singapore/) or Instagram (https://www.instagram.com/sunridersingapore). Regards, Sunrider Singapore
A live virtual event accessible from your own home
About this event
This event has two sessions:
• Session 1: The Sunrider Experience (10:30 am - 12.00 pm) - Open to All
• Session 2: Love Share Grow Training (12:00 pm – 1.30 pm) – Open to Sunrider members and their guests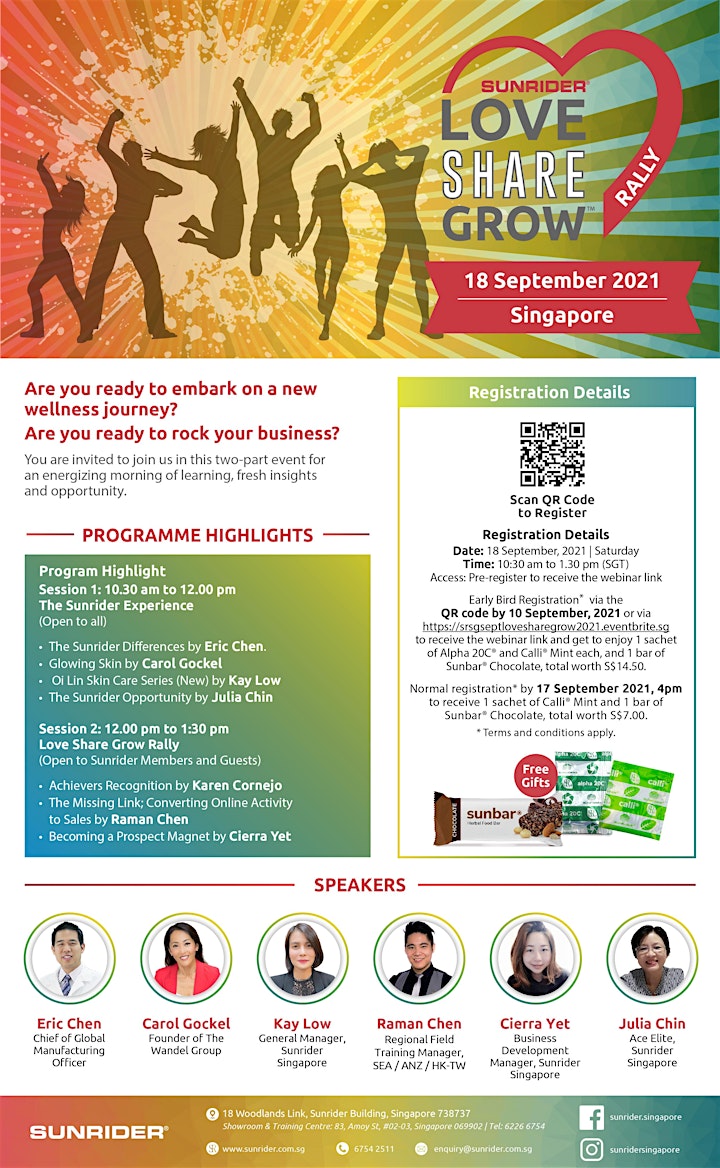 Get to Know Our Speakers:
Eric Chen: Chief of Global Manufacturing, Sunrider International
An organic chemist, Eric oversees the management of the U.S. Manufacturing Plant, including U.S. Food & Drug Administration compliance, product launches, and research and development. Eric works with Sunrider's team of scientists to stay on the cutting-edge of product innovation while seeking ways to improve operational and production efficiency.
Eric earned a Bachelor of Science in biochemistry from Brigham Young University and is a Ph.D. candidate in organic chemistry at the University of California, Los Angeles.
Carol Gockel: NLP Coach and Practitioner with American Board of Neuro-Linguistic Programming, Certified Style Coach with Style Coaching Institute, London, Certified Makeup Artist with Carrie Academy &·Certified Ho'oponopono Practitioner
Carol Gockel is a Confidence Coach, Author, Speaker and Change Maker. She helps women unleash their inner goddess through her coaching blueprint. She is an NLP practitioner with The American Board of Neuro-linguistic Programming as well as a certified Style Coach with Style Coaching Institute, London.
She was recognised as one of 100 Faces of International Iconic Influencers by Aesthetics International in India, Singapore and London in 2019.
Carol was the only Singaporean to be chosen to co-author the book – Break Through, with World's #1 motivational speaker, Les Brown.
Kay Low: Registered Pharmacist & General Manager, Sunrider Singapore
A registered pharmacist and having practiced as a community pharmacist for many years, Kay realises prevention is always better than treatment. She then shifted her interest to complementary medicine, health food and nutrition supplementation and this is where she begins a new career in health food.
Raman Chen, Regional Field Training Manager, SEA/ ANZ/ HK-TW
Originally a skeptic towards network marketing, Raman ended up joining the direct selling industry at age 18 to help support his mother. Starting part time at university he began building a business that grew over 15 years to have over 15,000 downline and spanned 11 countries. He credits his success to the importance of systemised training and leadership development within his own organisation.
After giving his business to his mother, his passion for training and helping others in network marketing brought him to his next role in the back office to support others, working for Sunrider Corporate.
Cierra Yet, Business Development Manager, Sunrider Singapore
Cierra is an ACTA Certified Trainer and has been conducting wellness classes in Singapore since 2011. She is passionate about helping others regain balance in their lives and loves training and coaching various groups of individuals who want to lead a more wellness-focused lifestyle.
Organiser of Love Share Grow Rally / The Sunrider Experience – LIVE ONLINE 18 Sept 2021