Description
In Co. Singapore's next edition of our signature #HowTo Series, we combat the sensitive issue of mental health, and how to stay on top of your well-being amidst a fast-paced and hectic world. Join us as we answer - Anxiety: Friend or Foe?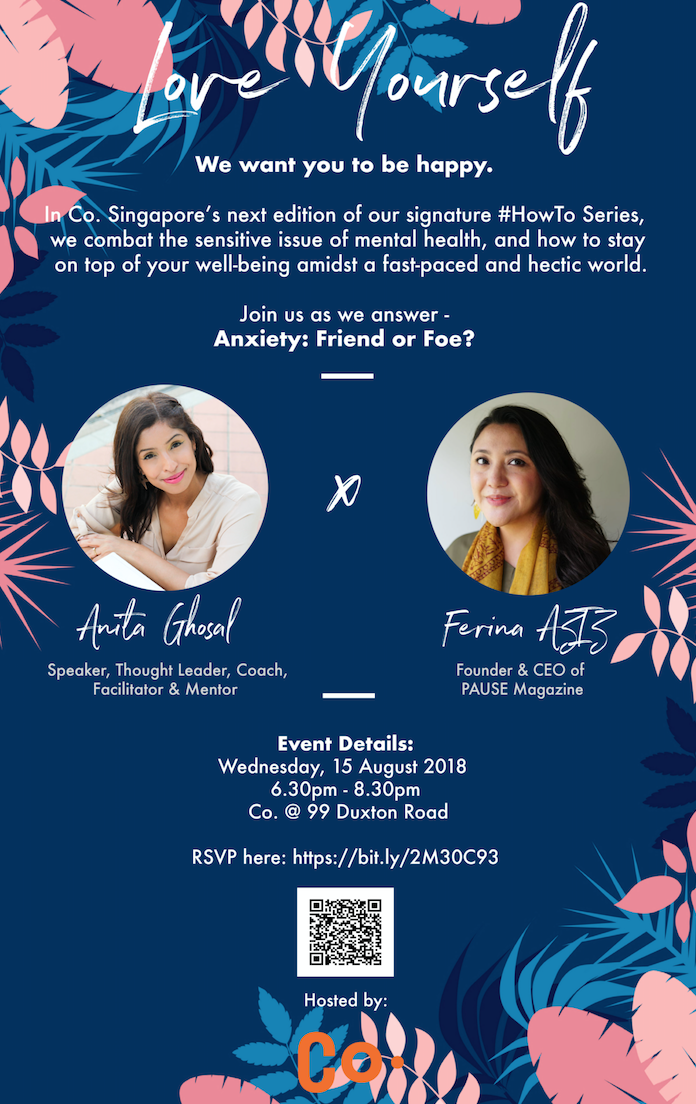 [Program]
6.30PM: Registration and light snacks
7PM: Welcome Address
705PM: Speech by Anita Ghosal; The 5 Simple Secrets to Create A Life you Love from the Inside Out in 90 Days
720PM: Conversation with Anita and Ferina from PAUSE Magazine
8PM: Q&A and sharing session
815PM - 830PM: Networking

[Speakers]

Anita Ghosal
Anita Ghosal is a speaker, coach, facilitator & mentor who helps to empower women to discover their true selves. "I am passionate about the power of creating a relationship with ourselves, authenicity, confidence from within and believe that when we do this and look inside for our happiness rather than externally, it brings forward true happiness and success at work, at home and in all of our relationships. I help women step into more empowered mindsets and create a life they really truly love."
Ferina Aziz

With over a decade of experience in the publishing industry, Ferina has written and photographed for environmental, animal, travel, lifestyle and arts sectors.

PAUSE Magazine ("PAUSE") is an online platform (WWW.THEPAUSEMAG.COM) bringing readers fresh, authentic and uplifting perspectives on living well in the modern world.

It aims to provide a holistic approach to health and wellness by offering not just informative online content, but also offline wellness initiatives ("THE PAUSE SESSIONS") that bring the magazine's community ("PAUSE CIRCLE") together.

We want to encourage our readers to slow-down; to take an active role in elevating their well-being, in order to live a conscious, thriving and meaningful life.
Venue:

The Co. is one of South East Asia's fastest growing entrepreneurial communities, offering innovators a premium work experience that uniquely weaves life and business together. Everything they do orientates towards a successful business adventure.
@Co.
Facebook: https://www.facebook.com/jointheco/
Instagram: https://www.instagram.com/thecosingapore/
Linkedin: https://www.linkedin.com/company/3092880/
For further enquiries, send in to:
Benselina Angelica, Community Manager