LPA, DEPUTYSHIP, WILLS, & ESTATE PLANNING for Families with Special Needs
DISCOVER How to Settle Your Key Legal & Estate Matters in 90 Minutes: 1☆ Gain New INSIGHTS 2☆ Know WHAT, WHY & HOW 3☆ Get Clear NEXT STEPS
About this event
Every Singaporean needs a Lasting Power of Attorney (LPA) and a WILL. Why?
Without an LPA, for instance, even a parent or spouse can't help a person to access their cash, and sell their stocks or properties (even if jointly owned) -- if the person's mental or decision-making capacity is affected. This can happen because of accident or illness and not just aging.
So, this unique, practical and free online Seminar is relevant to anyone 21 years of age and above.
We will talk about(1) LPA, (2) Deputyship, (3) Wills, and (4) Special Needs Trust.
The presentation on DEPUTYSHIP will be especially helpful to PARENTS with SPECIAL NEEDS CHILDREN and their SIBLINGS.
While needed by many, Deputyship is not well understood. It's rarely talked about or taught. Here, parents will gain an understanding on what is needed for the Court to appoint them as Deputies. As Deputies, they can then legally act for their loved ones who lack mental capacity. Importantly, there is a power that may provide a potential option with positive financial implications for the special needs person.
Both speakers, Seow Ling and Benjamin, have helped others to obtain Deputyship in time and cost effective ways.
You get all this in just 90 minutes + extra 30 minutes of Optional Q&A!
Furthermore, Webinar Participants may opt for some post-webinar support in getting started on their Deputyship application.
REGISTER Today. Click on the Register button.
Please share this Link to bless others: Safeguards4.eventbrite.SG
This is a free Community Service Webinar. There's no marketing of services. It's our speakers' way of blessing others.
SOCIAL WORKERS, COMMUNITY SERVICE VOLUNTEERS, and SPECIAL NEEDS PROFESSIONALS are also welcomed. You can help others in need on these areas.
Your Speakers are: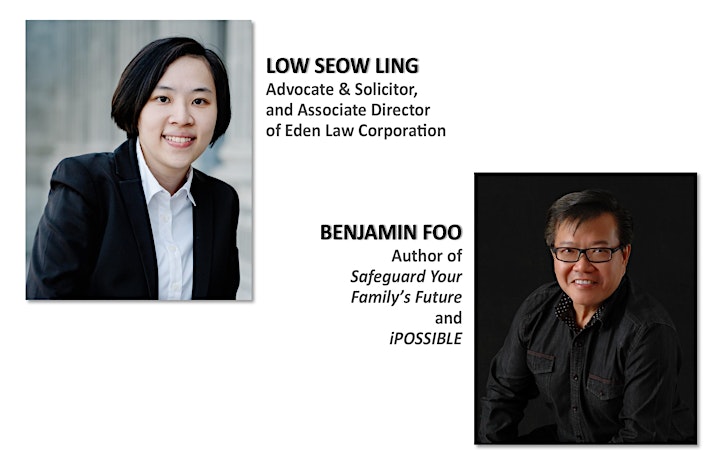 About the Speakers
LOW SEOW LING is Associate Director of Eden Law Corporation and an Advocate and Solicitor since 2013. Her practice primarily involves matrimonial litigation, estate and deputyship matters. Seow Ling volunteers with the Legal Aid Bureau and she is a registered Professional Deputy and Donee.
BENJAMIN FOO is Author of Safeguard Your Family's Future: Settle Your LPA, AMD, Will, CPF, Insurance and Special Needs Issues and iPOSSIBLE. He was previously the Executive Vice President of Singapore Exchange. Click here for more about Benjamin.
REGISTER Today. Click on the Register button.