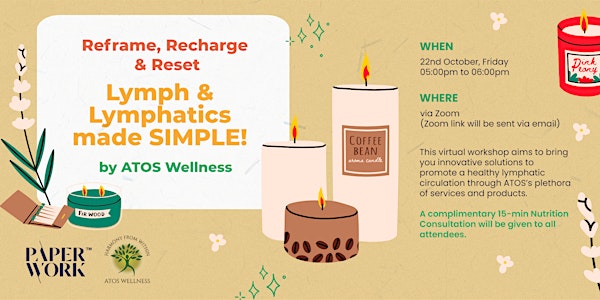 Lymph & Lymphatics made SIMPLE! by Atos Wellness
This virtual workshop aims to bring you innovative solutions to promote a healthy lymphatic circulation.
About this event
In conjunction with Paperwork's mental wellness initiative — Reframe, recharge & reset!
Atos Wellness embarked on the journey to create awareness of the concept of wellness in their current challenging COVID-19 environment. Today everyone is forced to come to terms with the need to better defend ourselves and mitigate high risks against such drastic disruptions to our lives.
It is only when we fall ill or are straddled with a medical condition, that we seek a doctor. And it is only when there is no clear solution here, that we then seek for alternatives like TCM and Ayurvedic solutions. The value of wellness is only appreciated when we have fallen ill.
Kindly register your interest using this link.
What will be covered:
- The role and how the lymphatic system works on your body – How to increase immunity and reducing stress.
- How the lymphatic system helps to fight against infection and bacteria – the difference types of lymphocytes.
- Infuse healthy lifestyle habit into our lives
- Eating right and drinking the right amount of water to support our body in our daily lives
Zoom in time: 4:45pm
About Paperwork SG
Paperwork fosters a collaborative environment in a coworking space where each member can become a maker of opportunities for others. We establish connections to make a network of workers to build a community.
Paperwork is the product of former co-workers from different countries who decided to come together. Realizing we their individual abilities can complement each other, they established Paperwork, a company that is anchored on the concept of collaboration.