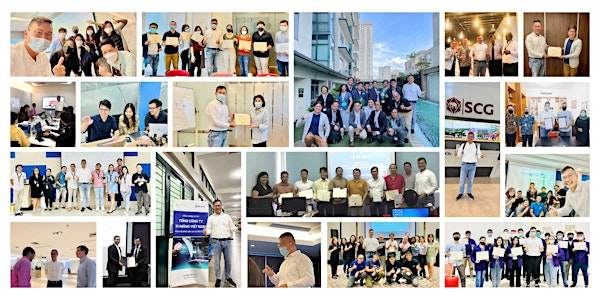 Machine Learning Essentials (MLE), Onsite @ Bangkok, Thailand
Acquire the essential knowledge on Artificial Intelligence, Machine Learning, and its impact on businesses using Python Programming
Date and time
Thursday, April 27 · 9:30am - 5:30pm +07
Location
BHIRAJ TOWER at BITEC 4345 Sukhumvit Road Khet Bang Na, Krung Thep Maha Nakhon 10260 Thailand
Refund Policy
Contact the organizer to request a refund.
About this event
For more information: www.casugol.com/mle
Duration: 1-Day
Certification: Participants will receive a Certificate of Completion upon successfully completing the course and passing the examination
Who Should Attend: IT professionals, business professionals, Business Managers, Directors and Executives, and Anyone interested in acquiring essential knowledge on what is Machine Learning
Course Objective
Acquire the essential knowledge on Artificial Intelligence, Machine Learning, and its impact on businesses.
Pre-Requisite
No pre-requisite. Machine Learning Essentials (MLE) is suitable for anyone with no prior technological experience
Examination
No Examination Required
Module 1 - Introduction to Machine Learning
Topics Covered
What is Machine Learning?
Importance of Machine Learning
Artificial Intelligence vs. Machine Learning vs. Deep Learning
Machine Learning and Its Application
How to Take Advantage of Machine Learning
Challenges and Success Stories of Machine Learning
Strongly versus Loosely Enforced Schemas
Module 2 - Different Techniques in Machine Learning
Topics Covered
Key Componentofto a Successful Machine Learning
Supervised, Unsupervised, Semi-Supervised, and Reinforcement Learning
Common Techniques in Machine Learning
Introduction to Regression Methods
Application of Regression Methods
Practical / Hands-On Exercise on Regression Methods
Module 3 - Deep Dive into Logistic Regression
Topics Covered
What is Logistic Regression?
Key Components to Logistic Regression
Application of Logistic Regression
Practical / Hands-On Exercise on Logistic Regression
Evaluation of the Logistic Regression Model
Machine Learning Essentials (MLE) involves rigorous usage of real-time case studies, hands-on exercises and group discussion
About the organizer
"The duty of helping one's self in the highest sense involves helping of one's neighbours" – Samuel Smiles
CASUGOL is an international certification body offering a wide-range of professional training and certification programs designed for all industries and verticals.
Participants attending our programs will develop the skills and knowledge in their chosen area of professional, personal or academic interest. Programs are constantly reviewed by educators who are industry experts in their chosen field to ensure that they remain current, relevant and consistently high quality.
CASUGOL strives to be a contemporary international neighbourhood where individuals gather to learn, be inspired, share ideas, knowledge, and resources to acquire all that necessary to pursue and advance in a career of their passion. Training and certification programs are also being offered in 25 Countries including Singapore, Canada, France, Thailand, Vietnam and Malaysia through our global Certified Training Partner (CTP) network.
Empowering people to be their best by making education, knowledge, and resources accessible has always been our commitment. With programs that cover a diverse range of interests, participants can certainly learn update their knowledge, gain new skills, or unleash their creativity.