Description
How often do we feel overwhelmed by life challenges? You may feel that life has not been fair because you have a challenge that you are currently dealt with all of a sudden. Many people often feel trapped by circumstances and would jump to solutions to 'fix' problems rather than appreciate the journey. Embracing the journey of life can help one be more accepting of challenging times as a natural part of success, helping us take stock of where we been and where we would to be.
In this talk, Kang Wei will share insights on living with cerebral palsy, dealing with low self-esteem & bullying and how it led him to pursue a career in counselling and being an advocate for persons with disabilities. He will be sharing practical tips to build up self-confidence and finding meaning in adversity.
In 2013, Kang Wei was among the 5 awardees of the Stars of SHINE Youth Award. The Stars of SHINE Award seeks to highlight and profile youth role models as a source of encouragement and inspiration to other youths and recognises outstanding youths for their contributions to the community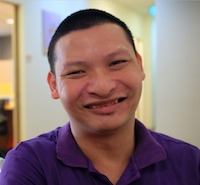 Speaker: Mr Sim Kang Wei
Kang Wei was born with Cerebral Palsy. Growing up, he has always been fixated with a singular question: what is the fundamental purpose of life? He is no stranger to adversity and the power of empathy in his life journey. Kang Wei has dealt with many issues including low self-esteem, bullying and many others. His experience has moulded him into becoming passionate in helping others. Kang Wei is trained as a counsellor having graduated with a degree in counselling from the Singapore University of Social Sciences in 2016.