Description
MacPherson: Mindfulness in Art: Zentangle - May 17 - Jul 5 (Fri)
(*Seniors enjoy a National Silver Academy subsidy)
The Zentangle Method is an easy-to-learn, relaxing, and fun way to create beautiful images by drawing structured patterns. It came about as a result of the "accidental" merging of English calligraphy and patterns by Maria Thomas and Rick Roberts.
Zentangling will allow your creativity to flow and help enhance your right brain. As this art requires awareness and presence, it will also train your mind to become calmer and more concentrated. The instant result of completing a Zentangle art is often a sense of disbelief and satisfaction.
Quotes in Zentangle: "There are no Mistakes, only Opportunities.", "Anything is possible, One stroke at a time."
---

About The Instructors:
Lai Yong (Karuni) is a Certified Zentangle Teacher (CZT®). She has an MSocSc (Professional Counselling) and her interest in holistic healing has led her to journey into Zentangle®, an easy to express yet beautiful and "meditative" art form.
Adeline Ho, a Compliance Consultant by profession, is open to various holistic healing methodologies. She finds and engages in Zentangle® which has a therapeutic effect. Now, a Certified Zentangle Teacher (CZT), she teaches Zentangle® as a form of meditative art.
Khoo Su Fen, a Certified Zentangle Teacher (CZT), practices and teaches traditional Hatha yoga. She chanced upon the Zentangle method and developed a deep interest in it. She is inspired to share her knowledge on Zentangle® with others.


---

Dates: (8 Sessions) (Fri)
May 17, 24, 31, Jun 7, 14, 21, 28, Jul 5

Time: 2.30pm - 4.30pm
Course Fee: $280 /$56 for eligible seniors ( inclusive of materials )
Includes Material Fee: Black Sakura Pen, Tortillon, 2B Pencil and Zentangle tiles, fabric and fabric pen
(Minimum of 10 participants required to start class)
---
Sample Artwork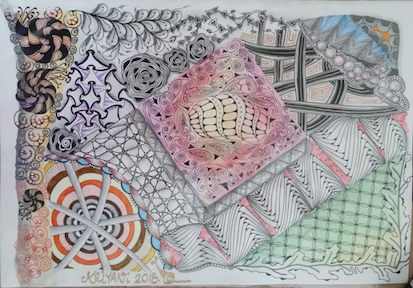 ---
* National Silver Academy (NSA) subsidy
- The NSA subsidy is for Singaporeans and Permanent Residents aged 50 and above.
- Arrive 30 minutes before class starts to complete the application process.
- Sighting of NRIC is required on the first day of class for verification
- Participants who do not fulfill the above criteria will not be eligible for NSA funding and will be required to pay the course fee in full; no refunds will be provided.
---
Please Note:
- ALL PAYMENTS ARE NON-REFUNDABLE
- Switching course dates: $30 admin charge plus any fee difference