Join us for Makan for Hope Festival Closing Ceremony and hear from thought leaders across Tech and Startup industry
About this event
#Makanforhope Festival 2021 is a dynamic series of 30 virtual roundtables between 24 June and 30 July 2021, that aims to bring the tech community closer together through peer learning, while raising awareness towards worthy causes. The festival is designed to bring together intellectually curious, like-minded, entrepreneurial folks to learn from the host and to provide the opportunity for attendees to network with each other as well.
Our event proceeds are donated to help 1,500 low income families who need funds to pay for the speech and occupational therapy of their children with special needs or their parents/ grandparents. These beneficiaries are supported by Fei Yue Community Services, in conjunction with their 30th anniversary.
Agenda for our Closing Ceremony
4:30 PM Welcome remarks by Doris Yee, Executive Director of Singapore VC and PE Association (SVCA)
4:35 PM Opening Speech by Minister of State for Trade and Industry & Culture, Community and Youth, Low Yen Ling
4:45 PM Remarks from our Sponsors:
Jason Lee, Chief Operating Officer, Algorand Foundation
Conor McNamara, ASEAN MD, Amazon Web Services
Sudhir Agarwal, Founder and CEO, Everise (weareeverise.com)
5:10 PM Remarks from Sanjay Gujral, Chairman, SVCA
5:15 PM Introduction of Fei Yue Community Services
Speech by Arthur Ling, Chief Executive of FEI YUE COMMUNITY SERVICES
Video of Fei Yue's beneficiar(ies)
Announcement on Total Amount Raised from Makan for Hope Festival
5:35 PM Video Highlights of the 30 sessions at Makan for Hope Festival
5:45PM Closing Speech by Elise Tan Yee Ling, co-founder of Makan for Hope
- Virtual Toast
- Group Photo Taking
--End--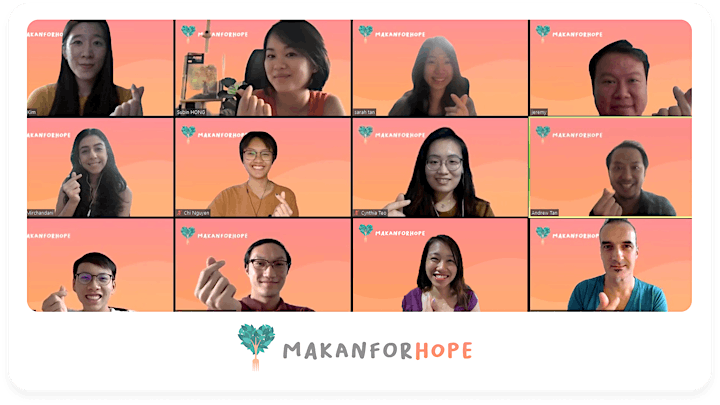 Makan for Hope Festival is still ongoing till 30 July 2021, we have daily lunches/ dinners with amazing hosts -- who are leading Venture Capital investors or startup co-founders!
Join us for the sessions --> www.makanforhope.org
(Use Partner_MFH2021 for 33% off ticket price!) Our hosts are matching at least $1 for every dollar contributed from the ticket sales.
By signing up, you will also receive >S$1,500+ worth digital goodie bag containing:
Receive US$1,000 in AWS Cloud credits and $350 USD in Developer Support credits (Perk available for new startup only)
Free 3 months trial (digital/ physical) subscription to A Magazine Singapore, a print and online luxury lifestyle title published by Apical Media, covering fashion, watches & jewellery, art & culture, travel, food & wine; as well as global trends to social issues
20% off e27 Pro Annual Membership, worth S$24, providing access to investor insights, ecosystem insights, and enhanced company visibility for your startup (e27 is a media company that provides reports and news about the Asian technology startup industry)
Receive US$1,000 in Huawei Cloud Credits
Receive a 15% discount from Bamboo Sea Pte Ltd on selected Accounting services for one year
Enjoy bundle of 5 free microlearning courses (worth $80.53 SGD) on gnowbe.com!
Receive a complimentary 30 minute Advisory or Mentorship Session with IMPACTA LAB
Receive a 10% discount on QuickDesk's subscriptions and be equipped digitally with an all-in-one CRM and automation solution
Manage and administer your Employee Stock Option Plan easily with 3-month trial subscription to Svested's Employee Stock Option Plan platform
Receive a $50 discount on any spectacle frame or spectacle lenses when you book an appointment with Eyeviser's home optical services.
Get SGD$30 off on your first Coaching & Therapy session on Mantor (for Male attendees)
Receive a free campaign* and 35% discount on Annual Subscription on Outlined.co.
Receive a free bundle of ZENKO Superfoods water lily pops (Worth $15)
Glad to share we have been recently covered in the press as well -
https://www.straitstimes.com/singapore/tech-sector-leaders-join-charity-drive
https://e27.co/in-brief-makan-for-hope-to-raise-us125k-for-sgs-vulnerable-communities-20210611/
https://pride.kindness.sg/makan-for-hope-festival/
https://read-a.com/makan-for-hope-festival-entrepreneur/
If you wish to Register for any of the sessions, visit --> www.makanforhope.org
If you wish to Simply Donate, visit --> www.giving.sg/campaigns/makanforhope2021
Thanks for supporting Makan for Hope Festival!
LinkedIn: www.linkedin.com/company/gratitude-initiatives
Facebook: www.facebook.com/mentorforhope
Instagram: www.instagram.com/makanforhope
Makan for Hope is powered by Asia Startup Network (makanforhope.org).
Organiser of Makan for Hope Festival Closing Ceremony -- Seeding Hope for All