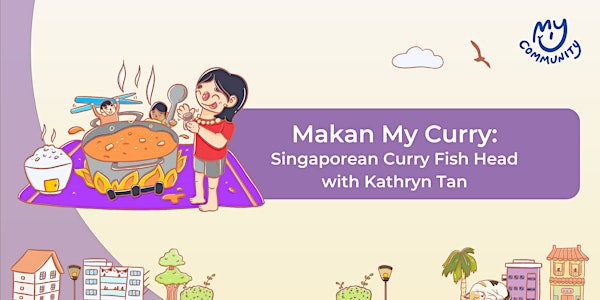 Makan My Curry: Singaporean Curry Fish Head with Kathryn Tan
Missed our mouthwatering dinners and sweets from My Community Festival? Makan My Curry makes a comeback from MCF2020 this year!
When and where
Location
Pavilion to the left of Ebony Condominium (35 Lor Marican, Singapore 417216), beside a small playground 35 Lorong Marican Singapore, 417216 Singapore
Refund Policy
Contact the organiser to request a refund.
Eventbrite's fee is nonrefundable.
About this event
We Singaporeans love eating curry. Assam Fish Head, Eurasian's Devil's Curry, Aloo Gobi and Tikka Masala – the possibilities are endless. How many of these curries have you tried? Makan My Curry brings Singaporeans into the homes of over 10 different home cooks to hear more about the processes and stories behind their curries and culture.
What is Curry Fish Head?
The origin story of fish head curry is a true-blue Singaporean one which involves the cross-cultural melding of flavours and ingredients. It features the head of a fish stewed in Singaporean-style curry with assorted vegetables such as okra and eggplants. What's not to love?
About the cook
Curry fish head is a dish Catherine Tan loves to prepare for family and friends. She first learnt how to make it by observing her mother in the kitchen. Ms Tan recalled being drawn to the fragrance of her mother's freshly-pounded chillies and the lush, smoothness of her gravy. Among other things, her mother taught her that generous amounts of shallots is a sure fire way to up the ante on the dish's sweetness.
According to Ms Tan, who sells prawn noodles for a living, the secret to making a good bowl of curry fish head lies in the freshness and quality of the fish. Also important: the care and attention paid to properly char and roast the ingredients to achieve the elusive wok hei flavour.
Details of the Programme
Meeting point: Pavilion to the left of Ebony Condominium (35 Lor Marican, Singapore 417216), beside a small playground
Please arrive 15 minutes before the event for registration. Our facilitators will be wearing our event t-shirt.
Parking is unavailable at the event premise
Venue is not wheelchair accessible.
The event will proceed rain or shine.
Who should come?
Participants must be fully vaccinated.
The curry is non-halal and is unsuitable for vegetarians. Curry may contain traces of nuts, dairy and other allergens. Participants are reminded to declare their food allergies, if any, in the registration form.
What to bring?
Participants should be dressed respectfully in smart casual (i.e. collared shirt, long pants and covered shoes). Sleeveless attire, shorts/miniskirts or sandals are strictly not allowed.
Participants will be denied entry if they dress inappropriately.
Participants are encouraged to dress comfortably and wear covered shoes.
Asthmatic individuals are encouraged to bring their inhaler.
Disclaimer
All ticket sales are final. There will be no refund if you wish to cancel your tickets.
By agreeing to participate in the event, participants are responsible for any injury, loss or damage due to the negligence on his/her part or of the children under his/her charge.
Participants must abide by the house rules set out by the host. Facilitators will brief participants at the start of the programme.
Videos and photographs may also be taken during the event. By registering for this event, you give My Community full rights to use the photos for marketing and publicity.
It is compulsory for a parent/guardian to accompany any child of or under the age of 12 children under his/her charge.
For updates:
Follow us at @mycommunitysg on Instagram and @myqueenstown on Facebook.
Visit mycommunity.org.sg to learn more about My Community's initiatives.