Description
Many people want to generate passive income should that they can retire well.
There are several savings into investments products that are able generate regular payouts, such as bonds, REITS or dividend stocks and Unit Trust, or a combination of these.
REITS it is able to generate steady and consistent dividends; thus it is one of the more popular one among the various asset class.
However, not all REITs are able to give a positive return to investors and there are several things that investment need to look out for when investing in REITs.
In this session, our speaker will be sharing his knowledge and experience including:
Benefits and Drawbacks of investing in REITs

Common traps and how to avoid them

How to pick the Right REITs?
How to make REITs part of your passive income portfolio?
Please register early as seats are limited. See you there!

Best Regards,
Darren Chew
---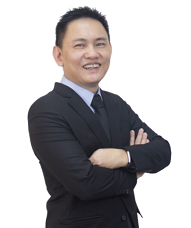 About Darren Chew

Darren is currently a Financial Services Director with Phillip Securities Pte Ltd and leading a team of Financial Services Consultants and Remisiers. He is also a (CFP) Certified Financial Planner Professional and (ChFC) Chartered Financial Consultant.

Darren is very active in conducting seminars educating the public on the financial literacy. He believes that through sound financial planning, he can help his clients accumulate wealth and attain their perfect lifestyle. He has been invited on radio stations 93.8Live and Capital 95.8FM, as well as several live interviews on Channel News Asia – Asia Business First where he shares his views on the market.

---
IMPORTANT NOTES FOR SEMINARS
Please note that under the Singapore Personal Data Protection Act (PDPA) 2012, CyberQuote Pte Ltd respect the privacy of all our customers and visitors, and are committed to safeguarding the personal information you provided to us.
For the event registrations, you will be requested to provide your personal particulars, which include but are not limited to the following:
a) Full Name
b) Contact details, including telephone number/s and/ or email addresses
Please note that CyberQuote Pte Ltd will send out "Email Confirmation", Short Message Service (SMS), events / seminars and marketing via email to all registrants for all CyberQuote Pte Ltd events.
Should you wish to withdraw your consent from receiving events information, please contact us at CQCourse@cyberquote.com.sg. All personal data held by CyberQuote Pte Ltd will be kept confidential, will not use and disclose to third parties.
---
Disclaimer
The contents of this document, including the terms and conditions, are subject to change and may be modified, deleted or replaced from time to time and at any time at the sole and absolute discretion of CyberQuote Pte Ltd ("CPL"). CPL accepts no responsibility for the results of any actions taken by students after attending our courses, nor for the accuracy or completeness of any material contained herein. Information on courses or any other arrangement for courses, including fees, staffing and class sizes are an expression of CPL's intentions only and do not constitute a firm offer or undertaking to you. CPL reserves the right to discontinue or vary courses without notice and to impose limitations on enrolment in any course. Opinions and projections reflect our opinion as of the date of the analysis and are subject to change without notice. Investors should make their own investment and trading decision based on their own final analysis. All forms of investments carry risks, including the risk of losing all of the invested amount. Such activities may not be suitable for everyone. Past performance is not indicative of future results.

Copyright © 2019 CyberQuote Pte Ltd. All rights reserved. No part of this publication may be reproduced, stored, transmitted in any form of by any means without CyberQuote Pte Ltd's prior written consent.