Making Sense of Creativity: Online Workshop | Read! Fest
In this workshop, you will learn how to inject creativity into your daily life
About this event
About the Programme/Event
Is creativity meant for everyone? Yes it is! Learn about the many ways we can build upon, build up and harness our creative potential. We can then experience more creative moments in various parts of our everyday. This can benefit your personal and professional lives. As parents, you will be able to model creativity as well as discover ways to nurture the creativity of your children.The workshop will be based on the book, Creative Cool Cat - A Guide to TIM-BUG-Tool by Moses Sia.
For Ages 16 and above. Limited seats. Application required 
How to apply for this workshop?
Register on Eventbrite.
Fill up this online form to complete your application: https://go.gov.sg/rf27jun
We will send you an email on the success of your application by latest 20 June 2021.
About the Facilitator
Moses Sia is an educator-artist and the author of Creative Cool Cat - A Guide to TIM-BUG-Tool. He was a School Principal both in Singapore and Indonesia, and is known for fresh approaches and projects in teaching and learning, creativity and innovation, the arts, applied educational technology, and community service. Moses has also created picture books and interactive educational games. 
Title Tie-up
This programme is inspired by Keep Going: 10 Ways to Stay Creative in Good Times and Bad, a featured title of Read! Fest 2021. Borrow the title here. 
For other programmes related to this title, visit go.gov.sg/goingcreative
For the full listing of Read! Fest programmes, visit go.gov.sg/readfest21
About Read! Fest 2021
Read! Fest 2021 invites you on a forward-looking journey of self-discovery. With the theme of Reboot, take a moment to re-examine and refresh your lenses on day-to-day aspects that shape our lives.
Anchored by 12 key books and topics, Read! Fest will host over 60 programmes – from talks by world-renowned authors to workshops and experiences – each curated to immerse you in a world of thoughtful ideas for our time.
From myths and minimalism to work and womanhood, stretch out to explore new worlds and perspectives. Where will you find yourself?
For more info, visit go.gov.sg/nrm-readfest21.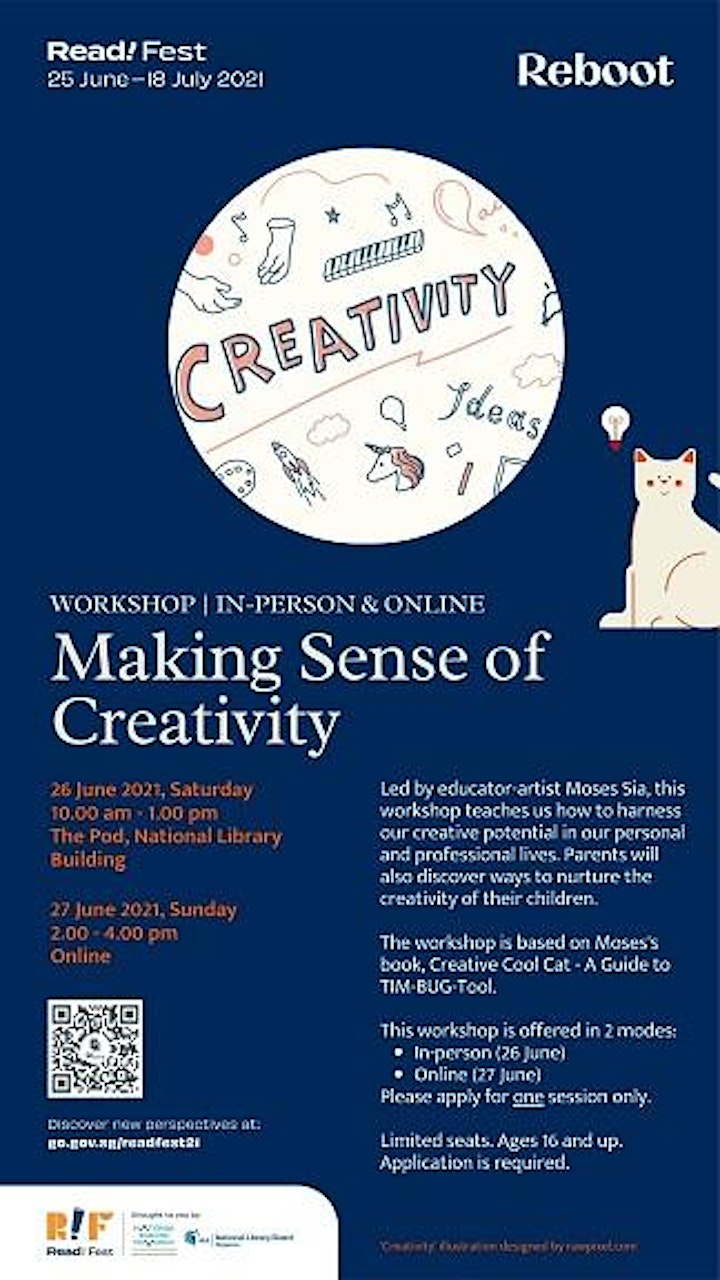 Online Programme/Event Administrative Information
This programme is conducted entirely online. You may access Zoom via the app or using a web browser
Please ensure that you enter a valid email address as you will receive an email with the link to the online programme/event near the day of the programme/event
The link of the programme should not be shared with others
Do ensure you have a strong internet connection. Using your mobile data is not recommended
The National Library Board, Singapore (NLB) reserves the right in its absolute discretion to disqualify or refuse admission to any registrant without any reason and notice
Organiser of Making Sense of Creativity: Online Workshop | Read! Fest
The National Library Board (NLB) manages a network of 27 public libraries, the National Library and the National Archives of Singapore. NLB promotes reading, learning and information literacy by providing a trusted, accessible and globally-connected library and information service through the National Library and a comprehensive network of Public Libraries.