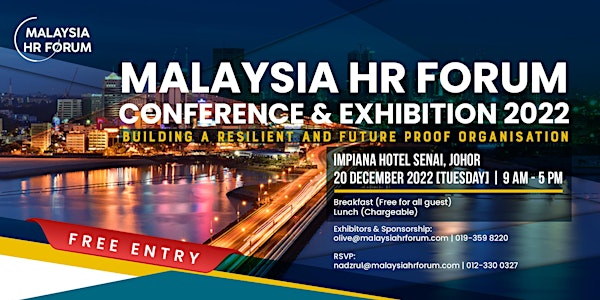 Malaysia HR Forum Conference & Exhibition 2022
Malaysia HR Forum Conference & Exhibition 2022 Date: 20 December 2022, Tuesday Time: 9 am – 5 pm Venue : Impiana Hotel, Senai Johor
Date and time
Tue, 20 Dec 2022 09:00 - 17:00 +08
Location
Impiana Hotel Senai Impiana Hotel Senai, Johor 81400 Malaysia
About this event
Event Overview
Malaysia HR Forum Conference & Exhibition 2022 is all about making connections and building relationships. This exclusive event is organised by Malaysia HR Forum in a larger capacity of Human Capital Industries to bring together HR top industry professionals from various industries, including MNCs, GLCs, and PLCs from Malaysia, with a tremendous opportunity for you to meet and reach out to Top HR leaders / Experts, who are at the forefront of HR Practitioners.
Networking is a great way to develop professional relationships and improve career prospects by generating connections in their field. Conferences are useful tools for meeting like-minded people in the industry and expanding professional networks. Learning more about networking at industry conferences can help you develop the skills to build meaningful connections with those around you.
This event also provides you with an excellent opportunity to network with HR leaders and exhibitors promoting their tools and services.
Conferences are a great place for networking with benefits, such as:
✨ Utilizing resources
✨ Identifying potential mentors
✨ Learning about the industry
✨ Developing soft skills
✨ Finding new business
✨ Improving career prospects
✨ Strengthening connections
A conference is an opportunity to learn more about subjects you enjoy. Learning from an expert whenever possible, seeking those whose knowledge you find interesting and asking questions on development from their unique perspective.
Want to explore more? Join us!