Description
Embarking on the Next Phase of Digital Transformation – Innovative, Progressive and Inclusive Government Service Delivery
The Future of Digital Government is being viewed as collaborative, innovative, trust worthy, citizen- centric and citizen-driven
In our connected, customer-centric world, citizens have come to expect that their needs will be met quickly and frictionlessly — in much the same way organisations like Uber, Air BnB, eBay, Spotify and Amazon use them to broker relationships between people, services and goods.
To attain private-sector standards of engagement and conversion, government organisations must also segment and target their audiences — while also respecting citizens privacy.
Digital platforms promise greater collaboration between government and the people. It changes the government-citizen paradigm. Just as the digital age is transforming the way we live, work and socialise, it is poised to significantly alter the traditional role of governments throughout the world as well, effectively putting more power in the hands of the people.
The days of authoritative governments in dealing with citizens and businesses are gone ushering in an age of collaborative approach. The aim is to develop "seamless and frictionless" public services making it easier to deal with governments. This will not only help reduce bureaucratic red tape but will also open the door to greater economic innovation and attain the goal of providing citizen centric services.
Governments have assumed the role of moderators, connecting businesses, citizens and civil society in more direct and flexible ways; they will become leaner, more innovative and efficient and will be able to respond more quickly to changing patterns of demand from the communities they serve.
Malaysia has been on the forefront of leveraging digital technology to serve its citizens better and it remains optimistic when it comes to their digital transformation and e-governance.
The digital initiatives under the Public sector ICT Strategic Plan 2016 -2020 is getting stronger by the day.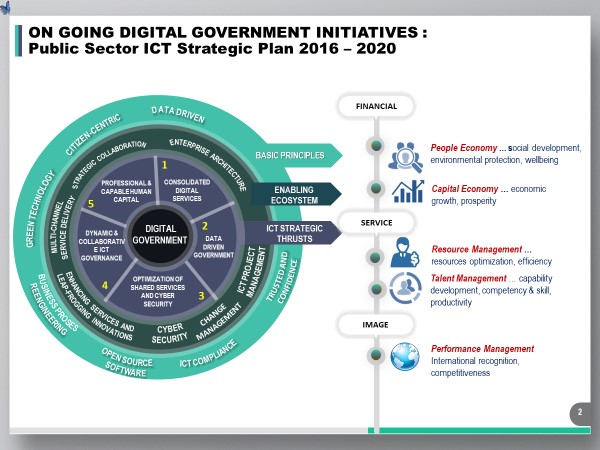 Image credit : MAMPU
The 2018 United Nations E-Government Survey is issued at the time of key rapid technological changes, with Member States in the third year of the implementation of the Sustainable Development Goals (SDGs).
In the 5 years, Malaysia has digitally transformed their government services. Including, having 83% of their government services being available online.
These government services are integrated and aim to provide inclusive and a citizen centric digital service to all Malaysians. This has allowed the Malaysian government to strengthen leadership and governance for the planning and coordination of their digital initiatives, allowing them to be able to strengthen their ICT management and become more dynamic and efficient.
The Malaysia government have been increasing their investments on the technology and innovation sector in Malaysia. This has allowed even the bottom 40% of people in the income pyramid to have access to e-services.
Making e-services easily accessible even to people of lower socio-economic status reduces the digital divide that is potent and extensive across the South East Asian region. Malaysia's initiatives to reduce this digital divide is in-line with the UN's goals of boosting access to science and technology to people of all walks of life.
Malaysia has also managed to climb in their rankings when it comes to the Human Capital Index (HCI).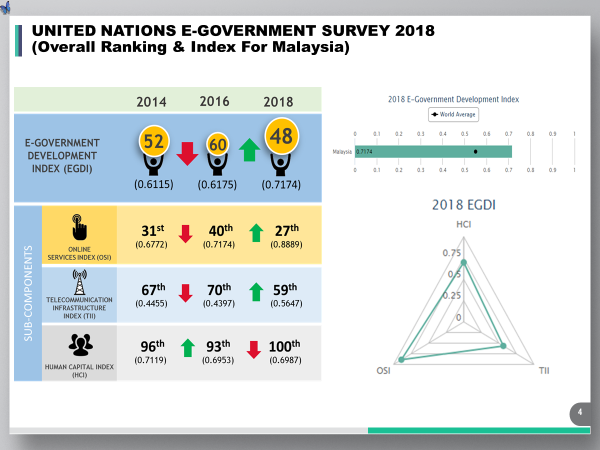 Image credit : MAMPU
Malaysia's persistent efforts and innovative initiatives has enabled them to climb the rankings, propelling them upwards by 12 ranks from 60 to 48 in the past two years.
OpenGov is pleased to bring 6th Annual Malaysia OpenGov Leadership Forum 2020 to focus on the tools and techniques that builds on government's mission for an effective digital government strategy.
Here, you will meet international digital leaders, C-level government experts and industry professionals addressing the most important policy, management and leadership issues surrounding the future of digital government and the role of the public-sector CIO.
You will gain access to innovative case studies and interactive discussions on Cloud, Cyber Security, Government Analytics, Big Data, IoT, Mobility, Artificial Intelligence Blockchain and many such topics through first-hand interactions with peers, luminaries, as well as, emerging and established organisations.
Malaysia OpenGov Leadership Forum serving as a full day of valuable insights and networking opportunities plays an integral role in keeping the digital professionals Connected, Educated, Engaged and Inspired.