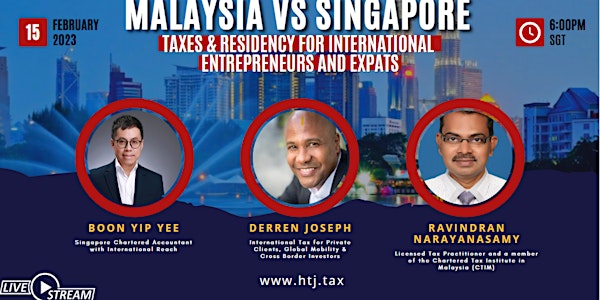 Malaysia vs SG-Taxes & Residency for International Entrepreneurs and Expats
Everything You Need to Know About Malaysia vs Singapore - Taxes & Residency for International Entrepreneurs and Expat
By Moores Rowland Tax Consultants
Date and time
Wednesday, February 15 · 2 - 3am PST
About this event
Join this discussion
Our Speakers:
Boon Yip Yee - FCCA, CA SINGAPORE DIRECTOR
Yee Boon Yip is an Independent Non-Executive Director of the Company and is currently a partner of MT & Partners LLP, a chartered and public accounting firm based in Singapore specializing in advisory, audit, and assurance services.
He is also one of the founders and the head of the enterprise risk management, audit, and advisory unit. Prior to that, Boon Yip worked in certified public accounting firms with international affiliations in Malaysia and Singapore.
He was an auditor at Moores Rowland, UHY, and Mazars for over eight years from 2001. Thereafter, he joined a European multinational company as a group financial controller with key roles in internal controls and financial reporting.
Boon Yip has over 13 years of experience in audit and assurance and financial reporting. He also gained valuable experience from his past involvement in other advisory services, including initial public offering, financial due diligence, corporate tax advisory, and planning.
He also has experience auditing companies reporting in other reporting jurisdictions, including US GAAP and Sarbanes-Oxley compliance services, in his past experience as an auditor of a company listed in AMEX.
Boon Yip is a member and chartered accountant registered with the Institute of Singapore Chartered Accountants and is also a member of the Association of Chartered Certified Accountants since 2011.
Ravindran Narayanasamy - Tax Consultant at RTR Tax Services Sdn Bhd
A licensed tax practtitioner He has extensive experience in Malaysian tax compliance and tax planning for corporate entities, partnership and individuals, plus other tax services such as real property gains tax (RPGT), withholding tax (WHT) and tax incentive claims.
He also has expertise in expatriate tax clearance , setting up representative offices and work permit applications.
Ravi is fluent in English, Bahasa Malaysia and Tamil.
Derren Joseph- International Tax for Private Clients, Global Mobility, & Cross-Border Investors (US, Europe, & SE Asia)
Derren is an EA (Enrolled Agent - license # 00100858-EA) who has been admitted to practice before the IRS and is an associate member of the American Institute of CPAs (#7920958). He is the author of "Taxes for International Entrepreneurs and Expats: Proven Principles for Legally Reducing Taxes" (https://www.amazon.com/author/derrenjoseph).
A Partner in Hayden T Joseph & Co. (DBA "Advanced American Tax") also a member of the International Tax Team at Moores Rowland Asia Pacific, with over 30 offices in 12 Asian countries.
He has 2 Masters degrees in Economics. A Certified Diploma from ACCA (Association of Chartered Certified Accountants in the UK), done Executive Education with Columbia Business School. He has completed Advanced Tax coursework at both New York University and the University of London.
Derren enjoys writing and giving seminars.
He had his views published in the Singapore Business Review, Forbes Asia, the American Chamber of Commerce in Indonesia, the International Business Structuring Association (in the UK), Offshore Alert.
He also has given seminars on tax issues in the U.S., the U.K., Singapore, Indonesia, Malaysia, Vietnam, The Philippines, Portugal, Hong Kong, and the Caribbean.
NOTES:
1. Link for this event: https://www.facebook.com/htj.tax/live/
2. Submit questions in advance - Hanna@AdvancedAmericanTax.com
3. Those WITHOUT Facebook?
Zoom link will be provided 24 hours in advance via an Eventbrite message so ensure that you sign up via Eventbrite to get the message.
If you don't get the Zoom link 24 hours before the event via Eventbrite?
Email: Hanna@AdvancedAmericanTax.com
4. It is also helpful if you use the Eventbrite calendar function to ensure that the event is automatically saved to the calendar on your device at your local time. Many times people miss the event because they misunderstood the time zones. Allow Eventbrite to make it easy for you. Leverage technology. Please don't contact us to confirm the time."
5. For those joining us on Zoom?
"Pictures or videos will be taken during the event to be posted on social media. If you do not wish to have your image used. Keep your camera off."