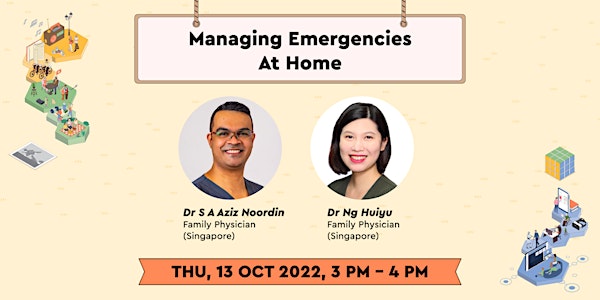 Managing Emergencies At Home | TOYL Celebration
What constitutes as household emergencies and how do we manage them?
About this event
Does applying condensed milk on a burn help? Will you heal faster by applying toothpaste on an insect bite? Have you ever faced an emergency at home and are at a lost?
Join Family Physicians, Dr S A Aziz Noordin and Dr Ng Huiyu, as they explore ways to manage common household emergencies such as cuts, insect bites, or allergies, as well as how to prevent and manage falls among the elderly!
Disclaimer: All content and advice shared during the programme are for informational purposes only. It is not intended to be a substitute for professional medical advice, diagnosis, or treatment.This programme is suitable for those aged 50 and above, and organised in collaboration with Changi General Hospital.
About Time of Your Life Celebration 2022 
Connections: Past, Present and Future 
How can we make the journey of ageing a better one? By reconnecting to our past, examining our present, and striving towards the future, we will reimagine how this voyage can be made more gratifying. Join us to connect with gerontology experts and community partners as we delve into facets of ageing like caregiving, gerontechnology, lifelong learning, and physical and mental well-being. 
Jointly brought to you by the National Library Board (NLB) and Singapore University of Social Sciences (SUSS).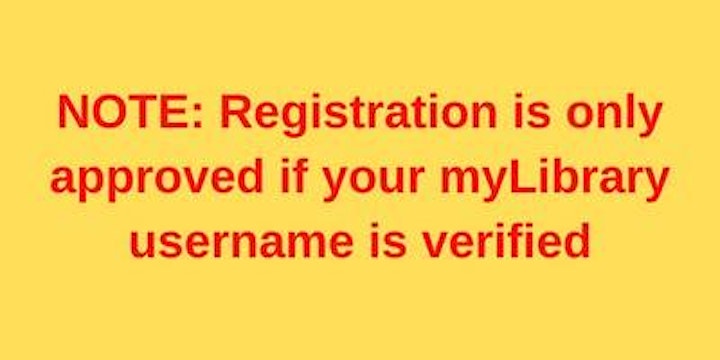 Important Notice 
This programme/event is open to members of the National Library Board, Singapore. Please ensure you have your myLibrary username on hand before proceeding with the registration. If you do not have a myLibrary username, you can create one here: https://account.nlb.gov.sg/.
Unsure how to register for our programme? 
Refer to these guides for more information. 
Online Programme/Event Administrative Information 
This programme is conducted entirely online. You may access Zoom via the app or using a web browser 
Please note that photos and/or videos of this programme and its participants may be taken. By registering for this programme, you agree that NLB may take photographs and/or videos of you (or your child as applicable) and use the images and/or videos including to archive, exhibit and publish them for publicity or any other NLB purposes. 
Please ensure that you enter a valid email address as you will receive an email with the link to the online programme/event  
The link of the programme should not be shared with others 
Do ensure you have a strong internet connection. Using your mobile data is not recommended 
The National Library Board, Singapore (NLB) reserves the right in its absolute discretion to disqualify or refuse admission to any registrant without any reason and notice