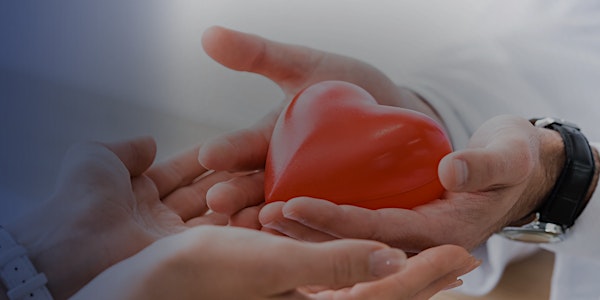 Managing the Stress of Serious Illness - OL20220409HT
Learn on how two senior executives have responded to serious illness with mindfulness
When and where
Location
Online Online Online, 228233 Singapore
About this event
Illness is something all of us face, and sometimes it can be very serious and potentially terminal. Join us in this seminar, hosted by Brahm Centre CEO and Mindfulness Principal Adj. A/Prof Angie Chew, featuring two senior executives in Singapore who have journeyed with serious illness and have used mindfulness in response to it. CY Wong will be sharing on her personal journey while Pris will be sharing how she supported her family member through a potentially deadly illness.
Speaker: Pris and CY Wong.
Host: Adj A/Prof Angie Chew, CEO, Brahm Centre
You will get two emails upon registration: (1) an email from EventBrite with confirmation of registration (2) a Zoom Link will automatically be sent to you within 5 minutes of registering on EventBrite.
Pris
Banker, Global Corporate Banking
Her family member recovered fully from aggressive cancer despite a bad prognosis after nearly a full year battle in 2019. As a primary caregiver, she was surprised how well the family had coped together. The surgeon asked for her help since the early part of the journey to provide one-on-one support to his other patients' families in distress. She felt that the mindfulness lessons she had attended in the past had helped her immensely even though they were high level. Since then, Pris has intensified her learning on Mindfulness and Meditation. She had stayed positive and her experience had inspired others around her. She was also able to balance her work responsibilities well throughout the journey (with compassionate support from managers/teammates) and was given a promotion a year after .
Pris plays an active role in volunteering and philanthropy efforts. Besides being the co-Chairman of her bank's Singapore Philanthropy committee, she is an Exco member in the bank's Singapore Community Volunteer committee. She won the bank's prestigious awards - Global Volunteer Award in 2018 and Global Diversity & Inclusion Award in 2021. Pris supports various NGOs including Brahm Center and Firefly Mission.
Pris holds a Bachelor of Accountancy from the National University of Singapore.
CY Wong
CY is a Singaporean senior executive.
Adj A/Prof Angie Chew, Mindfulness Principal & CEO, Brahm Centre
Adj. A/Prof Chew is the Founder and CEO of Brahm Centre, a charity with over 50 staff, dedicated to promoting healthier and happier living. In recognition of her contributions in the mental health space, she was named The Straits Times Singaporean of Year 2019.
She is the first certified Mindfulness Based Stress Reduction teacher in Singapore by Brown University-University of Massachusetts, a certified Dot-b and Paws b mindfulness teacher and a Mindfulness Based Cognitive Therapy Course teacher under Oxford University Mindfulness Centre's training.
She is also an Adjunct Associate Professor teaching mindfulness at the National University of Singapore. She has taught mindfulness courses, workshops and retreats to more than 10,000 people across all ages.
This is part of Saturday Health Talks LIVE organised by Brahm Centre where healthcare professionals and qualified speakers from various fields are invited to conduct free talks followed by Q&A.