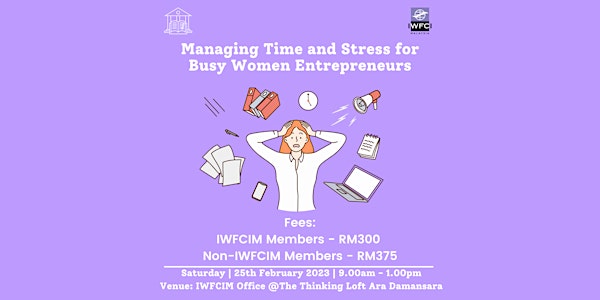 Managing Time and Stress for Busy Women Entrepreneurs
You will achieve the highest level of productivity when you manage your time and stress well.
When and where
Location
The Thinking Loft B-3A-18 Capital 2, Oasis Square No 2 Jalan PJU 1A/7A, Ara Damansara Petaling Jaya, Selangor 47301 Malaysia
Refund Policy
Contact the organizer to request a refund.
About this event
Program Overview:
As women entrepreneurs, do you feel that there is always lack of time to do the things you love? And when everyone is demanding of your time, do you feel you are stressed dealing with them?
Work is stressful! Life too is stressful. So, how do you cope and still be healthy, happy and successful?
This programme provides a clear understanding on how time pressure and stress works, and what you can do to manage them to your advantage. Learn how to improve yourself, not only at work but in your personal life.
Key takeaways:
Upon completion of this programme, participants are able to:
1. Understand that stress factors and how to manage them.
2. Know where to prioritise their time well.
3. Have stress relief tools ready whenever they need them.
Facilitator:
Shin Tan is a Team Coaching Consultant, Transformational Communication Coach and Facilitator who consistently helps organizations and individuals to enable and achieve their objectives through sustainable benefits and value creation with team coaching skills through effective communication and gamification activities.
With more than 18 years in sales and coaching experience, Shin is passionate in helping individuals who face challenges in their work communication and to support their journey to quantum leap success.
Shin had led a motivated team to achieve nine-figure team sales milestone with a MNC property developer, Sunway Property. Her greatest joy was to see her peers grow and be successful under her mentoring and coaching on how to present themselves, help customers to make decisions and provide excellent customer service during-and-after sales.
Shin left her career to pursue her mission to uncover potentials in individuals and create more successful achievers in their respective fields. She believes every individual should always hone their people skills and be motivated to rise above the position of higher responsibility. The way to success starts by mastering communication and presentation skills.
Shin is a specialist to help business executives excel in the skilled areas of Interpersonal and Business Communication, Business Presentation, Selling, Coaching & Emotional Intelligence.
She is also a business coach to help individuals discover their strengths, uncover strategies and opportunities to empower them to excel in business and life, starting by working on their communication skills.
Since the 2020 pandemic and locked-down, she has been actively involved in Virtual training, virtual team facilitation, coaching and counselling for SMEs, MNCs and government agencies focusing on building their communication skills and team development.
A trilingual facilitator, she has conducted her programs in three languages, i.e. English, Malay and Mandarin.
Shin has worked with partners from diverse backgrounds including Coca-Cola, Dell Technologies, Lazada, Intel, Danone, Tokio Marine, Shiseido, Hitachi, Prudential, Prudence Foundation, Public Bank, Alliance Bank, CIMB Bank, Agro Bank, Symphony Life Berhad, SunSuria Berhad, Iproperty Malaysia, Carsem, Gibraltar BSN, Pusat Perhubungan Sarawak-Kuala Lumpur, Jabatan Kehakiman Syariah Malaysia, Khazanah, MARA, One Stop Collection Centre (KWKPK Sarawak), MRCB, SEGi University, NGC Energy, Sapura Fabrication, Plus Solar, MyTukar, IIB Ventures, Hanson Group, GE Healthcare, Osram and many others.