Sales Have Ended
Ticket sales have ended
Thanks for registering for the upcoming Coaching Class! See you there!
Sales Have Ended
Ticket sales have ended
Thanks for registering for the upcoming Coaching Class! See you there!
Description
The current health crisis caused by the Covid-19 outbreak has turned many stock markets into bear market territories.
Is this the end of the World?
If not, this will be the best time to profit from the stock market by buying wonderful businesses at huge discounts.
For a while, we were used to reading headlines that the US stock market hit all time highs again, and again. Isn't this the moment we have been waiting for, to buy great companies like Singapore Banks, Facebook, Google and Alibaba cheaply? However, for those who have already entered the market, prices get cheaper every other day!
Some see their entire portfolio drop by a huge percentage, thousands or tens of thousands of dollars paper value is lost. Some cut losses, while some don't know what to do next.
I have experienced with vivid memories the US market 20% correction end of 2016 and the financial crisis in 2009, both with great returns at least doubling my capital, the uptick was also quite fast, recovery in a fairly short period of time. Would the Covid-19 crisis be over by July? Currently it seems the end of the world, let's just keep our money in the bank.
I know when your portfolio is in the red, managing the emotional and psychological part of investing is the most daunting. Staying calm and having a rational plan to profit from the downturn is easier said than done.
In this workshop, we will first research where we are currently, carry out a situation analysis, re-visit the key pillars of sound stock investment, understand your emotions during a very volatile market, devise a game plan you can follow rationally and discuss some stocks you can buy.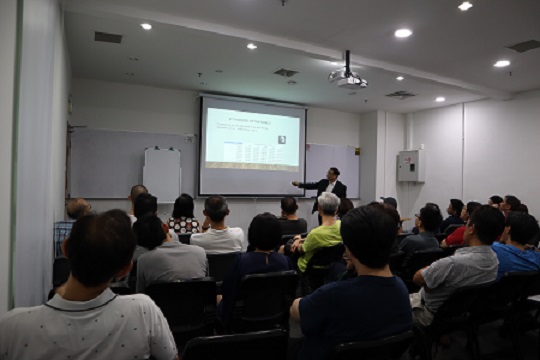 In this 3-hour Masterclass, we will cover:

Where are we in this crisis?

Situation analysis

Key pillars of investing

Managing your emotions when investing

The Game Plan

Some stocks to buy
---
About the trainer
Tan Liong Hai has some 20 years of senior level experience in the telco and technology sectors. He is also a serial entrepreneur who has founded a few successful companies. He spends a large part of his time now just investing in the stock market, growing his stock portfolio which currently stands at $1mil, built up from capital saved and years of investing. When he decided to step away from the corporate world, he took courses in Value Investing and Options strategies.
A prolific reader of investment books and publications, he is co-founder of investment blog Journeywithmoney.com and a trainer of 2 stock investment programs, with unique contents developed by him and his partners. He is also co-founder of the investment Mastermind Group Financial Gym. He is author of personal finance e-book "Journey Towards Financial Freedom"